USA vs. Canada Softball: Start Time, Date, Live Stream, Preview and More
June 30, 2012

Mike Ehrmann/Getty Images
The United States will continue its run toward another World Cup of Softball championship on Saturday night when it takes on Canada in its fourth game of the tournament. The Americans have been dominant en route to a 2-0 record thus far and will take on 3-0 Netherlands earlier in the day in their biggest test thus far.
While the talent gap may seem considerable, Canada always give the United States a run for its money. Canada is able to enter this game loose and without expectations, so that should play into its favor. Team USA is also charged with the task of playing a day-night doubleheader, so perhaps the Canadians can prey on a tired squad.
Here is everything you need to know about when and where to watch the United States' clash vs. Canada, as well as what to expect in the rivalry game.
Where: America Hall of Fame Complex in Oklahoma City, Okla.
When: Saturday, June 30 at 7 p.m. ET
Watch: ESPN
Live Stream: ESPN3.com 
USA Player to Watch: Valerie Arioto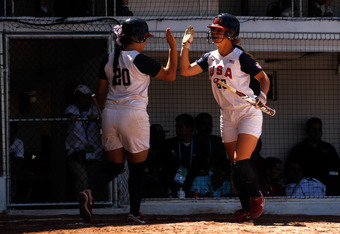 Mike Ehrmann/Getty Images
The United States has so many strong players that it essentially fielded two different lineups over its first two games, but the one constant was first baseman Valerie Arioto batting fifth. Arioto went 1-for-3 in her first game before exploding for a vital home run against Australia. Arioto is the United States' biggest power bat, so she is going to be a key player moving forward.
Canada has had a tough time in the pitching department as it has given up seven runs in each of its first two games, and that likely has Arioto licking her chops. This one promises to be a pretty high-scoring affair, and Arioto should key some big innings for the Americans.
Canada Player to Watch: Melanie Matthews
Canada has come up just short in each of its games thus far, but Melanie Matthews hasn't been the reason for it. The left fielder and leadoff hitter has been a major contributor for the Canadians as she has already racked up three home runs and four RBI on the tournament. She isn't your traditional table setter as she has a lot of power, but she is effective nonetheless.
If she can come up with a big hit to start the game, then she could possibly ensure that the United States is on its heels and feeling uncomfortable for the duration. Matthews is also one of the toughest outs on the team and is going to do everything possible to make the American pitchers work.
Prediction
United States 9, Canada 3