Silva vs. Sonnen 2: 5 Middleweights Anxiously Awaiting the Outcome of UFC Bout
July 1, 2012

One week from today, the most anticipated rematch in UFC history will finally be settled.
Anderson Silva, the fighter regarded by many to be the greatest mixed martial artist of all time, will attempt to silence Chael Sonnen once and for all.
With their first clash resulting in an instant classic, all eyes in the MMA world will be fixed on the main event of UFC 148.
This go-around will come in just shy of two years since the two fighters first squared off at UFC 117. The division in which they are competing to champion looks much different than it did in 2010.
Leading up to their first fight, Sonnen was thought to be the final contender left in a division Anderson Silva had ravaged and conquered.
But when they collide on July 7th in Las Vegas, a weight classes's upper tier once considered thin, now has a handful of contenders eagerly awaiting their shot at middleweight gold.
Mark Munoz
The former NCAA Division I national champion wrestler's hard work has certainly paid off.
After entering the WEC as a light heavyweight, Munoz turned up his intensity and commitment to his goal of becoming one of the best fighters in the world.
Following his decision to drop to 185 pounds, "The Filipino Wrecking Machine" has won seven out of eight, including four consecutive wins inside the Octagon.
Following his victory over Chris Leben at UFC 138, Munoz made his title intentions known as he addressed his friend and former training partner, Anderson Silva.
While his title hopes wouldn't come to fruition, the UFC granted him a matchup with Sonnen at UFC on Fox 2 in Chicago. Unfortunately, an injury would force him to withdraw from the bout and temporarily sideline him from the title race.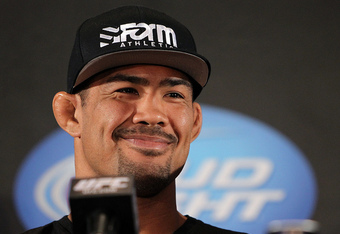 Up next, Munoz faces rising star Chris Weidman. He will have the power advantage when the two square off, and if Munoz can implement his brutal brand of ground and pound, it could be the factor which tips the affair.
UFC fans may not clamor and throw praise on Michael Bisping, but the former TUF winner has proven himself to be a legit threat at the 185-pound throne.
The brash Brit had put together four in a row before he came up on the losing end of a judge's decision against Chael Sonnen.
Bisping replaced Munoz in the bout and was able to use his footwork to keep Sonnen off-balance.
For his next outing, he was supposed to face Tim Boetsch at UFC 149, but the injury bug bit again and forced Bisping to withdraw.
There has been no date set for his return, but "The Count" has been vocal about his place in the division.
He believes he is closer to a title shot than most, and if he can put two solid wins together, he just might get there.
Hector Lombard
Bellator CEO Bjorn Rebney has never been shy in his belief that Hector Lombard can beat Anderson Silva. Thanks to an exodus to the UFC, the fight could become a reality.
The former Bellator middleweight champion will enter the organization on a 24-fight win streak. Lombard's resume and name recognition have immediately put him into the mix in the division's upper tier.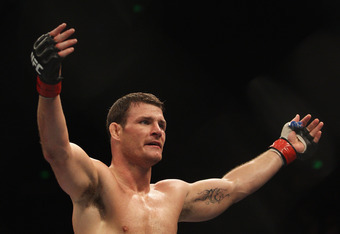 Mark Kolbe/Getty Images
He was originally slated to face Brian Stann in his debut, but after the "All-American" injured his shoulder, the fight was scrapped. Following the injury suffered by Bisping, Lombard was tapped to step into the fight with Tim Boetsch, and the two will meet at UFC 149 next month in Calgary.
Lombard will bring his one-punch-sleeper power and his Olympic-level judo to the sport's biggest stage.
Although he hasn't been defeated in nearly six years, Lombard has received criticism for his lack of high-profile opposition. This will not be the case in the UFC where Lombard will face legitimate tests at every turn.
Should he find victory against Boetsch, Lombard could be one fight away from a title shot. If he is defeated, consider the Lombard hype train derailed.
Alan Belcher
There was a time where Alan Belcher was a fighter unable to grasp his full potential.
Despite game performances, "The Talent" was stuck in a pattern of "two steps forward, one step back." Fortunately for Belcher, this trend appears to have been broken and he has notched four consecutive victories.
In his most recent outing against the dangerous submission artist Rousimar Palhares, Belcher proved he is a threat no matter where the fight takes place.
He was able to fend of Palhares' signature leg attack before pounding out a TKO stoppage late in the first round. The performance signaled Belcher's arrival to the mix of contenders at 185 pounds.
During the fight with Palhares, he suffered an injury to his right hand which has him on the shelf for an uncertain amount of time.
When he returns to action, it will undoubtedly come against one of the division's best. If he can continue his impressive run, a title shot will appear on the horizon.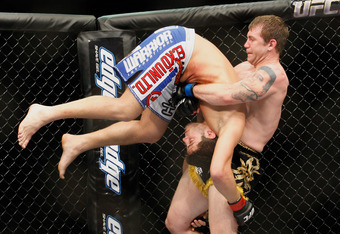 Richard Wolowicz/Getty Images
Chris Weidman
At this time last year, the former two-time All-American wrestler was a prospect on the rise.
Impressive outings in his first two appearances under the UFC banner led to stronger competition, and Chris Weidman was able to answer those challenges.
While he looked fantastic in his victory over Tom Lawlor, Weidman's performance against Demian Maia left much to be desired. He stepped up on 11 days notice to take the fight and ultimately looked sluggish despite earning the victory.
Up next he will face his biggest test to date in Mark Munoz.
With strong wrestling and a solid jiu-jitsu game, Weidman will find out exactly where he stands in the divisional hierarchy when he faces Munoz.
Should the New York native be able to best "The Filipino Wrecking Machine," the transition from prospect to contender will be complete.