NBA Draft 2012: Why This Rookie Class Will Be Better Than the 2011 Group
June 30, 2012

Chris Graythen/Getty Images
Now that the 2012 NBA draft is done, it's time for the new rookies to get down to business.
Aside from this year's draft class being a bit more talented than last year's group, there are key factors that will lead to them having better rookie seasons than the 2011 class.
This year's youngsters won't have to deal with the lockout that barred players from team facilities. The 2011-12 rookies didn't get to participate in voluntary workouts until December 1st, and they didn't get to practice with their teams until December 8th.
A little more than two weeks later, the regular season was underway. This fall, rookies will have a full-blown training camp, access to facilities and eight preseason games instead of just two.
For newcomers, this is a huge deal. Not only will they be in better shape once the season starts, but they'll be more familiar with their teams' systems and have better chemistry with their veteran teammates.
As for the regular season, the 2012 rookies will be asked to perform at a less frantic pace. The 2011 lockout caused a condensed regular season that crammed 66 games into a four-month span, as opposed to 82 games over nearly six months.
The 2011-12 season saw 42 different sets of back-to-back-to-back games throughout the winter, and there were 29 occasions in which teams played five games in six nights. That was brutal for rookies who were transitioning from the approximately 35-game college season.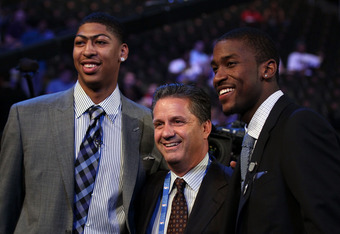 Elsa/Getty Images
Sure, with AAU ball and camps, players these days are used to playing year-round since high school, But nothing can prepare them for the NBA schedule, especially a concentrated one. The physical beating, travel and mental toll are intense. Who knows if rookies Ricky Rubio and Iman Shumpert would have suffered ACL injuries if they weren't subjected to such a rigorous season.
This year, rookies won't have to deal with that, and they'll have a better chance to get their legs under them and get their bearings as they progress through the season.
2012's rookies will have much more stability throughout the summer, comfort with their programs, communication with their coaches and preparation with their teammates.
Factor in their raw talent, and you'll see that the 2012 rookies will outshine the 2011 class.