NL East All-Star Candidates: Who Should Join Ian Desmond and Stephen Strasburg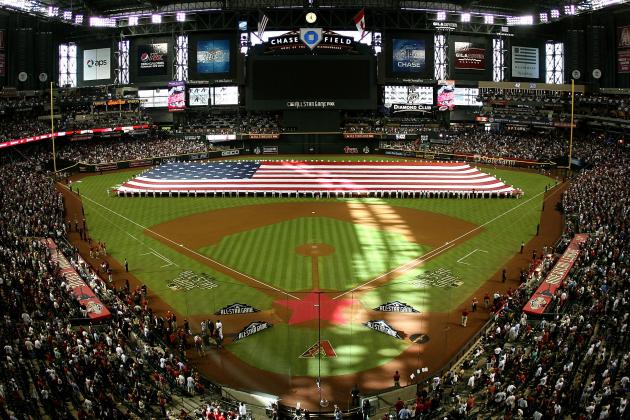 Robert Meggers/Getty Images

The 2012 Major League Baseball All-Star Game is just over a week away. In a season that has seen perfect games, no-hitters and unexpected teams in multiple divisional races, it's hard to believe that the halfway point has been reached.
With this in mind, it's time to take a look at who from the National League East deserves an All-Star nod.
Where Major League Baseball lets its fans determine the starters at each position, this breakdown will be made with no prejudices. Position by position, these are the guys who deserve to make the cut.
While some of them will make the All Star team and some won't, this imaginary club that consists only of NL East stars is based solely on what has transpired in the first half of this 2012 season.
Begin Slideshow

»
Hunter Martin/Getty Images

The Philadelphia Phillies are still struggling to stay out of the National League East cellar, but Carlos Ruiz has been a shining light and has helped to keep them within reach of the rest of the division.
Second in the league in hitting, at .346, with 11 home runs and 43 RBI, Ruiz is by far the most productive catcher thus far. Often hitting cleanup for the Phillies, Ruiz has held his own, bringing some decent firepower to a lineup that has missed its two best sluggers for over 80 games.
Ruiz is also second in the league in cutting down baserunners. He has thrown out 24 of 58 runners attempting to steal (.414), second in the National League.
Ruiz looks to finish third in All-Star balloting to Buster Posey and Yadier Molina.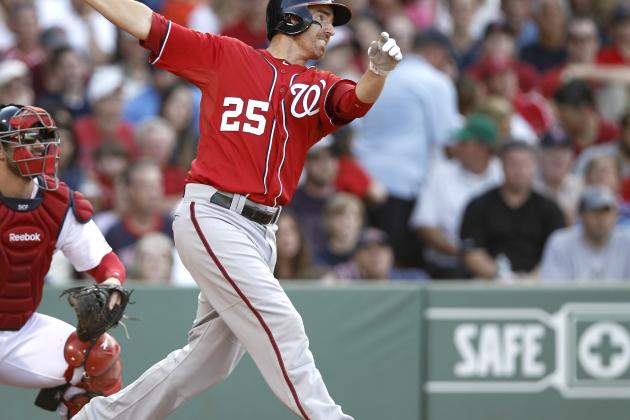 Winslow Townson/Getty Images

The Washington Nationals added LaRoche to their roster knowing that he is notorious for his slow starts.
This season, however, LaRoche has helped to make up for absences from Ryan Zimmerman, Mike Morse and Jayson Werth with his 15 home runs and 48 RBI to go with a manageable .248 average.
His unexpected early season power has helped an often mediocre offense to make the most of the Nationals' tremendous pitching and keep them at the top of the East.
Unfortunately, LaRoche is not even in the top five in All-Star votes.
Honorable Mention: Freddie Freeman of Atlanta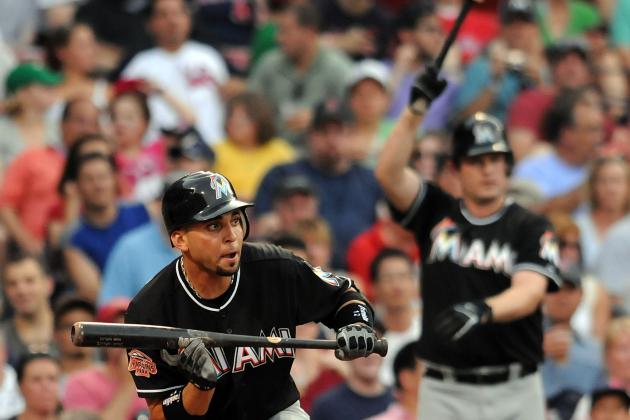 Darren McCollester/Getty Images

Second base is not a position that is loaded with stars in the East.
Omar Infante has been as consistent as any Miami Marlin this season and has surprised many with his seven home runs already. His .287 batting averages fourth among National League second basemen.
Infante wins this spot somewhat by default and he is currently fifth in All-Star voting.
Honorable mention: Atlanta's Dan Uggla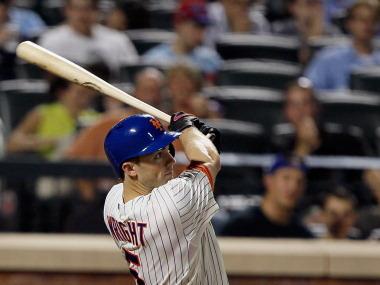 Mike Stobe/Getty Images

Without any doubt, David Wright is the best third baseman in the National League right now.
Leading the league with a .365 average after flirting with .400 for much of the first half, Wright has been the offensive leader that the Mets have needed. On pace for almost 100 RBI, Wright also has nine home runs while playing in one of the league's best pitcher's parks.
He also has more walks than strikeouts this season and is one of the driving forces behind the Mets' surprising first half success.
Wright is likely to get the start at third for the National League.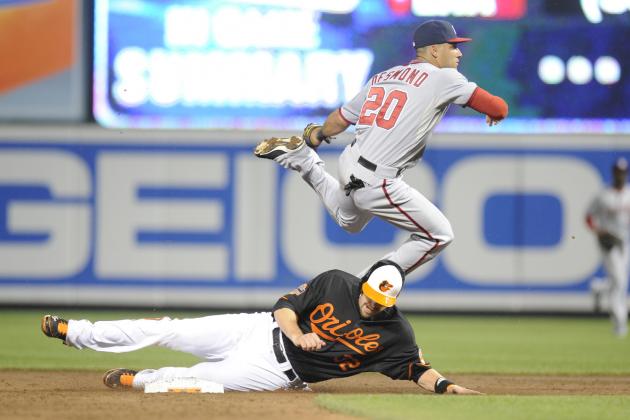 Mitchell Layton/Getty Images

When future Hall of Famer Chipper Jones first saw Ian Desmond play, he immediately predicted his future stardom.
Desmond has matured greatly this season, hitting .276 with 13 home runs and 42 RBI. His run production has begun to live up the the hype that he was brought up with.
While Desmond has, at times, been somewhat of a defensive liability (11 errors), his bat has more than made up for the slack and he has become one of the best young shortstops in the game.
Desmond is not among the top five vote-getters.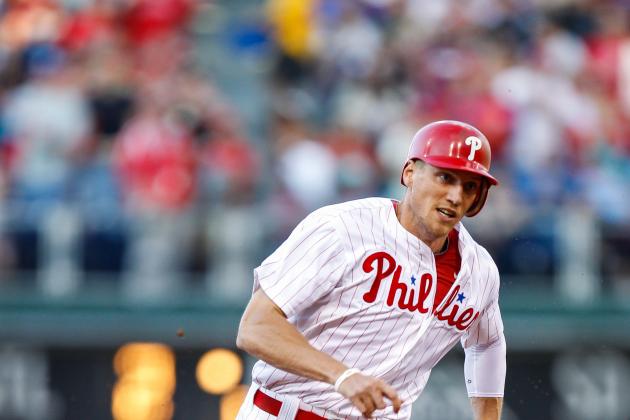 Brian Garfinkel/Getty Images

Much like Carlos Ruiz, Hunter Pence has been a shining light for the Phillies in 2012. Forced into a leadership role by injuries to Howard and Utley, Pence has responded well.
Hitting .280 with 15 home runs and 47 RBI, Pence is living up to the expectations he set as an Astro. Doing all of this without a whole lot of offensive support around him is even more impressive.
Pence is also second in the league in outfield assists with seven.
He is currently ninth in All-Star votes.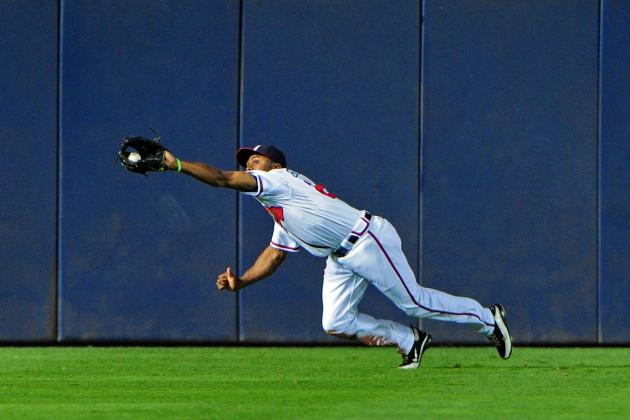 Scott Cunningham/Getty Images

Tied for third in the National League in stolen bases with 20, Michael Bourn has given Atlanta the kind of leadoff hitter they have needed for many years. He is also hitting for average (.306) and providing a little pop as well (seven home runs).
After coming over from Houston late in the 2011 season, Bourn seems to have found a long-term home with the Braves.
Bourn finished 10th in All-Star voting.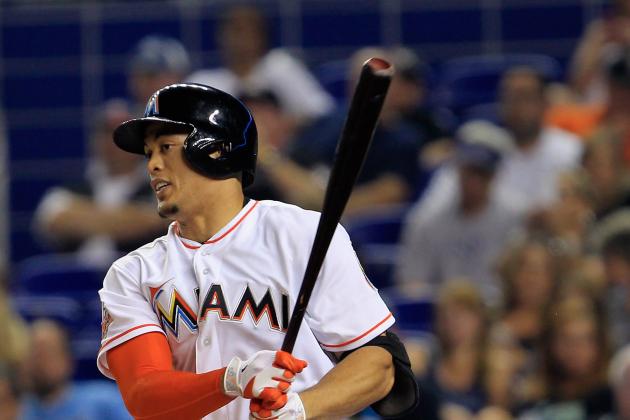 Chris Trotman/Getty Images

Giancarlo Stanton has emerged as one of the most impressive long ball hitters in baseball. With 17 home runs and 47 RBI, his towering shots have been the focus of many a highlight reel.
Even with the Marlins reeling, Stanton has earned a large following of his own and is one of the rising stars of the major leagues.
His amazing ability to land balls in previously unreached parts of multiple ballparks is balanced by his respectable .278 average.
Stanton finished ninth in voting.
Honorable mention: Atlanta's Martin Prado and Bryce Harper of the Nationals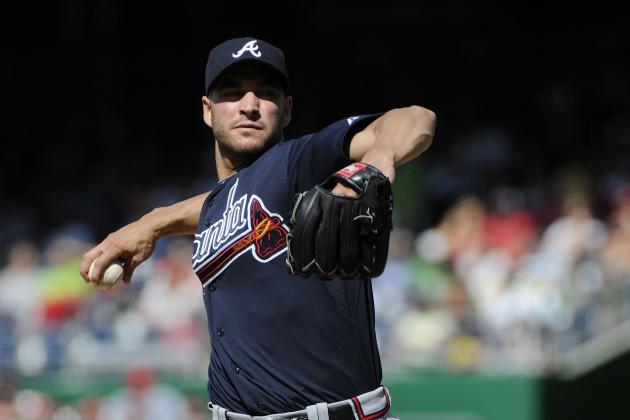 Jonathan Ernst/Getty Images

Even though he was lost for the season last week to Tommy John surgery, Brandon Beachy has been the Braves' ace in the first half and he deserves an All-Star appearance.
Beachy leads National League starters with a 2.00 ERA even though his record is only 5-5.
The Braves will miss his dependability in the rotation in the second half, and replacing an ERA that low is going to be almost impossible given the salary restrictions that they are operating under.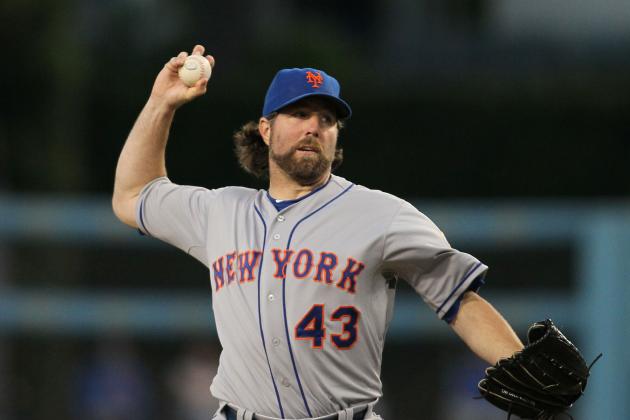 Victor Decolongon/Getty Images

Pitcher of back-to-back one-hitters, hard-throwing knuckleballer R.A. Dickey has been much more than the journeyman pitcher the Mets signed.
At 11-1 with a 2.19 ERA, Dickey is amazingly third in baseball in strikeouts with 116 while only walking 24 this season.
While the Mets were not expected to compete this season, the performance of Dickey has not only kept them in the race, but it has garnered tons of national media attention.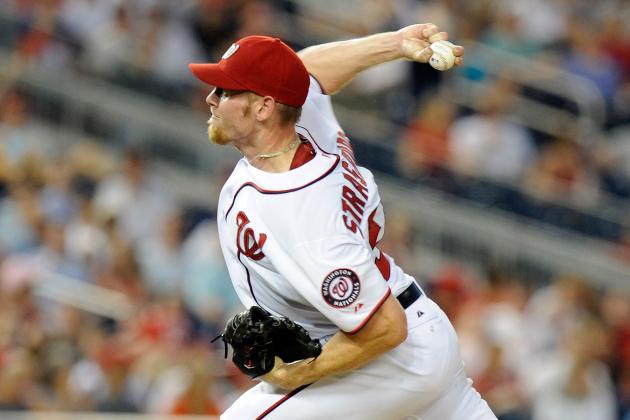 Greg Fiume/Getty Images

Despite being put on a controversial season-long pitch innings quota before the season ever began, Strasburg has mowed his way through the National League with ease. This combined with the Nationals' current division lead will test the organization's commitment to that quota come late summer.
He's 9-2 with a 2.60 ERA; Strasburg is second in the game in strikeouts (118). He has shown poise and confidence that is rarely found in kids his age regardless of hype.
Honorable mention: Gio Gonzalez of the Nationals and Cole Hamels of the Phillies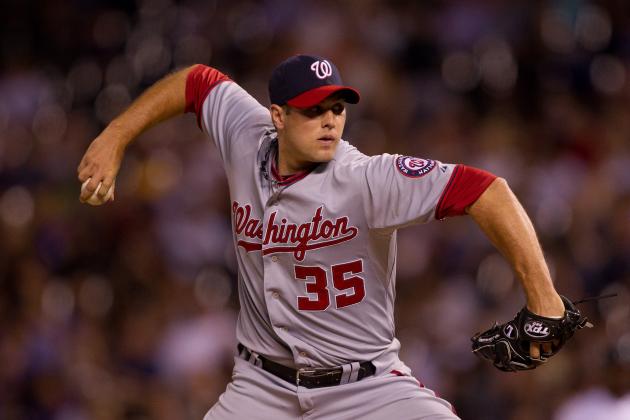 Justin Edmonds/Getty Images

Even with a record of 3-1 out of the Nationals bullpen and no saves, Craig Stammen has been as dependable as any reliever this year.
Stammen is fifth in ERA among relievers this season at 1.48 ERA and second in innings pitched with 42.2 in 30 appearances. Numbers like this have made him invaluable for the first-place Nats and helped to bridge the gap between starter and closer.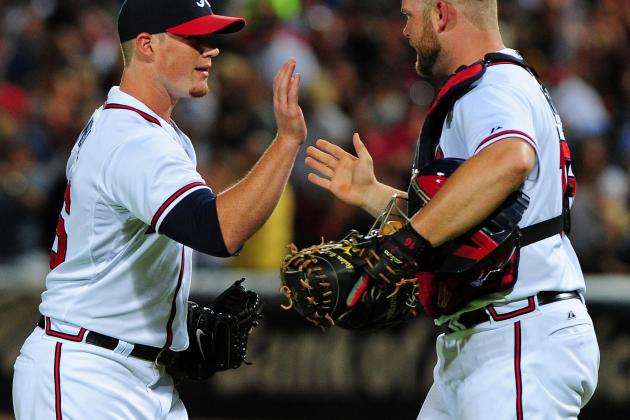 Scott Cunningham/Getty Images

Craig Kimbrel has established himself as one of the premier closers in all of baseball over the last two seasons. Once worried who would replace the now-retired Billy Wagner, the Braves are no longer concerned.
Kimbrel leads the National League with 22 saves and carries a 1.55 ERA on top of striking out 48 batters in just 29 innings of work.
He has blown just one save in 2012.