Georgia Bulldogs Isaiah Crowell Dismissed from Team; Richt Must Tighten Up
June 29, 2012

Kevin C. Cox/Getty Images
Georgia Bulldogs sophomore running back Isaiah Crowell has been dismissed from the football team. According to Atlanta Journal-Constitution beat writer Chip Towers, head coach Mark Richt dismissed Crowell upon learning he had been arrested for two felony weapons violations.
Crowell was charged with three weapons violations early Friday morning. At least one of the guns involved apparently had an altered serial number.
College kids, note here: There is no such thing as a legitimate reason for having possession of a weapon with an altered serial number.   
Thus begins another shameful situation involving a young student making terrible decisions that will alter his life in a negative way. According to ESPN's Mark Schlabach, Crowell was the top running back and No. 4 overall recruit in the country when he signed with Georgia in 2011.
As a true freshman last year, he dealt with several minor injuries. But, when healthy, he was a solid player, leading the team in rushing at 850 yards and making Second Team Freshman All-American.
After this spring, Crowell was listed as the starting tailback for the Bulldogs, and expectations were high that he could become just the fifth Georgia running back since 1992 to rush for more than 1,000 yards.
The incident occurred this morning at a vehicle check point on East Campus Road and Green Street at about 2:20 a.m. According to Clark County Police Spokesperson Hilda Sorrow (via Schlabach), the officers requested—and were granted permission—to search the vehicle for marijuana after detecting the odor.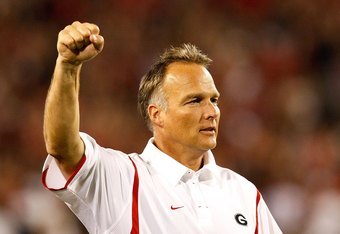 Kevin C. Cox/Getty Images
Though no drugs were found during the search, a handgun with an altered serial number was found under the driver's seat. At that point, Crowell was taken into custody.
Also inside the car were four other Bulldog players. No one else was arrested in the incident. Crowell posted bond and was released Friday afternoon.
Although Crowell possessed the kind of talent that could have made him a huge part of the Bulldogs offense and possibly an NFL draft pick, he was often in Richt's dog house during the 2011 season.
He was benched for the first quarter of Georgia's 33-28 win over Vanderbilt for disciplinary reasons. He was then suspended for the 63-28 win over New Mexico State. Then, he was loudly booed by Georgia fans as he limped off the field with an ankle injury in the first half of the Bulldogs 42-10 loss to LSU in the SEC Championship Game.
Currently, four other Bulldog players are under suspensions for one to four games for various infractions of team rules. According to ESPN's David Ching, other recent disciplinary issues include:
Rising senior Carlton Thomas was suspended for one game three different times. He, along with Crowell tailback Ken Malcome, failed a drug test prior to the New Mexico game and sat that contest out.
Caleb King, ranked as one of the best tailbacks in the nation, left Georgia due to academic reasons last year. Even before then, he encountered several disciplinary issues that limited his playing time.
Washaun Ealey was arrested in Athens, then suspended. Then he and Richt came to a mutual decision that it would be best for him to seek fortune and fame elsewhere.
Dontavius Jackson, a backup tailback, had numerous charges to his name in Athens in July 2012, including a DUI. Richt gave him a six-game suspension, but Jackson transferred instead.
Richt is a good coach, but even more impressive, he is a fine man. However, he appears to be starting down the slippery slope of the same mistakes I watched Phillip Fulmer make at Tennessee. Not mistakes that involve not caring for or taking care of your duties to the program, but rather mistakes of caring too much.
Richt gets caught up too much in the struggles of kids he thinks he can help. Unfortunately, they let you down. And sometimes, the fall is not recoverable.
Richt still has a fine football team. He still has many good people looking to him for leadership.
It's time to cut losses on these athletes who don't get it. It's time to make character a bigger player in recruiting in general. That may well cost UGA a few stars on the recruiting boards, but it will pay handsomely in the quality of people you have to represent your fine institution.
This year can be a big season for the Georgia Bulldogs—not only in wins, but in a change in attitude for this team. Richt is without a doubt the kind of person—and leader—who can make that happen.