Brock Lesnar's Record and the Most Misleading Stats in MMA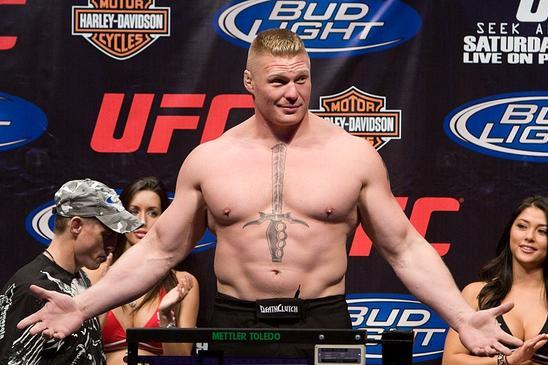 Courtesy of MMAmania.com
Numbers don't lie, but they can certainly be manipulated. Oftentimes, MMA writers will point to statistics as a way to illustrate their points.
Anderson Silva has the longest winning streak in UFC history. Tito Ortiz has the most defenses of the UFC Light Heavyweight Championship. These are the kind of statistics that speak for themselves and don't need to be twisted around to validate someone's case.
This is a look at four of the most misleading statistics in mixed martial arts. By no means am I suggesting that all of these statistics have been beaten into the ground, but many of them should be ignored due to their implication of something untrue.
Author's note: This practice isn't exclusive to writers. Commonly, fans like yourselves have chosen to talk about a particular statistic and hold onto it tightly in hopes that someone changes their opinion. Yes, we know that Brock Lesnar went 4-3 in the UFC, and I'll explain to you why that doesn't stop him from being an elite heavyweight.
Begin Slideshow

»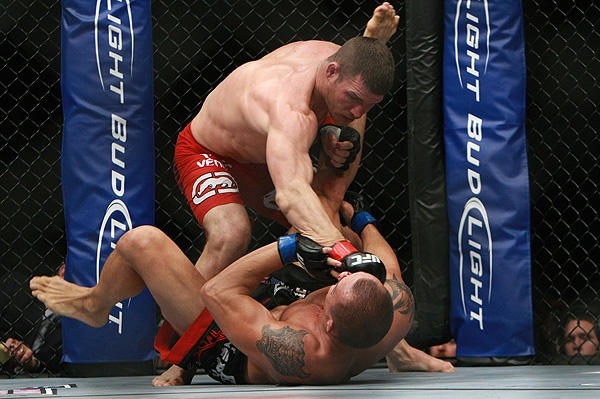 Courtesy of BenchWarmersUnited
Of all fighters to enter the Ultimate Fighter house, who is the king of knockouts? You might expect Chris Leben or Melvin Guillard to grab this honor. Perhaps you had Josh Koscheck on your radar. All of them have some spectacular KO finishes and have stopped many fights due to strikes.
Would you have guessed that Michael Bisping has more KO/TKO finishes than any fighter in TUF history? Believe it or not, Bisping has stopped eight of his Octagon opponents by TKO, including Denis Kang, Jason Miller and Jorge Rivera.
Including his victories in the TUF house, Bisping has finished 10 fighters while under UFC contract. Why is this stat misleading? Because Bisping isn't a knockout artist. In fact, "The Count" has yet to record a single pure KO since joining the roster.
This isn't a knock on Bisping, as he is an excellent fighter who has competed with many of the best. It would simply be erroneous to promote Bisping as a knockout artist.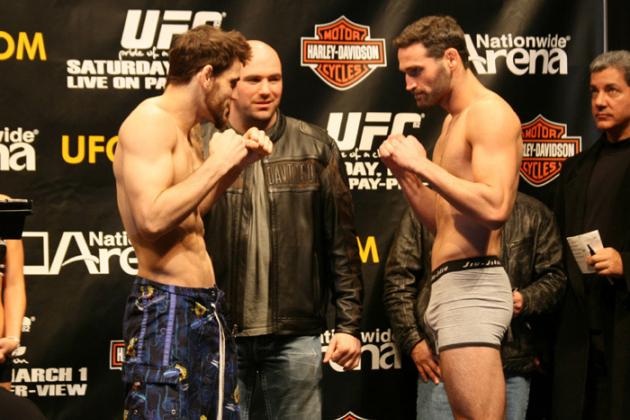 Courtesy of MMAJunkie.com
Pop quiz: Who is Jon Fitch standing in front of in this photo?
That is Chris Wilson. He went 1-3 in the UFC before being released. Wilson is one of eight men who Fitch defeated en route to becoming the No. 2 welterweight in the world. That streak also includes wins over Roan Carneiro, Luigi Fioravanti and Kuniyoshi Hironaka.
Do you see a pattern of unimpressive opponents that Fitch has bested?
Now, I'm not suggesting that all of Fitch's wins have been against fighters outside of the top 10. He did defeat Thiago Alves in 2010 and also beat Diego Sanchez via split decision at UFC 76 back in 2007.
However, let's take a look at the fighters who Fitch has not beaten, but somehow leaped over in the rankings. Everyone in this list was ranked in the top 10 at some point in time while Fitch was considered to be the No. 2 welterweight in the world:
Josh Koscheck, Carlos Condit, Martin Kampmann, Matt Hughes, BJ Penn, Chris Lytle, Matt Serra, Rick Story, Rory MacDonald, Anthony Johnson, Mike Swick, Ricardo Almeida, Marcus Davis, Nick Diaz, Paul Daley, Dan Hardy, Dong Hyun Kim and Jake Ellenberger.
I'm not suggesting that Fitch couldn't beat these fighters. I'm simply pointing out that he didn't. Why is it that Fitch was able to surpass all of these men without beating them?
Ignore the hype. Until Jon Fitch beats fighters in the top 10, he does not deserve the inflated rankings he has been handed for years. Thankfully, Johny Hendricks knocked Fitch out and removed him from his unwarranted position.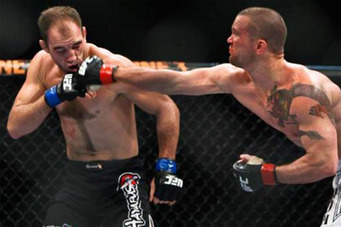 Courtesy of UATVonline.com
Chris Lytle is a well-rounded fighter who has never been knocked out or submitted, despite competing with the best that the sport has to offer. However, "Lights Out" has an Octagon loss for each of his 10 Fight Night Awards.
As a fighter who was always willing to step up and take a fight against anyone, fans loved Lytle for his desire to put on an entertaining brawl with whoever stood in front of him. Unfortunately, that sort of inclination to absorb punishment has left Lytle with 10 losses in the UFC.
Does 10 losses in the UFC make Lytle a bad fighter? Does it hurt his legacy? Perhaps. However, don't let his losses fool you. Lytle came back from a low point and ended his UFC career on a 9-4 tear, and he won five of his last six bouts.
Slow and steady wins the race. It's just a shame that Chris Lytle's race had to come to an end.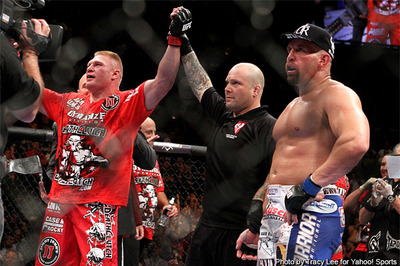 Photo by Tracy Lee/Yahoo Sports
What will Brock Lesnar's legacy in MMA end up being?
On one hand, Lesnar transferred his enormous popularity from the world of professional wrestling into the UFC and helped to boost the stature of the industry. Along the way, he won bouts against some impressive names.
On the other, the former NCAA champion is barely batting over .500 on the grandest stage of them all, and the final image that fans saw of the stud was a trilogy of thrashings at the hands of Shane Carwin, Cain Velasquez and Alistair Overeem.
Many point to the Deathclutch fighter's 4-3 record as an example of mediocrity above all else. What they tend to ignore is the fact that Lesnar fought seven times for the UFC, and six of them were against current, future or former world champions.
Looking further into that statistic, you'll see that three of Lesnar's wins came against reigning champions. Lesnar defeated Randy Couture to capture the UFC Heavyweight Championship, and he twice unified the belt by finishing UFC interim champions Frank Mir and Shane Carwin.
When we look at Lesnar's three losses, you'll see a rookie mistake against a crafty veteran, and two losses that came after a career-altering disease crippled the former champion.
Is Brock the best heavyweight in MMA history? Absolutely not. However, he quickly made his mark on the scene and won some extremely high-profile fights against elite competition. It's disturbing how many comments we get that suggest Lesnar is a subpar fighter because of his record.
Jason Reinhardt is the type of fighter worthy of ridicule, but he holds a record of 20-3. How does he do it? By chewing on a steady diet of amateurs who went pro too soon on the regional circuit. Brock Lesnar competed with the best and won more often that he lost. To suggest that the former Heavyweight champion of the world sucks is a travesty, and it should not be tolerated.