Harrison Barnes: UNC Star Will Make or Break Golden State Warriors' Future
June 30, 2012

Elsa/Getty Images
Harrison Barnes was a risky selection with the seventh overall pick, but the Golden State Warriors are relying on him to play to his potential.
Barnes was once considered a lock for the first overall pick in the 2011 NBA draft. Coming out of high school, he was considered a stud by all who watched him, and he was considered even better than last year's No. 1 overall selection, Kyrie Irving.
However, one year of college ball put that in jeopardy. He did not wow us, and despite playing well and averaging 15.7 points and 5.8 rebounds per game, his draft stock fell. He was inconsistent and didn't look like the star we expected him to be.
Surprisingly, Barnes decided to come back to college for a second year, despite the fact that he would have been a top-three pick in the draft. Perhaps he thought that the lockout wouldn't end and he wouldn't be paid, but for reasons only known to him and possibly his advisers, Barnes returned to North Carolina.
In his sophomore season, he didn't put up 20 points per game like we expected, and he really didn't improve much at all. He averaged 17.1 points and 5.2 rebounds per game and struggled to impress.
Barnes' potential in the NBA is still that of a star, but now there is also the potential for him to bust.
The Warriors can't afford to have him bust.
Golden State went 23-43 last season, which was the third-worst in the Western Conference. They have a lot of potential with the talent on their team, but the Warriors need a scorer like Barnes to help push them over the top and make the playoffs.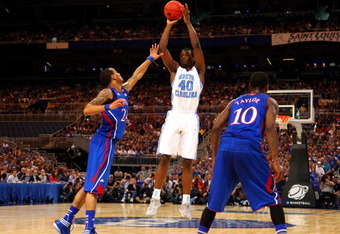 Dilip Vishwanat/Getty Images
Andrew Bogut, David Lee, Klay Thompson, Stephen Curry and more give the Warriors a lot of potential, but they need one more elite scorer. With his smooth jumper and his ability to drive the lane, Barnes has the ability to score in bunches. But he might be a complete bust.
If Barnes plays well, the team will be a hit. But there is no guarantee that he will be able to pull it off. And if he can't, the Warriors will struggle once again.
Barnes is the player to keep an eye on for the Warriors over the next few seasons. They have a lot riding on him being a stud.