US Olympic Swimming Trials Results: Will 100 Free Depth Result in Relay Gold?
June 30, 2012
Al Bello/Getty Images
At a U.S. Olympic Trials defined by the top-heavy charms of Michael Phelps and Ryan Lochte, Friday's men's 100-meter final gave fans a rare chance to celebrate Team USA's depth.
With both Phelps and Lochte having scratched the event earlier this week, America's undercard talents staged a tense, fast-paced swim that bodes well for the United States as it looks to defend its 4x100 freestyle relay crown in London.
Favorite Nathan Adrian led the way in 48.10, a time that ranks fourth in the world this year. Behind him was 2008 Olympic veteran Cullen Jones. Those two will represent the United States as individuals later this summer.
Even more important from a medal-count perspective, they both look like key assets in Team USA's drive to upset co-favorites Australia and France in the 400 free relay.
Things looked dire for Uncle Sam in this race last year, but Friday's results suggest they'll have a puncher's chance in what has become one of the most competitive and bravado-inducing races at these Olympic Games (track sprints included).
Let's start with some recent history.
After having won the 2008 Olympic title and the 2009 world championship, Team USA's 4x100 team laid a bronze-colored egg at the 2011 World's championship.
A quartet composed of Michael Phelps, Nathan Adrian, Garrett Weber-Gale and Jason Lezak finished 0.82 seconds behind second-place France and almost a full second behind the victorious Australians.
So, what went wrong?
First, relay veterans Garret Weber-Gale and Jason Lezak began to show their age. Both finished with splits north of 48.10 while Australia's four swimmers each clocked in under 48 flat.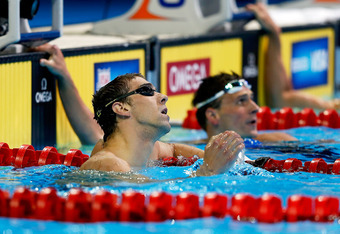 Jamie Squire/Getty Images
Second, coach Gregg Troy decided to keep red-hot Ryan Lochte off the team in deference to his ambitious schedule. Big mistake. Lochte was the undisputed swimmer of the meet, winning five gold medals.
Third, Michael Phelps looked like, well, someone other than Michael Phelps. The Olympic star swam his slowest lead-off leg since 2007, finishing in an uninspired 48.08.
Now the good news:  All that will change come late July.
Webber-Gale finished eighth in the 100 free and won't make the team. Lezak finished sixth. He'll swim in Olympic heats, but is a long shot to make the final.
Team USA was in for a house cleaning, and with Omaha's results, they're sure to get one.
The first move is to replace one of those two veterans with Lochte and the other one with either Cullen Jones or third-place finisher Matt Grevers. Then sub out the feckless Michael Phelps of 2011 with the regenerated specimen we're seeing in Omaha.
Suddenly, a down-and-out collective looks at least two seconds faster than it was at the 2011 Worlds.
Mix in a thimble of Olympic adrenaline along with a heavy helping of Phelps' and Lochte's uber-competitive drive to greatness, and perhaps the margin stretches to three or four.
No, Team USA did not look like champions one year ago. But if Omaha is any indication, America will send a very different team to London.
France, Australia—you've been warned.