The Biggest Media Misconceptions About the Baltimore Ravens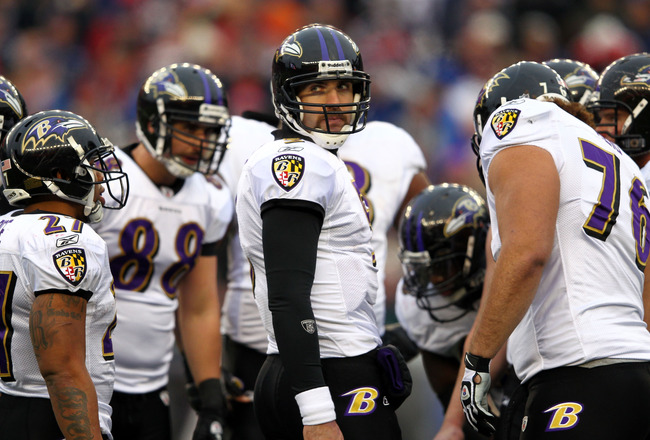 Al Bello/Getty Images
Joe Flacco is a great quarterback.
Or is he?
Whether you're a Ravens fan or not, you likely have an opinion on Flacco and his ability as an NFL quarterback.
Multiply that by many times, and you get the power of the American media. By and large, the media has been more critical of than kind to the Ravens. And their criticisms haven't been directed solely toward Flacco.
Is Ray Lewis too old? Is Ed Reed committed? Are the Ravens even the best team in their division?
Although this obviously isn't a talk show, I predict the result of this article will yield that similar feeling of spirited banter.
In my estimation, there are three main misconceptions the media have made, to which I'll argue against each one. Then, it'll be your turn to either support or reject my claims.
Let the fun begin.
Misconception No. 1: Joe Flacco Isn't a Great Quarterback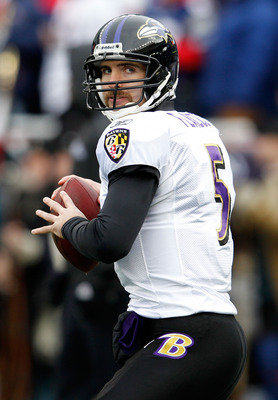 Rob Carr/Getty Images
Joe Flacco is a great quarterback.
Not according to ESPN's Ashley Fox.
Is he an all-time great? No. Can he be? He's certainly on his way.
The mark of a great athlete is the ability to continually improve and, of course, to win. Flacco has done just that in each of his four NFL seasons.
Statistically, he's improved each year, save for a few exceptions (most of his passing stats decreased from 2010-11). Last season, he showed the ability to win big games when it mattered most.
Last year, Flacco helped the Ravens to an undefeated record at home (9-0, including the playoffs) and in the AFC North (6-0), where every defense finished in the top 10. He led the team to marquee wins against Pittsburgh (Week 1), Arizona (Week 8, leading the team on a 27-3 run to win on the last play of the game) and San Francisco (Week 12).
The biggest game of them all was Week 9 at Pittsburgh, when Flacco led the Ravens to a win on the road within the last 2:21 of the game. It was just the sixth time in franchise history they had beaten the Steelers in Pittsburgh. Flacco was calm and in total control of the moment.
That is saying something considering Flacco is only 26. Besides Mark Sanchez (25 years old) and Matt Ryan (26 years old), Flacco is the youngest active player with at least 11 game-winning drives.
Of Flacco's 11 game-winning drives, six of them have been in the fourth quarter. In those situations, he has thrown 18 touchdowns to just three interceptions.
Overall, Flacco has started all 73 of the NFL games he's played in (64 regular season games, nine postseason games). In that time, he's posted a record of 49-24 (67.1 percent), including a 5-4 mark in the playoffs (55.6 percent).
Sure, he's not Tom Brady, Aaron Rodgers or either of the Manning brothers.
People, he's been in the league for four years and, just in the last two seasons, has had legitimate offensive weapons.
Drew Brees and Flacco have the same career playoff record (5-4). Neither Brady or Joe Montana have been able to win a playoff game in each of their first four NFL seasons like Flacco has.
Flacco is on pace to be among the most winning quarterbacks of all-time. If he plays 16 seasons in the NFL at his current rate (which given his durability is more probable than not), Flacco will have as many playoffs wins as Montana and Brady.
Of course, Flacco has yet to play in a Super Bowl. But whether you like Flacco or not, you have to admit his play in the AFC title game should've earned him a chance at a world championship.
Misconception No. 2: The Ravens Defense Is Washed Up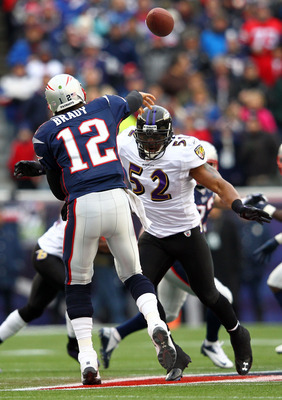 Al Bello/Getty Images
Ray Lewis is about to embark on his 17th NFL season.
Think about that. Since 1996, when Bill Clinton was president, Lewis has been roaming NFL fields with one goal in mind: prevent the other team from scoring.
In his previous 16 seasons, Lewis has started in 221 out of a possible 256 games. To be the physical beast he's been for so long while still being able to start on the NFL's third best defense (in 2011) is truly remarkable.
Although a month and a half ago, Ed Reed said he was "not 100 percent committed right now to playing this year," he also said, "This is the time of year where players think through things. My goal is to play football in the years to come."
Basically, Reed seems to be focusing more on his health with each passing offseason, and he wants to be sure that if he plays, he will play at a high level.
If you want to look at strictly age, Lewis should be cut, and Reed might not make the team either. If you look at three NFL AP Defensive Player of the Year awards, 12 First-Team All-Pro selections and 21 Pro Bowl nominations, you'll see Lewis and Reed aren't your average NFL veterans.
According to ESPN.com's Jamison Hensley, this could be the year that Lewis and Reed lose some of their dominance:
You have to wonder whether age is catching up to them. Lewis just turned 37, and Reed will be 34 by Week 2 of the regular season.

I wouldn't classify the Ravens defense as old (some believe I suggested so in my blog about the increased pressure on Joe Flacco and the offense). Lewis and Reed are the only starters over 30. But, because Lewis and Reed have been the foundation for so long, the perception is the Ravens defense is aging with both nearing the ends of their careers. How Lewis and Reed play this year will go a long way in determining whether the Ravens defense remains dominant or not.
Lewis was named a First-Team All-Pro in 1999 and in 2009. Reed led the NFL in interceptions in 2010 (8), a season in which he played only 10 games.
How's that for (recent, sustained) dominance?
We haven't even begun to talk about Haloti Ngata (28), Lardarius Webb (26), Arthur Jones (26), Pernell McPhee (23) and Jimmy Smith (23). Of course, you can't forget about the reigning NFL AP Defensive Player of the Year Terrell Suggs (29), either. Even if Suggs doesn't play in 2012 (he hasn't been officially ruled out and insists he will play this year), the Ravens defense has nothing to worry about.
In a passing league, the Ravens have a young, talented, deep group of pass-rushers and pass-defenders.
Misconception No. 3: Baltimore Isn't the Best Team in the AFC North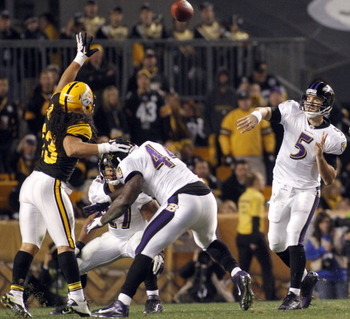 Justin K. Aller/Getty Images
Even though the Ravens swept the division in 2011 en route to the AFC North title, there are people that think they won't do it again in 2012.
ESPN's Bill Polian thinks Cincinnati will win the AFC North crown for the second time in four years: "I believe the Bengals, because they've had such a great offseason, will win the division."
Certainly, the Bengals have a young nucleus of talented players that looks to be contenders in the future.
For now, let's look at the facts. Since 2008 (when John Harbaugh became head coach of the Ravens), the Steelers (2008), Bengals (2009) and Ravens (2011) have went undefeated in the division. The Browns have routinely been in last place, so until they drastically improve, they ought not to be in this conversation.
In the last four years, both the Ravens and the Steelers have divisional records of 17-7, while the Bengals have a losing record in that time (11-13).
What do you know? The Ravens and Steelers are competing for a divisional title once again. In the last 10 games of this series (since 2008, including the playoffs), the Ravens are 4-6 against the Steelers.
Except for Baltimore's 35-7 win over Pittsburgh in Week 1 of 2011, each game has been decided by single digits (average margin of victory in those nine other games: 4.2 points). Baltimore swept the series last season, showing it was the superior team.
If anyone else besides the Ravens is going to win the division (or conference, for that matter), it would be the Steelers. But considering recent history and more youth across the board, I'm saying the Ravens will be the first back-to-back AFC North champions since...yes...the Steelers (2007-08).
Keep Reading

Baltimore Ravens: Like this team?