Grading the Lamar Odom Trade for Each Team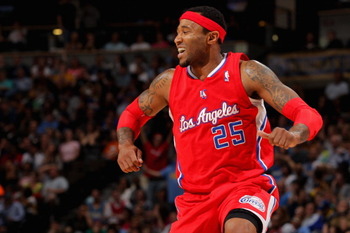 Mo Williams will go back to where he was originally drafted.
Doug Pensinger/Getty Images
NBA.com reports that the four-team trade that will send Lamar Odom to the Clippers and Mo Williams to the Jazz is complete now that Williams has exercised his player option.
With that, the first veteran trade of the post-NBA draft off-season is completed, and Odom goes back to where he became a two-time NBA champion, but this time he'll be wearing Clipper's red and blue instead of Lakers yellow.
Mo Williams' first team was the Utah Jazz, and with his contract expiring after next season and turning 30 in December, it could be his last opportunity to be a starting point guard.
Dallas, meanwhile, made a big move toward having the space to acquire Deron Williams by getting rid of the contract. The Houston Rockets sent cash considerations to the Dallas Mavericks and received the Clippers' second-round pick in forward Furkan Aldemir.
Here are the grades for each team involved in the trade.
Dallas Mavericks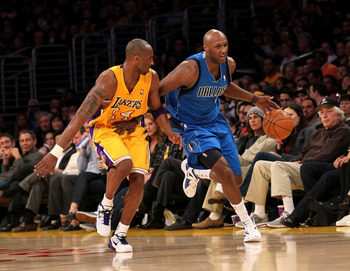 Dallas ships out its most disappointing addition of the last few years outside of Brendan Haywood in Lamar Odom
Stephen Dunn/Getty Images
With Odom's roster spot replaced by a trade exception, the Dallas Mavericks can either trade for a player of the value of the exception or keep as an extra asset.
However, Hoopsworld's Eric Pincus tweeted that Dallas will very likely renounce the trade exception in order to get more cap room to acquire Deron Williams. As it stands right now before signing rookies, Dallas has about $45 million in salary with the cap at $58 million, and they will likely need around $16 to $18 million in space to sign Deron Williams.
With more space needed, Dallas could amnesty Brendan Haywood and/or release Vince Carter from his non-guaranteed contract, according to Hoopsworld.
This trade would release the most cap room Dallas could have hoped for without taking back a player and giving away a player who becomes useless this season.
The situation could not be any better for the Mavericks.
Grade: A+
Los Angeles Clippers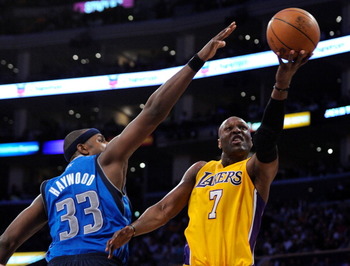 Lamar Odom will play in the Staples Center this season, but in a different uniform.
Kevork Djansezian/Getty Images
Lamar Odom gives the Clippers skill in the post that they are currently missing, while also keeping the "lob-city personality" of this team on the roster.
While Mo Williams was a great sixth-man, he played as a very undersized shooting guard, and hurt L.A. on the defensive end. With Odom replacing him in that role, Blake Griffin can play some center, Kenyon Martin will be allowed to depart without much worry about post depth and Chris Paul will have a versatile pick-and-roll partner who is similar to what Paul once had in David West.
Assuming Chauncey Billups is brought back, and L.A. can keep either Randy Foye or Nick Young, the Clippers will be two-deep at every position except center, meaning that their depth and skill put them in contention to compete for a Western Conference final with a full off-season.
Grade: A-
Utah Jazz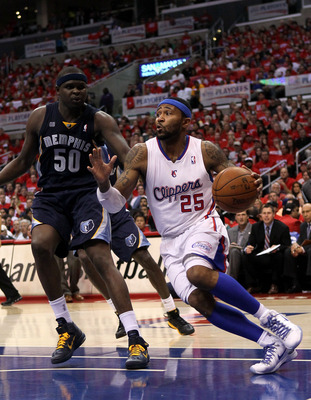 Is Mo Williams part of the beginning of a Utah Jazz back court restructuring?
Stephen Dunn/Getty Images
With Devin Harris never really becoming the consistent point guard for Utah, and the Jazz never had a smooth scorer from the perimeter last year. Mo Williams will either put pressure on Harris or be the starter.
With the Lakers needing a point guard and having a trade exception from the Lamar Odom trade last year, don't be surprised if Harris is traded to the Lakers in order to have Williams and Earl Watson play the position for this year with their contracts expiring.
With players like Paul Millsap, Al Jefferson and Raja Bell having expiring contracts, and the Jazz possibly having Golden State's pick in 2013, which is top-7 protected, the Jazz will try to field as competitive a team as possible while also having their eye on improving during the 2013 free-agency period.
In other words, Utah helps itself immensely both in the present and the future.
Grade: B+
Houston Rockets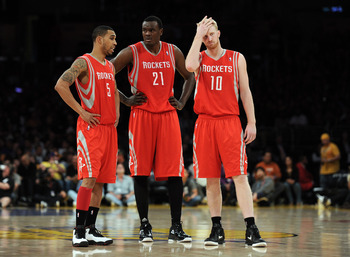 Houston will not know what they get from Furkan Aldemir until he does come, if he does at all.
Harry How/Getty Images
Because the cash considerations Houston gave to Dallas are not disclosed in full detail, and Furkan Aldemir has yet to join Houston, the Rockets' grade in this trade is incomplete.
Grade: Incomplete
Keep Reading