NBA Draft 2012: Dion Waiters, Andre Drummond and Draft Day's Biggest Gambles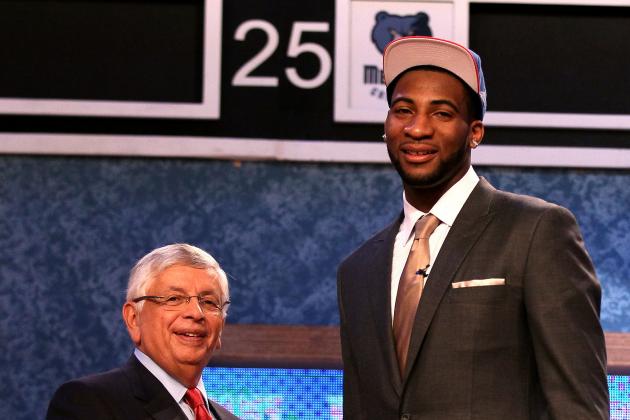 Elsa/Getty Images

It happens every year.
A team finds itself on the draft clock, and all of the beliefs about conservative choices and picking based on needs go out the window.
Instead, a player that the team didn't think would fall to them did, and now they are left with the choice of going with the safe pick, or a picking player that might be a gamble, but has a higher ceiling.
General managers see their careers often defined by their choices in these types of scenarios.
Obviously, the converse is also possible, and a team is kicking themselves for not selecting the gamble instead of the safe pick.
Regardless, every year, teams routinely select a player that for whatever reason is a gamble. Here are seven of the biggest gambles in this draft.
Begin Slideshow

»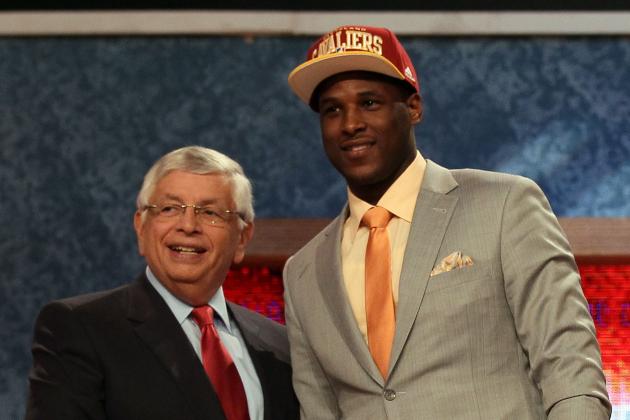 Elsa/Getty Images

What a difference a month makes.
When the NBA regular season was wrapping up, most viewed Waiters as a mid-to-late first round pick.
And despite really not doing that much following the combine, Waiters has shot up the Draft boards.
Cleveland gets pointed out as a gambler here because of who was still available. There were certainly safer picks (Thomas Robinson, Harrison Barnes) still available, and more dynamic talents (Austin Rivers, Andre Drummond), but the Cavs instead grabbed their shooting guard of the future.
Waiters could develop into the next Mitch Richmond.
But he also could become the next Malik Sealy, and cost some people their jobs.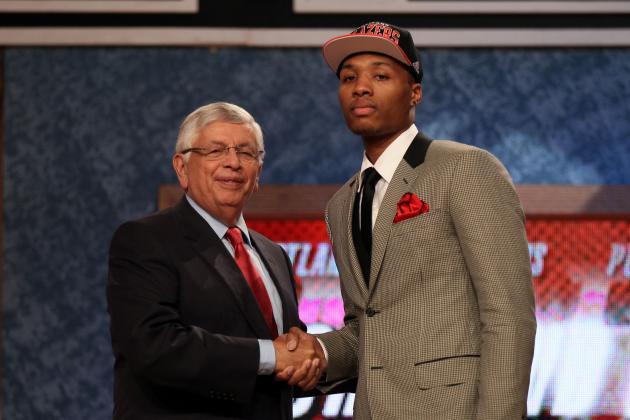 Elsa/Getty Images

The Blazers had two lottery picks, so inherently they were less likely to regret their drafts than anyone else, giving them a reason to gamble.
They don't find themselves on this list because they didn't fill a need with their draft; in fact, Lillard was widely regarded as the best point guard in this draft.
They find themselves on this list because of Lillard himself.
He is a point guard from Weber State. That alone should give fans a little bit of anxiety.
Sure, great point guards come out of small schools; but if Lillard flames out, and someone drafted after him sets fire, heads will roll.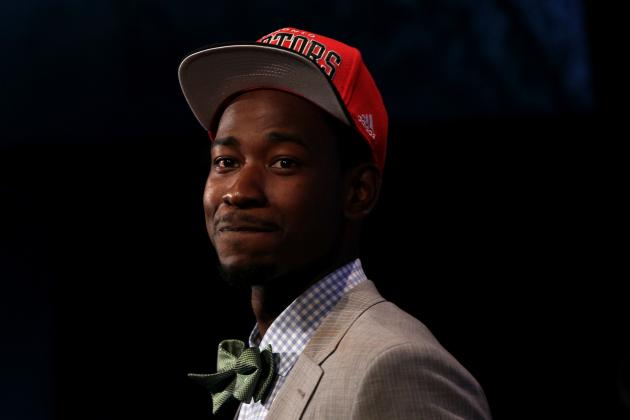 Elsa/Getty Images

The consensus amongst draft people was that Ross was probably a fringe lottery pick, and probably should fall to the late-teens.
You can't fault the Raps for taking Ross; he fills a need for a swing man that can shoot.
What you can fault them for is taking him so early. Why not trade down and stockpile picks and still get him?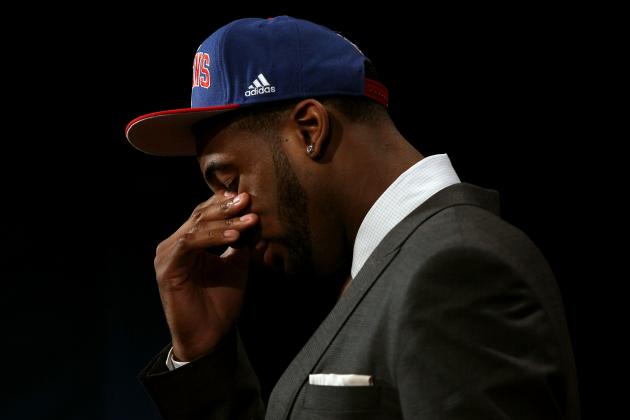 Elsa/Getty Images

Make no mistake about it, Pistons nation is ecstatic about this pick.
Nobody thought that Drummond would fall to the Stones this deep.
So why are they on this list?
Drummond is a physical talent that hasn't shown nearly enough at the college level.
True, he is only 18 and did not have a good coaching experience last year.
But when the names Kwame Brown and Michael Olowokandi are routinely thrown out when your name is mentioned, it is safe to say there is at least a moderate gamble on hand.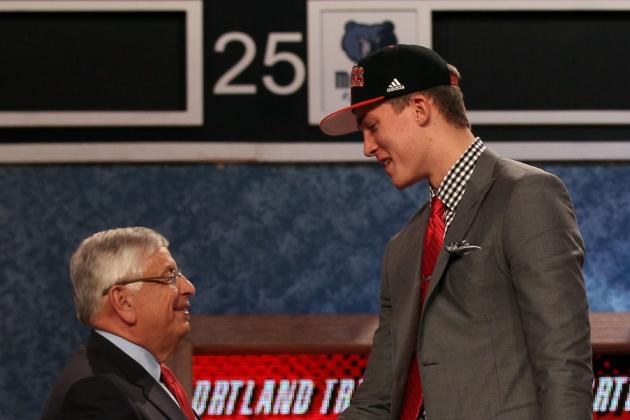 Elsa/Getty Images

Poor Blazers, you just don't like the safe picks, do you?
The Blazers had three holes heading into this draft. They needed a point guard, center, and perhaps an upgrade at shooting guard.
With their first pick, they hope they got their point guard.
With their second pick, they hope they got their center.
Leonard is a gamble because he is a project offensively, lacks elite instincts on defense and despite his athleticism, hasn't shown a consistent feel for the game.
He could be the next Tyson Chandler, or he could be the next Eric Montross.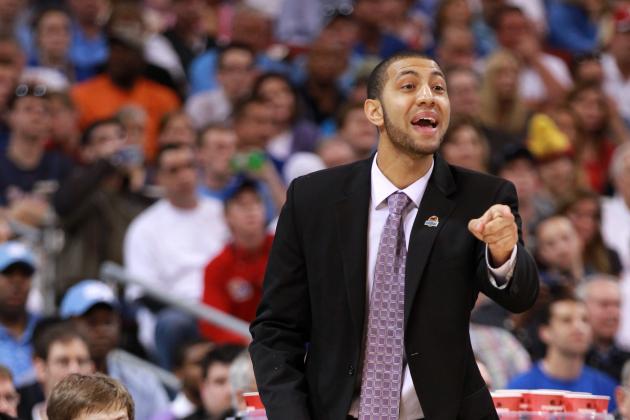 Andy Lyons/Getty Images

Many consider Marshall to be the best passer in this draft, and best overall pure point guard.
To me, he reminds me too much of a former NBA bust.
Great leadership, not a great athlete. Known for his passing ability, but his jump shot is terrible. Lacks ideal lateral quickness, and could be a liability on defense.
When you boil it down, how is Marshall considerably different from Mateen Cleaves?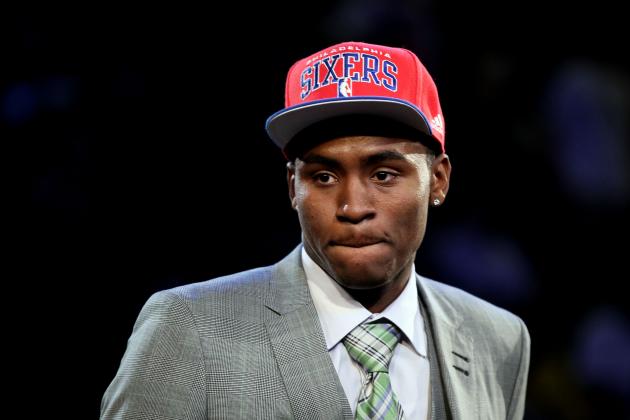 Elsa/Getty Images

Sometimes a team reaches because they aren't thrilled with their other options.
Sometimes a team drafts best player available because they aren't thrilled with their other options.
For some reason, Philly took both a reach, and they didn't take the best player available. They also didn't draft based on need.
On a roster with slashers like Thad Young and Andre Iguodala, you wonder what exactly they were thinking here.