NBA Draft 2012: 5 Winners and 5 Losers in This Year's Draft
June 29, 2012

Chris Graythen/Getty Images
Winners
1. New Orleans Hornets
The Hornets had, quite obviously, the best draft in the league this year. 
With a consensus No. 1 pick in Anthony Davis and a superstar scorer in Austin Rivers, the Hornets had a terrific first round that will enable them to start the rebuilding process on a good foot.
In addition, in the second round, New Orleans was able to land forward Darius Miller out of Kentucky, who could be a very good role player. 
I don't think you could hope for a better draft.  All of these kids have the ability to produce in the NBA, especially Davis and Rivers, and all fit really well together along with the pieces already in place on the Bayou.
2. Houston Rockets
The Rockets had a terrific draft, but depending on the Dwight Howard situation, it could all be for not.
Nevertheless, landing Jeremy Lamb, Royce White and Terrence Jones greatly improves this team's athleticism at both ends of the court.
Jeremy Lamb is a top-flight scorer who can get his shot from anywhere on the court and, due to his ridiculously long arms, is a great defender.
Royce White has endless potential but has anxiety issues that could end up being a major problem. However, if he is able to overcome these issues, he could be a terrific NBA player.
Terrence Jones is a top-tier athlete who, with a few years to develop in the NBA, could be an absolute superstar.  He has a good post game, can get to the rim off the dribble, defends well and jumps through the roof.
I cannot believe that Perry Jones III was still around for the 28th pick.
This kid can do everything on the court and should fit ridiculously well with the Thunder.
He is big, crazy athletic, rebounds, gets to the rim, shoots a decent jumper and runs the floor incredibly well. All I can say is watch out for this kid playing with all that young talent in Oklahoma City.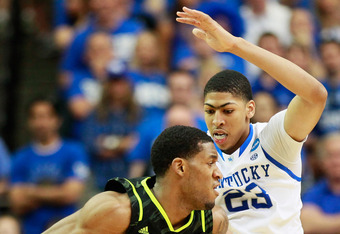 Kevin C. Cox/Getty Images
4. Milwaukee Bucks
The Bucks had a very good draft, especially after considering they acquired Monta Ellis at the trade deadline last year.
John Henson was one of the better centers coming out of the draft and will play well with Drew Gooden.
He is long, very athletic, a good rebounder and a terrific shot-blocker.  His offensive game needs help, and he definitely needs to add strength. However, he should be a crucial piece to the Bucks' success next season.
In addition, Milwaukee added Derron Lamb in the second round. I was very surprised to see him fall so far, as he is a terrific guard who scores at ease. He will fit quite nicely as a 2-guard alongside Brandon Jennings.
After trading Monta Ellis for Andrew Bogut, landing Harrison Barnes was absolutely crucial for the Warriors.
He will give the team a strong offensive option and a legitimate scoring threat—he could very well be the best player to come out of this draft after a few years of development in the NBA.
They also drafted Festus Ezeli out of Vanderbilt, who is a monster on the glass, and Draymond Green, who was one of the most intelligent players in the draft and gives them a solid player in the low post.
Finally, they drafted Ognjen Kuzmic who is a seven-footer, but little is known outside of that.
Overall, they were able address their needs quite well and should do well this upcoming season.  
Losers
1. Denver Nuggets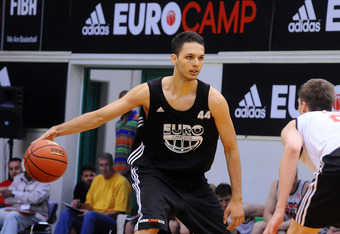 Roberto Serra/Iguana Press/Getty Images
I don't even know what to say about the Nuggets' draft choices this year.
There was an immense amount of talent still left on the board at pick No. 20, nevertheless, the Nuggets chose Evan Fournier.
He is a slashing wing player, which the Nuggets already have a plethora of in Wilson Chandler, Danillo Galinari, Jordan Hamilton and Cory Brewer.
Then, in the second round, the Nugs drafted Quincy Miller—yet another wing player who is very similar to Fournier.
For their last pick, the Nuggets chose Izzet Turkyilmaz, who is yet another wing player. Overall, the team failed to address their immediate needs in the low block and for a premiere scorer and, therefore, had one of the worst drafts in the league, improving almost nothing.
2. Cleveland Cavaliers
The Cavs drafted Dion Waiters way too high.
He will undoubtedly be productive playing alongside former Rookie of the Year Kyrie Irving but could have been picked up much later in the draft, allowing the Cavs to trade down and gain an extra pick.
They did land Tyler Zeller to help in the low block. However, he has proved to be injury prone and is not a very dominant big man. He is more of a high-energy player who would be great coming off the bench—certainly not the type of production the Cavs need in order to compete.
3. Portland Trail Blazers
The Blazers first-round pick, Damien Lillard, is a very good point guard who is capable of stepping in immediately.
However, coming out of Weber State, he still needs to prove he can play at an NBA level.
Meyers Leonard, their second pick, has a lot of potential in the low block but is still a major project who will need at least a few years to develop into a decent pick. Neither of these picks are what you would want when your team has two picks in the first 11 of the draft.
Their second-round pick, Will Barton, was a much better pick in regards to where he was drafted but, as a result, needs to prove his numbers can translate into the NBA before he can even be considered to contribute.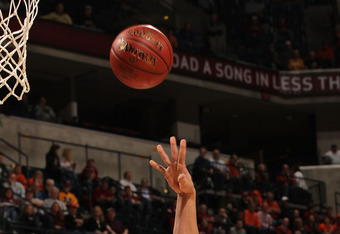 Jonathan Daniel/Getty Images
The Mavs had a perplexing draft.
With Jason Kidd likely retiring, the team needed to address the point guard position and did—with Jared Cunningham in the first round.
However, there were a number of much more talented guards still around when Dallas picked, and Cunningham was not very highly touted around the league.
They were able to pick up Bernard James in the second round, who is a very good player—especially down low—but is already 27 years old and, therefore, has a fairly limited ceiling.
Their final pick, Jae Crowder out of Marquette, is a solid player but is nothing special. He is a very hard worker that could come off the bench and give the team just enough production to rest their stars.
Overall, they did very little to improve their team this year in the draft. 
5. Washington Wizards
The Wizards drafted Bradley Beal with the third pick in the draft.
Playing with John Wall, he could be an absolute superstar for them. However, he needs to work at getting a more consistent three-point shot in order to successfully make the transition to the NBA and make his value worthwhile with the third pick.
With their second pick, the Wizards drafted another guard in Thomas Satoransky.
He is a bigger guard but does not have an NBA skill set and ultimately doesn't project well into the NBA. By drafting two guards, the team failed to address their deficiency in the low post and will, once again, struggle because of this in 2012.