Portland Trail Blazers 2012-13 Focus Is on Progress, Not Championships
June 29, 2012

Elsa/Getty Images
As the Portland Trail Blazers finished off their draft night on Thursday by sending the 41st pick to New Jersey for cash, it suddenly hit me that, however GM Neil Olshey might try to spin it, this is in fact a rebuilding team.  
Don't get me wrong, there's nothing bad about that. It's something that had to be done, and the reality is that it's not a total rebuild the likes of which the New Orleans Hornets are undergoing post-Chris Paul. The previous iteration of the Blazers had become stagnant due to the constant uncertainty brought on by rampant injuries and inconsistent play, so changes were made.
I've been a fan of the team for almost 15 years now, so I remember well the Jail Blazer era and the subsequent low points in terms of wins, which were followed by high draft picks and a few seasons of promise.  
Each season for the past four or five years, the Blazers have started out with hopes of contention in the Western Conference, only to have them derailed each time by injuries. Now, we are again at a point where we enter the season not with hopes to contend, but hope of improvement.
As exciting as it was to have two picks in the lottery this year, I'm hoping those are the last lottery picks we see by this team for quite some time. Even so, I understand that no matter how quickly Damian Lillard and Meyers Leonard can adjust to the pro game, the development as a team will take more than just one season.
But they will develop, and they will be good.
Lillard seems to be one of the top picks who a lot of people love to hate right now, primarily because he never played against the top competition while in college. They point to past draft failures like Sergio Rodriguez and Sebastian Telfair and say that the Blazers can't get lucky with a point guard in the first round.
Elsa/Getty Images
There is truth in the complaint about his lack of elite competition in college, but that's not something he had control over. All anyone can ask of you is to beat the competition you face, and that's what he did.
Everyone complains about the BCS and how unfair it is to schools like Boise State, because when given the chance against the big names, the smaller schools have succeeded more often than not. Lillard is going to do the same.
We could go through and make a list of all the small school guys who have succeeded in the NBA and all the big school guys who haven't, but the point is that what school you go to is NOT a determining factor or guarantee as to whether you will succeed at the highest level.
Leonard is not someone I was high on before the draft, and the truth is I still don't really know too many details about him. But I guess I'm starting to talk myself into the pick.
He's tall and skinny, but he's not too skinny to be OK. He looks good on defense and should be able to develop into at least a respectable rebounder and shot blocker in the NBA. With his mobility and athleticism, his ceiling (and this might be overly optimistic) would be Tyson Chandler. So that's what I'm hoping for; after all the Dallas Mavericks won a championship with that type of center.
I'm also excited for Will Barton, the guard who was taken by the Blazers with the 40th pick of the draft. Again, no one is projecting him to be a star at this point, but he did win the Conference USA player of the year award for 2012, which actually puts him in some pretty good company.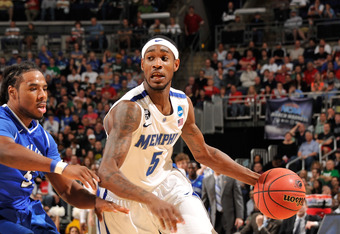 Jamie Sabau/Getty Images
Guys like Quentin Richardson, Kenyon Martin, Chris Douglas-Roberts and Dwyane Wade all won the award before. He isn't the athlete or talent that Wade is, of course, but even if he turns into a competent sixth man and scorer off the bench, that's pretty good value here.
Overall, the Blazers deserve an A for having a solid draft, filling all their apparent needs and not straying from the strategy to build a team that they already put in place at the trade deadline last season.
Over the next few weeks, lots of questions need to be answered.
Will the Blazers be able to keep Nicolas Batum? Will they go after anyone else in free agency? Who will be this team's next head coach?
It seems that, for now, there is still plenty of uncertainty to keep us all entertained.