NBA Draft 2012: Video Breakdowns of Every International Player Drafted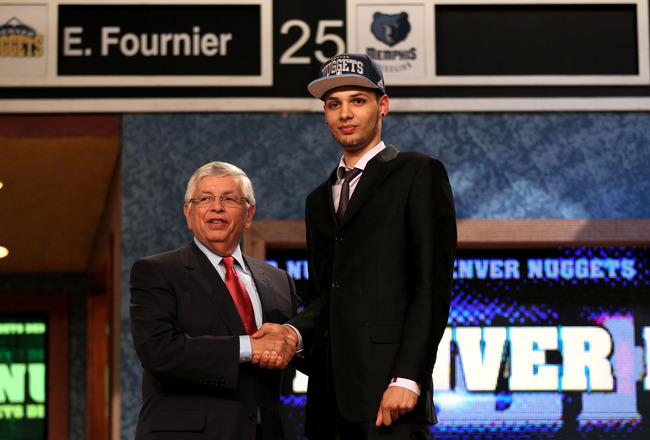 Elsa/Getty Images
A few years ago when my best friend and I became aware of the Jay Bilas "Wingspan" drinking game we made an agreement to get together every year and play until one of us gets married.
As I started taking the draft more seriously and studying the picks with more depth in the weeks leading up to the draft, we created a second game called "Todd drunkenly tries to pronounce the European names while I make fun of him."
He likes to call it something else, but we here at Bleacher Report frown on expletives.
Last night, I got the distinct pleasure of hearing my best friend pronounce nine different names from the NBA draft class of 2012. And here are video breakdowns of each player along with some scouting information.
Evan Fournier (SG, France)
Draft Selection: No. 20 by the Denver Nuggets.
Scouting Report: Fournier is not your stereotypical foreign import. He's an excellent penetrator who excels in the midrange rather than from beyond the arc. Fournier also isn't much of a defender, so he'll need to make most of his plays on the offensive end of the floor.
But at pick No. 20, the Nuggets get by far the best international player in the draft and one who should contribute within one or two seasons.
Tomáš Satoranský (SG, Czech Republic)
Draft Selection: No. 32 by the Washington Wizards.
Scouting Report: For all of the talk about freakish wingspans that usually goes hand in hand with the NBA draft, I was perplexed that no one mentioned that Satoranský's span is actually shorter than he is tall.
Regardless, he's a smart athlete who handles the ball pretty well for a 6'8" guard. His Spanish club (CB Sevilla) doesn't play in the strongest division overseas, so he's going to need seasoning at a higher level before coming over, but Satoranský could make an impact someday.
Kostas Papanikolaou (PF, Greece)
Draft Selection: No. 48 by the New York Knicks.
Scouting Report: Boy, Knicks fans sure gave Papanikolaou a warm welcome last night, didn't they? Despite that, if he ever actually comes to the NBA, the Greek forward could be a solid contributor in New York. He can't shoot, but he's a strong defender who aggressively commands the post for Olympiakos.
At pick No. 48, the Knicks probably made a shrewd move taking a flyer on him.
İzzet Türkyılmaz (PF, Turkey)
Draft Selection: No. 50 by the Denver Nuggets.
Scouting Report: I'll be honest, Türkyılmaz wasn't very high on my radar when researching potential European draftees. His rapsheet from the adidas EUROCAMP was that he's a physically raw forward who has some athleticism and shooting ability.
He hasn't played at a high level overseas yet, so he's definitely a "draft and stash" player, but could play in the league if he improves his strength and polishes up his game.
Ognjen Kuzmić (C, Bosnia and Herzegovina)
Draft Selection: No. 52 by the Golden State Warriors.
Scouting Report: Kuzmić is a massive seven-foot center, currently playing his first season in Liga ACB (the Spanish first division). After going relatively unnoticed early on, Kuzmić caught some late buzz after showing some athleticism and pick-and-roll skills in workouts.
He'll need to add upper and lower body strength to ever make any type of impact at the NBA level, though.
Furkan Aldemir (PF, Turkey)
Draft Selection: No. 53 by the Los Angeles Clippers.
Scouting Report: Another draft-and-stash player, the Clippers fan in me has already fallen in love with the 19-11 per 40-minute stat line Aldemir is putting up in the Euroleague.
He absolutely cannot create his own shot, but the Turkish forward is a great rebounder and runs the pick-and-roll with ease. Realistically speaking, though, there is very little chance that we see Aldemir in the states within the next few years.
Tornike Shengelia (PF, Georgia)
Draft Selection: No. 54 by the Philadelphia 76ers (traded to the Brooklyn Nets)
Scouting Report: Shengelia was actually my third-rated international prospect behind Fournier and Satoransky. The Georgian forward is raw, but he's a character guy with a strong motor who can actually handle the ball well for a guy his size.
Like most raw guys his age, he can't shoot the ball whatsoever but that could develop if he spends time working at it while he's stashed overseas.
Tomislav Zubčić (SF/PF, Croatia)
Draft Selection: No. 56 by the Toronto Raptors.
Scouting Report: A guy that soared onto the radar after having a wonderful 2011 season for his club squad over in Croatia, Zubčić struggled to take advantage of his hot name as he languished on the bench this year.
He still has a relatively smooth spot-up jumper and elite dribble-drive capability for someone his size, but if he's on the bench in Croatia...there's very little chance he'll ever make the jump to NBA contributor.
İlkan Karaman (PF, Turkey)
Draft Selection: No. 57 by the Brooklyn Nets.
Scouting Report: Karaman's great performance at the adidas EUROCAMP pretty much secured a selection somewhere in this draft as teams came away impressed with his athleticism, strength and ability to score the ball out of the post.
I feel like I should keep the words "can't shoot" on my clipboard after typing it this many times, but...he can't. This is one guy who I can see actually making an impact in the U.S. if we ever see him.
Keep Reading