Knicks Rumors: What Jeremy Lin's Bird Rights Means for NY's Free Agent Plans
June 29, 2012

Chris Chambers/Getty Images
NBA free agency begins on Sunday, and the Knicks are in a position that has fans breathing a sigh of relief.  In a report by Al Iannazzone of Newsday, free-agents-to-be Jeremy Lin and Steve Novak are almost definitely going to be granted Bird rights of some sort, which would allow the Knicks to go over the salary cap to re-sign them and not have to use a mid-level exception.
This would leave the Knicks about $5 million to work with in terms of exceptions, and very limited funds besides that.  Given how much depth the bench needs, Lin's impending Bird rights mean two things: The Knicks are primed to rocket up a few spots in the Eastern Conference standings next year, and GM Glen Grunwald needs to figure out what he wants to do with the little money he has available to bring in new talent.
One road to go down would be to go after a true point guard in case Lin's injured knee becomes an issue during the season.  Players like Steve Nash, Raymond Felton and Jason Kidd are available, all of whom could potentially do well in the Knicks' system.
However, Nash wants a three-year deal, so he's out.  Kidd, though a great leader and positive presence in the locker room, is 39 years old and not what New York needs right now.  Felton is the most realistic option of the three, and he will probably come cheap given how disappointing a season he had in Portland this past season.
On top of that, the New York fans love Felton, as he excelled in Mike D'Antoni's fast-paced offense before being traded to the Denver Nuggets in the Carmelo Anthony trade.  Yet, point guard is not where the Knicks should be spending their free agency money unless it's on an undrafted free agent like Scott Machado.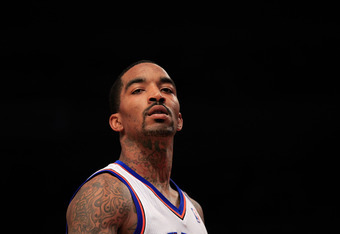 Chris Trotman/Getty Images
Rather, New York should instead be looking to upgrade its bench shooting, especially since Landry Fields is so unbelievably streaky in that department.  Here, there are two targets that Grunwald should look at: Ray Allen and J.R. Smith.
Allen is getting up there in years, so he could definitely come to New York on a one-year deal.  He'd be there to shoot and score, nothing more and nothing less.  Yet, his age is a concern and he should only be a target if all efforts on Smith have been exhausted to no avail.
That being said, I think that the Knicks need to use Lin's impending Bird rights as a reason to go after J.R. Smith with everything they had.  He didn't come aboard until midseason, having been under contract in China, but still performed well in 35 games.
In his half-season as a Knick, Smith averaged 12.5 points despite shooting an average 35 percent from three-point range.  Still, his thunderous dunking and intensity more than made up for it.
Thus, it's clear what Lin's Bird rights mean for the Knicks and their free agency plans.  It means that they'll be able to bring back a player who electrified their rotation with versatile play and passion, which is key on any team coached by Mike Woodson.
If Smith comes back, the Knicks could make a serious run at the NBA Finals, with Lin and his teammates in tow.