Undrafted NBA Free Agents 2012: Scott Machado and Top Player at Each Position
June 29, 2012

Gregory Shamus/Getty Images
With the 2012 NBA draft behind us, it's time to move on and analyze the undrafted free agents. Not many will actually make rosters, but these are the elite players at each position. 
Together, they form the All-Undrafted team, comprised of one point guard, shooting guard, small forward, power forward and center. Only prospects from the United States were eligible, otherwise Serbia's Dusan Cantekin would have held down the final spot. 
At the bottom of each brief profile, you can find out where they ranked on my original top 100 Big Board. For the full rankings of the undrafted free agents, click here. 
Point Guard: Scott Machado, Iona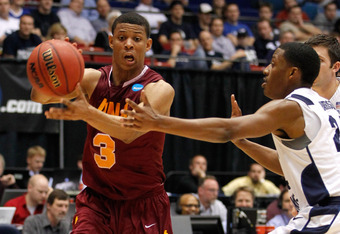 Gregory Shamus/Getty Images
The most surprising member of the undrafted class, Scott Machado was one of the best assist-generators in all of college basketball last season at Iona. 
The man is just a machine when it comes to making his teammates better. It's one thing to rack up the dimes playing with Harrison Barnes, Tyler Zeller and John Henson. It's another to do so with Iona teammates, even if the Gaels did play at a breakneck speed.
Machado can also capably call his own number and is well-prepared to run an NBA offense.
Big Board Ranking: No. 38 
Shooting Guard: William Buford, Ohio State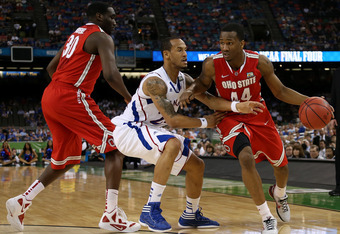 Chris Graythen/Getty Images
At one point during his senior season, William Buford was a potential first-round draft pick. Now, he's an undrafted free agent looking for a team after a prolonged slump during the second half of the collegiate season. 
Buford has a great shooting stroke and he doesn't mind doing the little things for his team. You'd be hard-pressed to find a better teammate available this summer out of the undrafted pool. 
The shooting guard doesn't have a quick release, but he picks and chooses his spots well. 
Big Board Ranking: No. 47
Small Forward: Hollis Thompson, Georgetown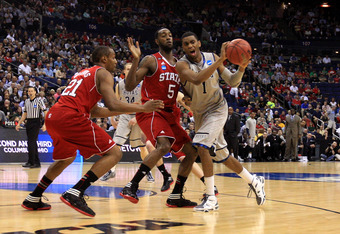 Rob Carr/Getty Images
Hollis Thompson is another player who slowed down after beginning his final season at school on a torrid pace. The small forward finished his junior year with averages of 12.8 points, 5.5 rebounds and 1.8 assists per game. 
Although he played both power forward and small forward for the Georgetown Hoyas, Thompson's 6'8" frame and lack of weight is going to keep him permanently at the 3. 
Thompson isn't a great ball-handler, but he is quite adept at creating his own shot in straight-line fashion and he's even better spotting up from the outside. 
Big Board Ranking: No. 64
Power Forward: Kevin Jones, West Virginia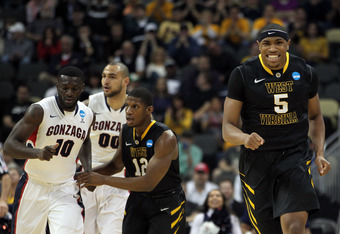 Gregory Shamus/Getty Images
If any team out there is looking for a solid post defender and a great rebounder off the bench, they can find one in Kevin Jones, a true power forward out of West Virginia. 
Not only is Jones incredibly strong, but he also positions himself well on the boards. This former Mountaineer is more than capable when it comes to both varieties of rebounding, even if he is much better on the offensive boards than the defensive. 
Jones isn't a great athlete, so his scoring contribution will most likely be limited to mid-range jumpers, from where he excelled in college. 
Big Board Ranking: No. 39
Center: Henry Sims, Georgetown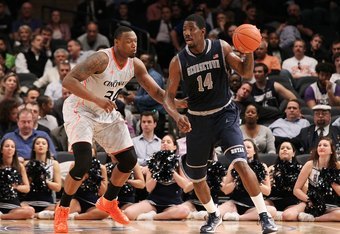 Jim McIsaac/Getty Images
The second former Georgetown Hoya to make the All-Undrafted team, Henry Sims isn't exactly as special as the legends of the past or the current studs from this university. He'll never be Dikembe Mutombo, Patrick Ewing, Roy Hibbert or Greg Monroe. 
Sims is a great passer, as you'd expect him to be after playing for the Hoyas, and he always tries really hard. Yes, that's one of his best attributes: his ability to try really hard. 
This seven-footer struggles on the glass and he's not an elite athlete, but he has the physicality and tenacity to be a quality defender, provided he can keep improving his skills on the boards enough to justify a spot in any rotation. 
Big Board Ranking: No. 70