Roger Federer: 2012 Wimbledon Is Best Opportunity for Fed-Ex to Win Grand Slam
June 30, 2012

Clive Brunskill/Getty Images
Roger Federer's time is now.
With his career dwindling from his prime, Federer's best opportunity to win another Grand Slam is at this year's Wimbledon. 
He almost let it slip away on Friday after escaping a two-set deficit against Julien Benneteau. But all you have to do is survive and advance.
Here are three reasons why this is Federer's best opportunity to win a Grand Slam.
No Rafael Nadal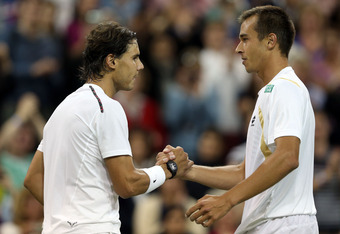 Clive Rose/Getty Images
Rafael Nadal was bounced in the second round against Lukas Rosol 7-6, 4-6, 4-6, 6-2, 4-6.
The French Open champion is out of the tournament despite the great advantage of not having to play both Novak Djokovic and Federer in the same tournament.
What a disappointment, but now the tables are turned. Federer and Djokovic don't have to go up against both players to win a Grand Slam.
Advantage: Djokovic and Federer.
Despite having rough stretches of play, both Federer and Djokovic would take not having to play Nadal in the final any day of the week. 
Loves playing at Wimbledon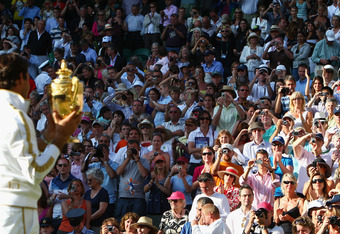 Clive Brunskill/Getty Images
Wimbledon is Federer's playground.
He loves the grass, enjoys the conditions and knows how to work the forehand to perfection. Federer has won at Wimbledon six times in his illustrious career. 
Whether he's up 2-0 or down 0-2, Federer's game on the grass at Wimbledon is perfect for whatever situation. 
Don't ever count him out despite what you saw on Friday.
Novak Djokovic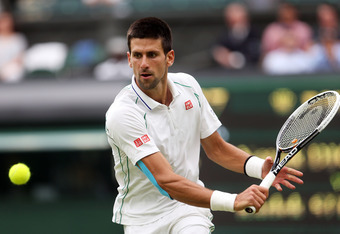 Julian Finney/Getty Images
Djokovic is the best player in the world. Most can admit it and the rest are pure fans of Nadal or Federer.
However, the experience and success Djokovic has experienced at Wimbledon doesn't even sniff the accolades of Federer.
Federer has six Wimbledon Grand Slams to Djokovic's one (2011). Even though Djokovic was playing arguably better than anybody ever throughout the course of a one-year span, his greatness hasn't peaked on the grass at Wimbledon.
Will there be Grand Slams to be won in the future? Absolutely. Will he win two, three or even four? Probably.
But that doesn't take away the fact that he has only one victory there compared to Federer's six, regardless of the age difference.
Experience matters. This is Federer's best surface and best tournament. That will go a long way.
Final thought
Federer's time is dwindling. He's not going to have many golden opportunities such as this one at Wimbledon. If he's going to win another Grand Slam, this is as great of an opportunity as he will see.
No Nadal standing in his way, he loves the grass at Wimbledon and this isn't Djokovic's best surface. 
The time is now.