Horse Racing: Inside the 25th Breeders Cup - Part I - Off the Final Turn
All photos: Susie Wright
Horse Racing: Inside the 25th Breeders Cup - Off the Final Turn- is the first of IV parts..
One click of the mouse sent my random drawing entry rushing off into cyber space.
Three short weeks later, three closest friends and myself, were banking low into LAX. Our destiny: the 25th Breeders' Cup World Championships held at historical Santa Anita Park in Arcadia, Calif.
:
Horse racing can be addictive, at least it has been for me. It began when I happened to see a clip on the TV news.A close up, seven or eight second long playback of Majestic Prince in deep stretch giving his all to the wire in winning the 1969 Kentucky Derby. I was 6 and I was hooked.
Late last September, I sat at my computer and filled out the entry form. What an incredible, unbelievable, opportunity of a life time this would be. A trip to 25th Breeders Cup. Wow! (Attending any Breeders' Cup event from Kansas City would certainly always elude my budget.)
There was only one chance, one winner.
I sighed audibly as I activated the 'Submit Entry' box on HRTV's website, An all inclusive, four day, three night stay at the Pasadena Hilton in old town and tickets for four to the 25th Breeders Cup both days. 2008 was the first year the Breeders Cup had been spread over two days: the mare/filly championships on Friday and the horse/colts on Saturday.
Oh, what dreams are made of... Can you imagine? I could imagine!!! But what were my chances of really winning, of beating the long odds? I had won one door prize to date, no raffle or lottery ticket had ever paid off.
I can only surmise that I had incidentally saved up all my luck for this one chance. I, of all the people, had won and I could not call my sister fast enough!
Armed with a Canon EOS 20-DIN digital camera, a 55-200mm Zoom lens and three extra batteries, I set upon this monumental event with the intention of capturing every moment.
665 frames later, I felt confident of success.
Photos of winners as they cross the finish line and or as they stand blowing in the winner's circle are one thing. We had free run of the grounds and I can tell you this. we found the action.
It was the raw, awe-inspiring power of the field as "heads turned for home" that captivated us, running wide open and muscling for position off the final turn.
It was as definitive as it was riveting.
Come with me inside of the 25th Breeders' Cup World Championships... enter into the surreal beauty of Santa Anita Park ...and have a look through the lens. (This is Part I of IV.)

[I left out the action of the Breeders' Cup Classic purposely, as Curlin will be featured in Part III. The Classic.]
Indian Blessing: Sentient Flight Group Breeders' Cup Fillies & Mares Sprint
Indian Blessing takes control of the lead nearing the top of the stretch. (front center)
Ventura, gaining good ground on the far outside would run the game Indian Blessing down in deep stretch for the win.
Indian Blessing(#5)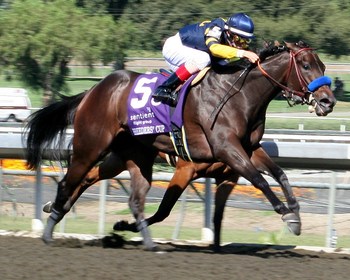 Indian Blessing fights off a tenacious Dearest Trickski (at the rail) to maintain the lead at the 1/8 pole.
Stardom Bound: Beesemer Trust Breeders' Cup Juvenile Fillies
Stardom Bound (gray) gained position just in time as the fillies fan across the track seven or eight wide getting their first look towards home.
Dave's Revenge welcomed the huge hole opening up on the rail and made the most of it. He had started his run from 10th position and finished fourth.
Stardom Bound (gray)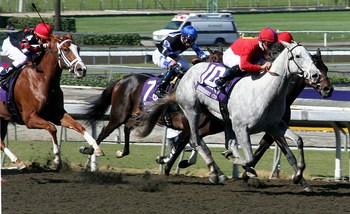 Stardom Bound (gray) had made a huge run at them! Here she tackles the leaders at the top of the stretch, willingly lengthening, opening up her tremendous stride, she sets down for the run to the wire.
C.S. Silk (inside) tries to go with her, Dave's Revenge(#7) and Sky(#4) ran on well late, but to no avail
Zenyatta: Breeders' Cup Ladies Clssic
Santa Teresita is on the lead between horses, Bear Now has relinquished her lead on the rail.
Outside of them, Hystericalady runs on, Music Note and Javier Castellano strain to do more, moving into third position, with the undefeated Zenyatta (FAR outside) breathing down their neck.
Zenyatta
Zenyatta, eating up ground with every stride, begins picking up horses.
Zenyatta
Zenyatta seemed as happy as she could be coming off the turn. Her ears swiveled back and forth. It seemed she was wondering if anyone wanted to run with her this day.
Albertus Maximus (#7): TVG Breeders' Cup Dirt Mile
Albertus Maximus (#7) gains momentum off the turn and begins to run down the field. Two Step Salsa (#5) has led this group nearly every step of the way and is beginning to tire.
My Pal Charlie (#11) runs on bravely outside of Mast Track, Michael Lewis, full of run (#1 w/ white hood) and Eibar Coa find themselves in tight at the rail with no where to go.
Albertus Mamimus
Albertus Maximus (#7) flashes to the lead. My Pal Charlie still giving his all, tries to go with him. Two Step Salsa on the rail re rallies under the pressure.
Midshipman (#11): Beesemer Trust Breeders' Cup Juvenile
Midshipman took command just out of the gate and powers his way through the top of the stretch with Street Hero (#8) and Square Eddie (#4) in desperate pursuit.
Midnight Lute(#4): Sentient Flight Group Breeders' Cup Sprint
Fatal Bullet (#9) flies on the lead. Defending BC Sprint Champion, Midnight Lute, in the red/yellow silks and second from last, has just headed this first hapless victim. Thus began his long sustained run to the wire.
Midnight Lute(#4)
This was one of the most captivating performances of the day.
Starting his run half way around the turn, Midnight Lute came flying around on the outside as they straightened out for home. He was literally shouldering by his foes and with a fire in his eye!
He picked them off with each powerful, lengthening stride. You could see the intimidation in their faces. Those horses nearest to him actually cringed away from his presence and determination.
He truly was on a mission this day!!! Hat's are off to Bob Baffert!
Midnight Lute (#4)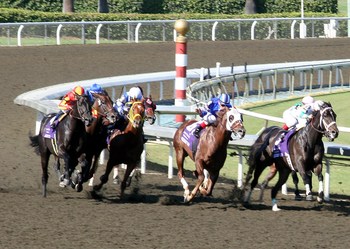 Midnight Lute full of fire sustained his long, last to first move. He covered the ground down the lane like a runaway train.
The sweet, pervasive, voice of Trever Denman takes him to the wire:
"...and Midnight Lute now lengthens his stride... and Midnight Lute's got dead aim on Fatal Bullet , who's running a HUGE one on the lead! Fatal Bullet TRIES to hold on, but Midnight Lute's just plain got too much class for him.
And what a MAGNIFICENT, BACK to BACK winner of the Sprint! Midnight Lute could not have been more impressive, he wins with his ears PRICKED in the end! ... Fatat Bullet, for second and Street Boss finishes third."
The End.
Coming soon Part II - Inside the 25th Breeders Cup - Wide Open to the Wire
Santa Anita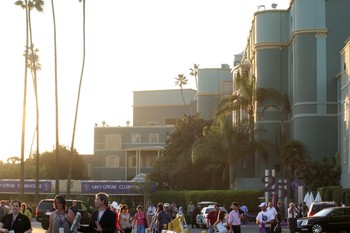 Keep Reading