NBA Draft 2012 Results: Ranking Lottery Picks' Rookie of the Year Potential
June 29, 2012

Chris Graythen/Getty Images
Every lottery team hopes that its team is going to have the Rookie of the Year on the roster, but obviously only one actually can. 
Who will it be this year? 
Will it be Anthony Davis, the overwhelming favorite at this point after he and his unibrow were drafted No. 1 by the New Orleans Hornets, or one of the other contenders? 
Read on for the first rookie rankings of all the lottery picks. 
14. Andre Drummond, Detroit Pistons
Although he's got an incredibly high ceiling, Andre Drummond is one of the most raw prospects in this draft class, which made him a rather intriguing pick for Joe Dumars. 
The Detroit Pistons management wants to win now for job security's sake, but Drummond won't produce much as a rookie alongside Greg Monroe, even if he does get some playing time. 
13. Meyers Leonard, Portland Trail Blazers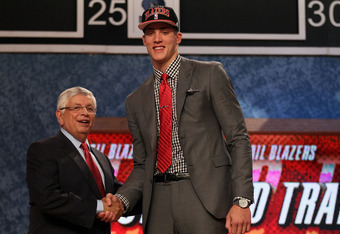 Elsa/Getty Images
Meyers Leonard is another big man who's too raw to make noise in the Rookie of the Year competition. 
A true seven-footer with lots of athleticism, Leonard will become a valuable player down the road (assuming he doesn't fall prey to the Portland/Greg Oden curse), just not this year. 
12. John Henson, Milwaukee Bucks
The Milwaukee Bucks will be able to use John Henson's versatile skill set on defense right away, but his offense is a work in progress. Usually, it's offense that generates votes in competitions like this one. 
Henson has the quickness to guard perimeter-dwelling big men and the length to contest shots in the paint. He just doesn't have the moves yet to score against either one. 
11. Jeremy Lamb, Houston Rockets
Jeremy Lamb's placement in this set of rankings could quickly change, but that's only if he's dealt to a new team or Kevin Martin is shipped away. 
As it stands, he's not going to get enough playing time behind the Houston Rockets' best player to make much of an impact during his rookie season, no matter how polished his shooting and shot-creating skills may be. 
10. Terrence Ross, Toronto Raptors
Once Terrence Ross adds some much-needed poundage to his frame, he'll be in better shape and able to line up at small forward in this Toronto Raptors lineup, but he's going to be stuck behind DeMar DeRozan at shooting guard when he begins his NBA career. 
Ross is better than DeRozan, or at least will be once he adjusts, but he won't earn the starting nod soon enough to move into single-digits in these rankings. 
9. Dion Waiters, Cleveland Cavaliers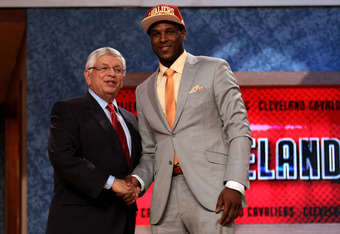 Elsa/Getty Images
The transition from sixth man at Syracuse to high draft pick for the Cleveland Cavaliers isn't going to be an easy one. In fact, Tyler Zeller is going to make more noise during his rookie season than Dion Waiters will. 
This combo guard is going to go through an adjustment period before he can make good on the potential that enabled him to rise higher and higher on the draft boards. 
8. Kendall Marshall, Phoenix Suns
Kendall Marshall is going to get the playing time for the Phoenix Suns at point guard, but the problem is that he doesn't have an elite set of teammates to feed the ball to. Without top-notch scoring ability or anything that even resembles defense, it's going to be hard for him to make an impact. 
Be patient with Marshall, Suns fans. Don't try to assess him before he's had a chance to settle in and develop the necessary connections with teammates. 
7. Michael Kidd-Gilchrist, Charlotte Bobcats
Michael Kidd-Gilchrist was my second-favorite player in this 2012 draft class, but he's not going to light it up at the beginning of his career. This is especially true on the still-inept Charlotte Bobcats. 
The small forward is more of a lockdown defender who does the little things than a franchise changer who scores glamorous points at a high enough rate to compete for Rookie of the Year. MKG will get the playing time, just not the stats. 
6. Austin Rivers, New Orleans Hornets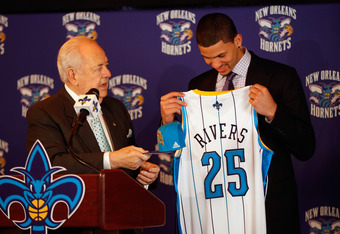 Chris Graythen/Getty Images
The same is not true of Austin Rivers, who thrives when the ball is in his hands and he's allowed to go crazy. Scoring points is Rivers' specialty, and he loves doing it. 
With Jarrett Jack and Eric Gordon—assuming the restricted free agent returns to the Hornets—blocking his ascent to a monstrous role as a rookie, he'll have to settle for being a spark plug off the bench. 
5. Harrison Barnes, Golden State Warriors
Harrison Barnes landed in a perfect situation with the Golden State Warriors. The Dubs needed a small forward, especially one who could play well on both ends of the court. 
Hey! Guess what? Barnes is a small forward with a silky-smooth jumper and above-average defensive tools. 
4. Damian Lillard, Portland Trail Blazers
The best point guard in this draft class, Damian Lillard should be handed the starting job for the Portland Trail Blazers from Day 1. 
He's got the offensive talent to make noise and produce quite a few highlights for his new team. However, there are too many other quality players in Portland for him to steal too many headlines. 
3. Thomas Robinson, Sacramento Kings
Possibly the most NBA-ready player in this year's draft class, Thomas Robinson has the ability put up double-double after double-double for the Sacramento Kings. He and DeMarcus Cousins are absolutely going to dominate the glass.
The only reasons that T-Rob can't move up into the top two are that he won't receive as much media attention as a rookie and the Kings won't win as many games as the remaining two teams.  
2. Bradley Beal, Washington Wizards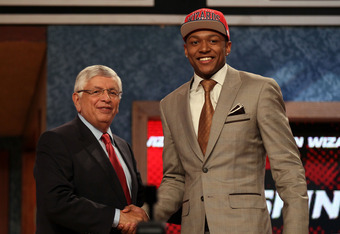 Elsa/Getty Images
Playing in the same back court as John Wall is only going to help Bradley Beal's offensive game shine now that he's with the Washington Wizards. He has all the offensive skills you could ever want, and playing time won't be an issue.
If you're wondering why playing time won't be hard to come by, well, have you seen Jordan Crawford play? 
1. Anthony Davis, New Orleans Hornets
Easily the most hyped prospect in this draft class, Anthony Davis is the one true franchise-changer. 
His shot-blocking and overall defensive abilities are going to turn the New Orleans Hornets around this season, and his offensive game is continuing to develop. Davis is going to compete for the league lead in blocks per game and could run away with Rookie of the Year.