NBA Rumors: Breaking Down Best Landing Spot for Nicolas Batum
June 30, 2012

Harry How/Getty Images
After being drafted in the first round by the Portland Trailblazers in the 2008 draft, Nicolas Batum has really started to come into his own. Still only 23 years old, the Frenchman is an unrestricted free agent and is garnering tons of attention on the market.
At this point, four front-runners have emerged for Batum's services. According to Jason Quick, those teams are the Cleveland Cavaliers, Portland Trailblazers, Toronto Raptors and Minnesota Timberwolves.
Cleveland, Toronto, Minnesota RT @CedarAlbright Do we know what teams will try to make a run at Batum?
Let's examine each of those four teams, and how Batum would fit on their rosters.
Cleveland Cavaliers
Cleveland's got an opening at small forward because Antawn Jamison is an unrestricted free agent. With Jamison being 36 years old—and with Cleveland building towards the future—it's hard to imagine the veteran returning.
While Cleveland's not necessarily on the cusp of contention, Batum is young enough that Cleveland could sign him to a long-term deal, with Batum still being in his prime when the Cavs are ready for a return to the playoffs.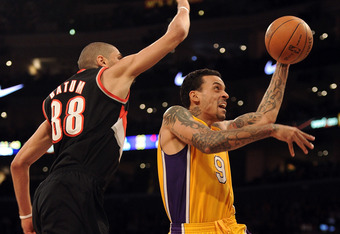 Harry How/Getty Images
Toronto Raptors
Toronto's not really set at small forward. They had a mix and match of James Johnson, Alan Anderson and Linas Kleiza manning the 3 last season. If Toronto could sign Batum, it would be a huge upgrade now and into the future.
Batum would help Toronto in a couple of different ways. First, he would be an upgrade to Toronto's offense, which ranked 29th in the NBA last season. Batum's also a better individual defender than all but James Johnson—indicated by defensive win shares. However, Batum is much better on offense than Johnson, making him a more valuable player.
Minnesota Timberwolves
Pairing Batum up with Kevin Love would make one of the more formidable forward combos in the NBA. Considering that Minnesota also acquired Chase Budinger from Houston leading up to the draft, with Batum in the mix, Minnesota would go from a team without much frontcourt depth to one with a wealth of capable forwards.
Not to mention that Minnesota's incumbent small forward Michael Beasley is an unrestricted free agent, making a nice spot for Batum in the Timberwolves' starting lineup.
Portland Trail Blazers
Portland is still probably the most likely destination for Batum, mainly because since Batum is only an unrestricted free agent, the Trail Blazers have an opportunity to match any offer he receives. With seven unrestricted free agents coming off the books, you know the Blazers have the cap space to match any offer Batum receives.
At this point, the only way Batum leaves Portland is if one of these other three teams offers him a contract way above market value. Even then, Portland may choose to match it. Besides, Batum is familiar in their system and he's starting to thrive in it. Why would Portland want to give that up?