Wimbledon 2012: How Rafa Nadal's Exit Opens Field for Andy Murray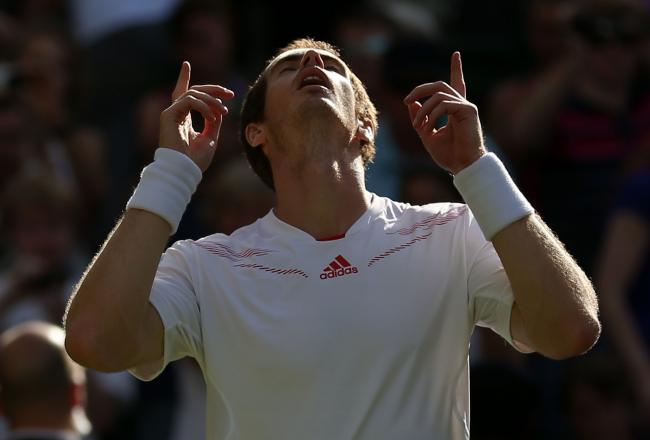 Clive Rose/Getty Images
With the unexpected dismissal of Rafael Nadal, the 2012 edition of Wimbledon just got a lot more interesting. But how exactly does this affect the rest of the field, and in particular Andy Murray, with the No. 2 seed not being a factor?
Without Nadal, the favourite to make it into the finals has to be Murray. He becomes the top seed in that half of the draw—just ahead of No. 5 seed Jo-Wilfried Tsonga.
The last two Wimbledons for Murray have ended in semifinal defeat at the hands of Rafael Nadal. Although there is no questioning that Nadal was the toughest competition on Murray's side of the draw, he is not underestimating anyone.
Murray told Agence France-Presse (Via NDTV Sports) that each match is important:
It's [Nadal's loss] irrelevant to me unless I reach the semi-finals. I have a guy who has played in a Grand Slam final and that's my focus.
Murray is, of course, talking about the next opponent that he faces, Marcos Baghdatis.
Murray is not taking this match too lightly, however, even with the No. 42 ranking Baghdatis holds currently on the ATP tour. Although it has been a long time since Baghdatis has made it deep into a Major—he was the runner-up in the '04 Australian Open and a semifinalist at Wimbledon that same year—Murray is still making sure his focus is in the right place.
Murray must realize that every match is important at this point in the tournament.
He is not guaranteeing himself an easy trip to the finals and knows that anything could happen on any given day—no matter who he is matched up against. He reinforces that belief to Agence France-Presse (Via NDTV Sports):
Do you think the 2012 Wimbledon tournament will be where Murray gains his first Major?

If anything the draw has opened up for Philipp Kohlschreiber. He would have been expecting to face Rafa in his next match. I face Marcos and maybe he will have a performance like Rosol.
There is always a chance that Murray will lose to Baghdatis. Realistically, however, he should not have any trouble in handling him and getting back into the same groove that he showed in his first-round victory.
His last match against Ivo Karlovic presented a tougher than normal second-round match for Murray.
Karlovic is a large man, standing at 6' 10", and plays a very powerful game. Murray understood that he may not have an easy, straight-set victory but did realize the important goal of the match, as he tells David Ornstein of the BBC Sport:
Winning is all that's important when you're playing a guy with his style. It's so challenging to get into a rhythm.
John McEnroe, a BBC Sports commentator and three-time Wimbledon champion, knows that last match of Murray's will take a toll on him and that it now becomes important for him to get ready for his next meeting against Baghdatis. He will need to use the Baghdatis match to get himself back into the right state of mind and back to the game that he usually plays—and is comfortable with. Said McEnroe:
That was a solid effort from Murray. Maybe he didn't play the best he could, but he did it when he had to. That's a tough one for him to get through. That ages you—maybe not physically but emotionally. Whatever amount he gets paid for winning that match, he deserves it.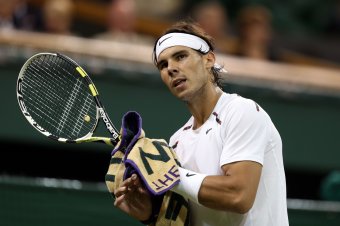 With Nadal gone, the path to the finals got a lot easier for Andy Murray
Clive Rose/Getty Images
Even with Nadal out and his path to the finals a lot easier, if Murray does not have the focus to get there, then the opportunity will be wasted.
The toughest task en route to the finals will come in the semis when Murray is most likely going to be up against Frenchman Jo-Wilfried Tsonga.
Tsonga has not been playing incredible tennis of late. This year alone, he does not have a win that really stands out. Nonetheless, he is never short on energy and will always present a challenge to his opponents.
The 2012 tournament has turned into Murray's best chance at winning Wimbledon—if he can put together a strong game against Tsonga. There is no doubt he has the advantage in talent, assuming he plays the right shots and never gets down on himself.
Even if he is able to make it past Tsonga and advance to the finals, he will then have to step up his game even more. That match will be against Federer, the King of Wimbledon, or Djokovic, the No.1 player in the world, assuming another massive upset does not occur.
It will be interesting to see if Murray can take advantage of the opportunity he has been given.
He may never get an opportunity like this again. This upset that took Nadal out of the tournament is a once-in-a-blue-moon event. It is something Murray is not used to. In most tournaments, especially Majors, he is up against Nadal, Djokovic or Federer every semifinal.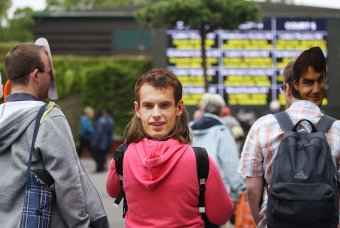 Murray will use the home support to launch himself to his first Major
Dan Kitwood/Getty Images
This is Murray's best chance to get into the finals and give himself an opportunity to win his first Major. He has been fortunate enough to make it into the finals three other times, twice in Australia and once at the US Open, but was never able to capitalize on the chances.
This time however, he will have a whole slew of hometown support on center court every time he plays—especially come the finals.
The fans will recognize the opportunity they have to see their top player finally break his curse of not winning a Major and will cheer him appropriately. There is no better way for Murray to achieve his first Major than doing so on home soil and giving the crowd something to really cheer about.
The field is wide open for Murray to take advantage of what has been given to him and to place himself into the finals.
Does he have what it takes to do so, or will the mounting pressure get to him?
It all starts Saturday when he takes on Marcus Baghdatis in the third round. Another win in that match and the pressure will mount even higher on the shoulders of Britain's only chance for a Wimbledon singles title—since Heather Watson lost in the women's side of the draw.
Murray has what it takes but needs to make sure he leaves it all on the line this time—no giving up. Every game he plays has to be approached as if Nadal is waiting for him in the semifinals. He has to bring the same attitude that he had at the beginning of the tournament.
Murray said, as reported by Ray Allen of The Daily Telegraph:
I believe I can win Wimbledon. Why enter a tournament if you don't believe you can win it?
That confidence will still be needed if he expects to win the title. It is not just a semifinal meeting with Nadal now but rather an encounter in the finals of Wimbledon with another portion of "the big three."
The pressure will have mounted to the extreme, and Murray will need all the belief in himself to get over the hump and win his first Major. Not just for himself, but also for the fans.
This article is
What is the duplicate article?
Why is this article offensive?
Where is this article plagiarized from?
Why is this article poorly edited?