Roger Federer: Comeback Performance Bodes Well for 6-Time Wimbledon Champ
June 29, 2012

Clive Brunskill/Getty Images
Roger Federer's performance on Friday in the third round of Wimbledon 2012 certainly wasn't dominant, but his resolve on the grass courts of the All England Club bodes well for him moving forward.
Federer did what any all-time great does with his back against the wall: he fought back.
Federer—facing elimination against Julien Benneteau in the fourth set—bounced back in Fed-like fashion on Friday. Facing a 6-5 deficit in the fourth set, he came back to win it, 7-6. From there, he took over the match, going on to win,  4-6, 6-7, 6-2, 7-6, 6-1. The last set was all Federer, exerting his will on the world No. 32.
For those who didn't watch the match, this wasn't just a victory against the No. 32 player in the world. Benneteau played well beyond his résumé on Friday, rising to a two-set advantage early on and resembling Lukas Rosol—the world No. 100 who shocked Rafael Nadal on Thursday.
Whatever water they've been using on the grass courts of the All England Club, it certainly hasn't helped the favorites this time around.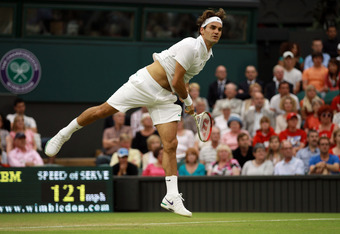 Clive Brunskill/Getty Images
If Federer is to win a major this year, Wimbledon figures to be his best shot. With Nadal out of the way, that leaves one less elite player to deal with. Obviously, the six-time Wimbledon champ has to get to the final first (with Novak Djokovic likely set to meet him in the semifinals), but he showed the fitness and composure to potentially make it a tough match for Djokovic down the line. Against a younger, livelier opponent like Djokovic, fitness is critical.
However, while Federer showed the necessary vigor to defeat Djokovic on Friday, he also would be wise to keep his matches short and sweet before the semifinals. He's going to need as much energy as possible to knock off Djokovic—who cruised against Radek Stepanek after losing the first set of their third-round matchup on Friday.
Federer's performance against Benneteau was encouraging, but he needs to avoid marathons moving forward before his likely clash with Djokovic.
Follow me on Twitter. We can talk about tennis together.