Knox Talks: NFC South Mailbag, 6/29 Edition
June 29, 2012
Bryn Lennon/Getty Images
Every Friday I'll ask for NFC South questions to be submitted via e-mail or Twitter. I'll post the best ones here, and answer the rest in a personal response. So, like Pat Benatar so wonderfully said, "Hit me with your best shot."
What's on your mind?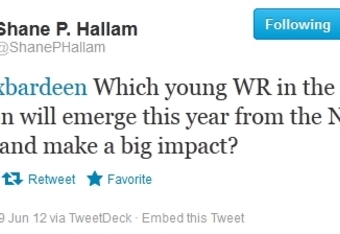 I've narrowed the list down to two: Mike Williams in Tampa Bay or Julio Jones in Atlanta. In picking just one, I'm going to go with Williams.
I'm not saying that I believe Williams will have a better season than Jones, quite the contrary. However, compared to last season, I think Williams will make huge strides, and therefore a greater impact.
Williams caught 65 passes last year for 771 yards and hauled in three touchdown passes. But he was never fully able to explode as a No. 1 option. Enter Vincent Jackson.
Not only will Jackson allow Williams to move over and play WR2, Jackson's teaching and overall experience will surely rub off. I can see Williams' numbers looking more like those of 2010 than 2011 at the end of this season.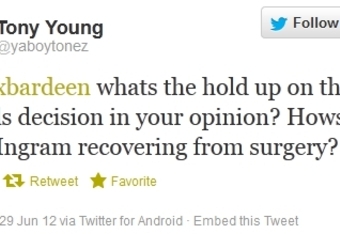 At this point only a very few people know the real answer to that question. I wish I were one of them.
I hope it's because the NFL is making sure to cross every "T" and dot every "I" properly to ensure their case is strong and legitimate. I hope the NFL truly does have the slam-dunk evidence in hand that they say they do.
I hope that the NFL isn't waiting in an effort to get more evidence or re-interview witnesses. That would mean their case isn't as strong as they thought or that the league moved forward with evidence that wasn't strong enough to move on.
This BountyGate scandal has been miserable and costly for all involved. I hope it doesn't get worse.
As to Mark Ingram, he says he's going to be 100 percent healthy by training camp. That's good news for the Saints.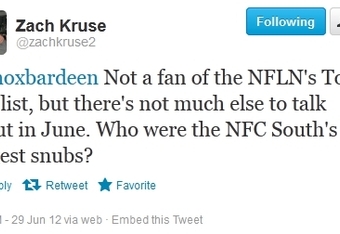 There are a number of players that were left off this list. But the two from the NFC South that boggled my mind the most were Marques Colston and Matt Ryan.
Colston caught 80 passes last year for 1,143 yards and eight touchdowns. If that wasn't enough, he's been a 1,000-yard receiver in five of his first six seasons in the league.
It's a travesty to leave him off this list of the top 100 players. And scream all you want that he's the product of a fantastic system. That may be, but no one discounts the Saints' wins because they are the product of a great system.
Ryan set a franchise record with 4,177 passing yards and yet the players that voted for this list feel that there are 13 passers better.
I'm not sure I have a problem with Ryan being considered the No. 14 quarterback in the league. I think he's probably a little better than that, but what I do have a problem with are some of the names that made the list.
Were the players joking when they listed Tim Tebow instead of Ryan? What about Mike Vick?
Come on??!??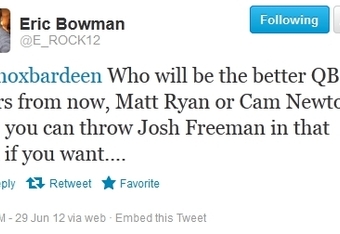 What a question. Do I take the steady four-year growth of Matt Ryan or the explosive numbers from Cam Newton's rookie campaign?
And thanks for allowing me to consider Josh Freeman. I think he'll take a step back in the right direction in 2012, but you were right to include just Newton and Ryan. I'm going to consider just them and expect Freeman to always be a third-place finisher to those guys.
I don't really want to have to make this decision because there's not enough data. I think it's safe to predict that in five years Ryan will be a much better quarterback, but how do I properly guess as to what Newton will do? Even if I include his final season at Auburn—which is unfair because it's nowhere close to the level of play of the NFL—two years isn't enough.
But since I don't have to be exact, I'm going to say Ryan will be the better quarterback. He has a history of improving year in and year out. I'm just not sure what Newton is going to do moving forward.