Anthony Davis: 3 Rookies Who Will Challenge No. 1 Pick for Rookie of the Year
June 29, 2012

Ronald Martinez/Getty Images
Aside from being the No. 1 overall pick of the 2012 NBA Draft, Anthony Davis is probably the early front-runner to win the 2012-2013 Rookie of the Year Award.
Not so fast.
Don't get me wrong, Davis was sensational in his first and only season at Kentucky—he averaged a double-double and swatted an average of almost five shots per game, but I believe Davis's fellow draft members will give him a run for his money this season.
Bradley Beal, Dion Waters and Thomas Robinson are all possibilities to overtake Davis for ROY, and here's why:
Bradley Beal
I wrote about this stud being a top pick in the draft about a month ago and I think he has to be an early favorite to contend with Anthony Davis for ROY.
As a rookie at Florida last season, Beal was the second-leading scorer for the Gators, averaging 14.8 PPG and 6.7 RPG, despite being undersized at 6'3". 
For his efforts, Beal was named to the SEC All-Freshman Team and was First-Team All-SEC in 2011.
As the No. 3 overall pick of the 2012 NBA Draft by the Washington Wizards, Beal will join John Wall in what will be one of the NBA's most exciting backcourts.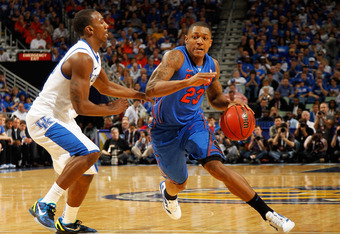 Chris Graythen/Getty Images
Wall, a former member of the All-Rookie First Team, will undoubtedly guide Beal and show him how to score in this league.
Even Davis's coach at UK, John Calipari is impressed with Beal, saying (via NBA.com),
What he is, is a truly prototype two guard in [the NBA]. What he can do is he plays above the rim. Obviously [he's] a knockdown shooter. When you space the court and do pick and rolls with him in the game and he's out on the floor, you've got to play him, which opens up the court for everybody else. And he rebounds the ball. He's good. One of the issues for us when we play them is his rebounding. Now you want to talk about scoring and all the other things, he rebounds, he goes after balls. He's a terrific player.
Beal can shoot as well as attack the rim, making him an early favorite in my mind to contend for the Rookie of the Year Award this season.
Like the Washington Wizards, the Cleveland Cavaliers will now feature one of the most thrilling backcourts after taking Syracuse guard Dion Waiters with the No. 4 overall pick in the draft, who will pair up with last season's ROY, Kyrie Irving.
So, what can Waiters do?
According to NBA.com, Wisconsin point guard Jordan Taylor says, "He's instant offense. He can fill it up. He might be … it's arguable he might be the best scorer on their team. He can hang 20 on you in two minutes if you let him get going."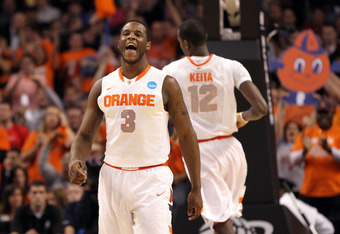 Jim Rogash/Getty Images
Waiters averaged 12.6 PPG in his sophomore season last year while shooting .476 from the field.
If you're wondering where Taylor got the idea that Waiters can pour it on, check out this cool statistic via NBA.com:
Waiters is known as a guy who can put points on the board in a hurry. In a regular-season game against Manhattan, he scored 17 points in 19 minutes. He scored 18 in 24 minutes against Kansas State in the NCAA Tournament, and averaged 23 points and 28 minutes in Big East Tournament games against UConn and Cincinnati. 
Waiters is more of an attacker than shooter, and can handle the ball extremely well, which is why I think he'll be in the running for the ROY this upcoming season.
He improved his shooting from his freshman to sophomore year, and with continuous hard work and dedication, Waiters will prove to be a sensational player in the NBA for a longtime to come. 
Thomas Robinson
An average of 17.7 PPG and 11.9 RPG were good enough for the Sacramento Kings to spend their No. 5 draft pick on Kansas' Thomas Robinson.
At 6'10", 237-pounds, Robinson's body and skill set are NBA ready.
He's a great athlete with a 7'1" wingspan who knows how to rebound the basketball and shot better than 50-percent from the field last season. Robinson also led the nation in double-doubles last season, with 27.
Jeff Gross/Getty Images
And as NBA.com explains, Robinson can compete with Davis for top-dog status:
Until Kentucky freshman Anthony Davis blew up in the last six weeks of the season, most pundits assumed Robinson would be voted the national player of the year. He was still a consensus first-team All-American after nearly doubling his scoring and rebounding averages from his sophomore season. Robinson was a rebounding machine, finishing second in the nation. And his 463 rebounds were second in Kansas history behind only Wilt Chamberlain's 510 in 1956-57. Robinson helped lead Kansas, which had seen its depth gutted through NBA defections and academic issues, to the Final Four where the Jayhawks finished runner-up to Kentucky.
The thing I love about Robinson is his freakish athleticism and his ability to go up and snatch the ball out of the air. There's no doubt that he and DeMarcus Cousins will be pulling them down for the Kings this season.
Davis will have the defensive average over Robinson, but I think Robinson has the edge offensively and on the boards—enough so to win the ROY in 2012-2013.
Like what you see? Hit me up on Twitter @Pete_Schauer