NBA Draft Winners and Losers: Who Just Became an NBA Powerhouse?
June 29, 2012

Chris Graythen/Getty Images
With every year comes the tried and true tradition of picking the winners and losers from NBA draft night.  
We're all enthralled by the best and worst suits lists, the instant trade grades and the grades of the individual picks themselves.  And those gambling folks among us are always quick to jump on early Rookie of the Year odds. 
Granted, we need to see these guys on the court before we can accurately say who won and lost Thursday night.  In fact, the only thing I can say with 100 percent certainty is that Meyers Leonard did not have a stylist for draft night. 
But that doesn't stop the speculation wheel from spinning.  Less than 24 hours after they made their picks, here are a few teams on their way to the NBA elite:
1.  Houston Rockets
Draft Picks:  Jeremy Lamb (SG, Connecticut), Royce White (SF, Iowa State), Terrence Jones (PF, Kentucky)
Grade: A
If Houston general manager Daryl Morey's goal was to stockpile the best available talent to make a run at Orlando Magic center Dwight Howard, he did that and then some Thursday night.
Lamb, White and Jones were all good enough for me to have them as top-15 prospects, and all have no less than NBA starter potential.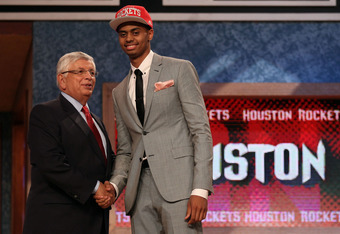 Elsa/Getty Images
It's a virtual certainty that at least one of these players will never make it to training camp as a member of the team, but the draft acumen of Morey and his staff made acquiring whichever star they trade for possible by expertly navigating the draft.  
2.  New Orleans Hornets
Draft Picks:  Anthony Davis (PF, Kentucky), Austin Rivers (PG/SG, Duke), Darius Miller (SF, Kentucky)
Grade:  A
While I'm not sold on Austin Rivers making the successful transition to NBA point guard, getting Davis makes New Orleans one of the draft's biggest winners automatically.
Drafting Davis' teammate Miller only solidified that stance.  He got lost in the shuffle during both his senior season at Kentucky and during the draft process, but Miller has the ability to step in right away for Monte Williams and play significant minutes.  
He needs to work on his on-ball defending, but Davis cleaned up for Miller pretty darn well on penetration at the collegiate level.  In the second round, Miller is a steal who has consistent NBA range and experience on a New Orleans team sorely lacking in that area.  
Draft Picks:  Perry Jones III (SF/PF, Baylor)
Grade:  A
Organizations can have all of the gifted front office personnel in the world, but every great franchise needs some form of luck to get to the pinnacle.
Oklahoma City needed Portland to pick Greg Oden over Kevin Durant in 2007, three teams and 23 teams respectively to pass on Russell Westbrook and Serge Ibaka in 2008 and two teams to pass on James Harden in 2009 to create their current nucleus.
And Thursday night might mark another astonishing stroke of luck for Oklahoma City, landing top-five talent Perry Jones at pick No. 28.  There are concerns about Jones' knees and work ethic, but if he even sniffs his immense potential, the former Baylor Bear will be the steal of the draft.
Despite their differences as players, Jones might even make the "Harden or Ibaka" decision a little easier for the Thunder.
As they say in, well, somewhere:  Presti strikes again.