NBA Draft Winners and Losers: Teams That Wish They Could Have Their Picks Back
June 29, 2012
Streeter Lecka/Getty Images
As with any draft, Thursday's NBA draft featured its share of both winners and losers.
With a deep draft, there were far more winners this season, but that doesn't mean a few teams wish they could take a mulligan on their draft and just start the whole process over.
With that being said, here's a look at teams that wish they could go back and pick again.
Indiana Pacers
Saying the Pacers blew this one would be being kind. Miles Plumlee, a guy that averaged 4.8 points and 4.8 rebounds throughout his four-year career at Duke is a reach at best. I don't care how he worked out; it has to translate on the court.
I like Orlando Johnson as a player, but the Pacers have enough players like him so he didn't make much sense either.
Indiana is missing Larry Bird and David Morway already.
In trading Tyler Zeller to Cleveland, Dallas ended up with three nice players in Jared Cunningham, Bernard Scott and Jae Crowder. All fill depth needs and will contribute.
But with both Perry Jones and Arnett Moultrie still on the board as well as point guard prospects Tony Wroten and Marquis Teague, it's tough not to second guess the Dallas' decision here.
Ugly night for the Nets, who need players badly.
When you look at things, the Nets traded the No. 6 pick in the draft to overpay for Gerald Wallace, who they could lose anyway for nothing.
In return the Nets drafted Tyshawn Taylor, who I like as a backup point guard, and two international prospects in Tornike Shengelia and Ilkan Karaman who could possibly never see the NBA.
Not exactly the way to convince Deron Williams that they have a good enough management team to turn the Nets into winners.
It's hard to say the champs screwed this up because they didn't lose anything, but there was a ton of talent on the board at No. 27 that could have made them an even stronger team next season.
Adding a Jones, Moultrie, Jeff Taylor or a Draymond Green makes more sense than reaching on a Jordan Hamilton, who's a project.
They did get a lottery protected 2013 first-round pick from Philadelphia, but next season's draft projects to be much weaker than this one.
Toronto Raptors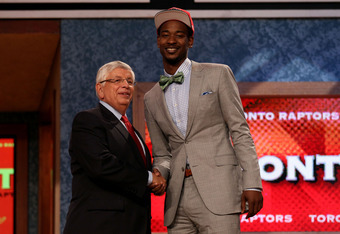 Elsa/Getty Images
I love Terrence Ross as a player, but not at No.8.
Toronto could have traded down a few spots and got him and added some assets. Plus Ross and DeMar DeRozan are both 2-guards and I doubt that either can play the 3, which is a need the Raptors needed to address.
I like Quincy Acy as a player as well, but you never know what you will get from him on a nightly basis. Overall, it was a disappointing night for the Raptors.
Phoenix Suns
Kendall Marshall is the point guard of the future in Phoenix, but great college guards do not always translate to good NBA point guards.
He's the best passing guard I have seen in years, but he's not very athletic, has no lateral quickness, doesn't shoot the ball well and isn't very good defensively.
Having said that, there's a lot I like about Marshall.
But he won't have the talent around him in Phoenix and if he were the Suns' guy all along, they should have moved out of the No. 13 spot as they could have moved down and added a pick or two.