Undrafted NBA Free Agents 2012: 3 Defensive Stoppers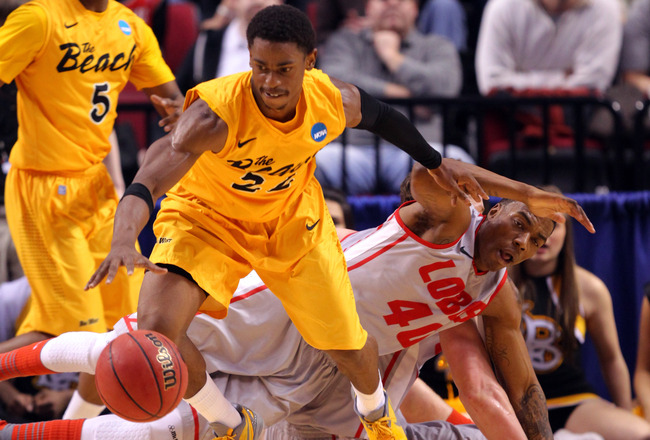 Jed Jacobsohn/Getty Images
Just because the 2012 NBA draft is over, doesn't mean NBA teams can't find talent from the pool of undrafted NBA free agents. If front offices look close, there are a handful of players available that can be strong defenders at the next level.
The second round and being able to find solid players that go undrafted is where the good general managers make their mark. When college players go undrafted, it can be a huge dent in their psyche. Sometimes it's unrepairable. But some players use that as fuel to improve their game. The good general managers find those unpopular players and give them a chance to succeed.
Sometimes it pays off.
Taking a look at the defensive end, here is a list of three players that could develop into solid defenders at the next level. These players will get a chance to prove their worth, and if they pan out, will make some general manager look like a very smart person.
Tu Holloway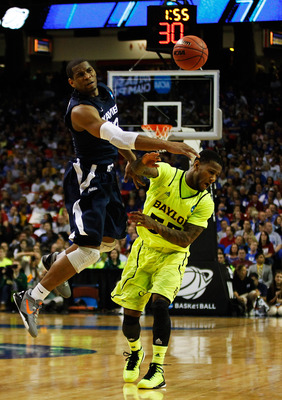 Streeter Lecka/Getty Images
Tu Holloway was a big-time player for the Xavier Musketeers, averaging 17 points and 5.1 assists per game his senior season. Holloway worked out for 14 NBA teams, but went undrafted in the 2012 NBA draft. It's not surprising though—Holloway's size, 6'0" and 190 pounds, doesn't scream NBA prospect. Similar to Isaiah Thomas of the Sacramento Kings, many NBA franchises have little interest in a small point guard.
Holloway could be a great pick up as an undrafted free agent though. Holloway has a decent offensive game, but where he really excels is at the defensive end of the floor. He's a solid athlete with huge hands, which helps him be a nuisance for guards trying to pass the ball. NBADraft.net compared Holloway's huge hands to Rajon Rondo's. Holloway averaged more than a steal a game from his sophomore to senior seasons at Xavier.
Along with his athletic ability, which allows him to be a great one-on-one defender, Holloway moves his feet well and does a great job of getting up on his man. He may struggle to defend the elite guards of the NBA because of his size and quickness, but Holloway is relentless and should be a good defensive option off the bench.
Holloway has some red flags as a player because of the brawl he took part in against Cincinnati. That brawl may have contributed to him going undrafted.
Some team will take a flyer on Holloway though and will be surprised by how good of a defender he is.
Mitchell Watt
Mitchell Watt showed huge improvements in his senior season for the Buffalo Bulls. Watt, who stands 6'10" with a light 225-pound frame, is an excellent shot-blocker but a subpar rebounder. He wouldn't be a center in the NBA because of his build, but Watt could develop into a solid backup power forward if given a chance.
Watt faced weak competition as a college player, but showed flashes of being a good defender. Shot blockers are difficult to find. As long as he learns how to avoid foul trouble, Watt could be a solid option to throw in the low post to defend while the starters get some rest. In college, Watt was a strong backline and help defender, but struggled defending the perimeter.
Watt is a hard worker, which should be considered a skill because a player who works hard can improve his game rapidly under the right coaching.
A team with veteran leadership should take a look at Watt. Players with Watt's kind of length are not available at such a discounted price.
Casper Ware
Casper Ware has a mixture of the same elements that left Mitchell Watt and Tu Holloway undrafted.
Ware is a small guard who also played against subpar talent in the Big West Conference, two factors that don't exactly raise the eyebrows of NBA general managers on draft day.
Despite his size and the level of talent he competed against, Ware is an excellent on-ball defender. Ware was one of the best defensive players in the Big West, but his lack of size raised questions as to whether or not he would be able to defend at the next level.
Putting his size aside, Ware plays with an impressive defensive intensity. He showed lateral quickness and ball-snagging hands throughout his tenure at Long Beach State. Ware has a lot of work to do before he can become an effective NBA player, but none of it has to do with his skill. He's just simply too small and will get bossed around by larger guards unless he puts more weight on without losing his quickness.
A good thing for NBA teams is that giving Ware a run on their summer team is a low-risk move. Ware will do everything he can to make a NBA team and will work his tail off to get his body ready for the NBA game.
Keep Reading