NBA Draft Analysis: Non-Lottery Picks Who Will Have Big Impacts with New Teams
June 29, 2012

Elsa/Getty Images
While most lottery picks are expected to have big impacts, the non-lottery picks can change the fortunes of a team as well. 
It's undoubtedly an added bonus when a prospect drafted outside of the top 14 makes a major contribution, especially when said prospect was taken in the second round. However, it happens every year.
The following seven players drafted outside of the lottery will all have big impacts with their new teams, even if that team has yet to be decided in one case. 
Make careful note though, I'm only talking about impact during the 2012-2013 season. There are quite a few prospects who will make large impacts down the road once they develop or come to the NBA from overseas. 
Tyler Zeller, Cleveland Cavaliers (traded from Dallas Mavericks), No. 17
The big man out of North Carolina will be the best true center on the Cleveland Cavaliers roster as soon as he's signed. With his diverse set of skills and high basketball I.Q., Tyler Zeller can fill too many roles to possibly flop the next level. 
He and Anderson Varejao should be starting for the Cavs as they make a push towards the playoffs, with last year's No. 4 pick, Tristan Thompson, coming off the bench in a relief role. 
Zeller has the talent to be a lottery pick, but he gets injured just a little too often. 
Jared Sullinger, Boston Celtics, No. 21
Speaking of players who dropped because of injuries...
Jared Sullinger is a top-five talent whose stock fell precipitously because his back was medically red-flagged by NBA team doctors. 
If Kevin Garnett returns to the Boston Celtics, Sullinger will have a great mentor and perform admirably as a backup power forward and center. If KG goes elsewhere or retires, Sully will have an even bigger role. 
A true back-to-the-basket big man, Sullinger is already polished and should be ready to make a large impact as a rookie. 
John Jenkins, Atlanta Hawks, No. 23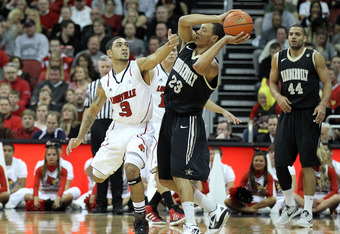 Andy Lyons/Getty Images
As an Atlanta Hawks fan, I was disappointed with this pick at the time, seeing as Perry Jones and Arnett Moultrie were both on the board. 
Now that I've had time to take a few deep breaths and stop yelling at my television, I feel a lot better about the pick. 
Eight players on the Hawks attempted enough three-pointers to hit triple-figures, and Jenkins is easily the best sharpshooter in this draft class with his lightning-quick release and pinpoint accuracy. He'll be a valuable backup to Joe Johnson and may even start by the end of the season if the Hawks intend to move Joe to small forward. 
As Hawks head coach Larry Drew said, "We have guys that can command double teams and break a team down. Who better to pass it to than a knock-down shooter?"
Jae Crowder, Dallas Mavericks, No. 34
The reigning Big East Player of the year, Jae Crowder is too versatile to be overlooked in the Dallas Mavericks' system, especially if they choose to start the rebuilding process.
Crowder can capably play at either of the forward positions, and he's such an intelligent basketball player that he can fill any role necessary.
With his brutish strength and chops for the defensive end, Crowder is the hustle guy who will make a huge, underrated impact because he'll contribute without putting up jaw-dropping stats.  
Draymond Green, Golden State Warriors, No. 35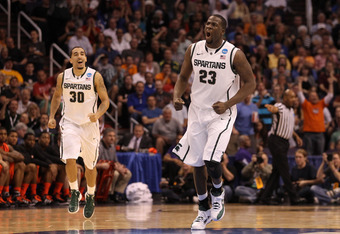 Christian Petersen/Getty Images
Every pore of Draymond Green's body oozes out intangibles. Every fiber of his being drives him to be a winner. 
That's exactly the kind of player that the Golden State Warriors need. He'll be a leader in the locker room from day one and should bring a defensive mentality to the floor when he plays and uses his excellent facilitating skills from the small forward position. 
Green and the Dubs' first draft pick, Harrison Barnes, complement each other perfectly and should form a nice one-two punch at the three. 
Robbie Hummel, Minnesota Timberwolves, No. 58
You have no soul (or you're affiliated with the Indiana Hoosiers) if you're rooting for Robbie Hummel to fail at the next level. The forward was one of college basketball's classiest players, a man who recovered from multiple ACL injuries and never stopped fighting to contribute at a high level. 
Hummel isn't a great athlete, and he knows it which is perhaps his greatest strength. He's never going to force the issue but would rather use his craftiness and deadly scoring ability to pick and choose his spots. 
The Minnesota Timberwolves have a lot of forwards, but Hummel will settle in nicely as a rotation player—even if it's in the back of the rotation—and make the most of every opportunity he receives. 
Scott Machado, No Team, Undrafted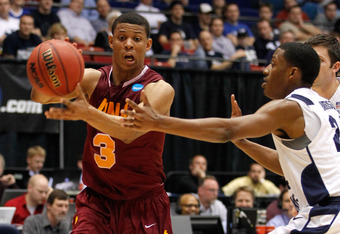 Gregory Shamus/Getty Images
Yes, that's right. Scott Machado is going to make a big impact even though he didn't get drafted. 
Machado is already drawing a lot of interest from teams hoping to bring him in as an undrafted free agent, according to Yahoo!'s Adrian Wojnarowski:
Undrafted Iona guard Scott Machado has Bobcats, Cavaliers, Hawks, Hornets, Raptors, Rockets calling for summer league, sources tell Y!

— Adrian Wojnarowski (@WojYahooNBA) June 29, 2012
This is the best passing point guard in the draft class, better even than Kendall Marshall. One of these teams is going to realize they missed out on drafting him and snatch him up. Machado won't let the opportunity go to waste.
Even though he went undrafted, I still stand by my assessment that he becomes the second-best point guard in the class, trailing only the Portland Trail Blazers' Damian Lillard.