2012 NBA Draft Selections: Biggest Steals of 2nd Round
June 29, 2012
Jamie Squire/Getty Images
It's one thing to grab a steal at the end of the first round of the NBA draft, but when you land a first-round prospect in the second round, that's another thing entirely.
The 2012 NBA draft was like any other NBA draft: full of surprises. Some current playoff contenders lucked out in the second round, while some bottom-feeders may have gotten that much closer to making it to the postseason.
Here's a look at my top five second-round steals of the 2012 NBA draft.
Note: Prospects are ranked based on when they were selected, not necessarily their talent level.
5. Milwaukee Bucks, No. 42: Doron Lamb, SG, Kentucky
Jeff Gross/Getty Images
Doron Lamb is not only one of the best perimeter shooters in the draft, he has the demeanor on the floor to be a key piece coming off the bench for a championship contender.
Lamb averaged 13.7 points for the Wildcats during their championship run, shooting 47 percent from the floor and 46 percent from downtown. There are questions about his size as a shooting guard (6'4"), but his wingspan (6'7") will help him in that regard. 
4. Portland Trail Blazers, No. 40: Will Barton, SG, Memphis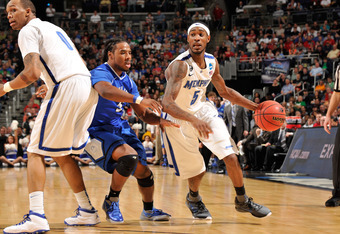 Jamie Sabau/Getty Images
I'm personally a big fan of Will Barton. He was a legit first-round draft pick for me this year.
Barton has the ability to be a starter at the 2 spot for the Blazers. He improved his jump shooting exponentially in his sophomore season at Memphis, his length and athleticism create problems on both sides of the floor and he may be the best rebounding guard in the class.
3. Denver Nuggets, No. 38: Quincy Miller, SF, Baylor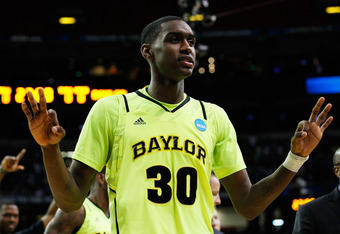 Kevin C. Cox/Getty Images
Quincy Miller has the explosiveness and athleticism to be a star in the NBA; but tearing his ACL certainly didn't help his draft stock, and he was inconsistent when he did play at Baylor.
He's one of those guys, like teammate Perry Jones III, who has the ability to be an impact player if he can put it all together. A low-risk, high reward pick for the Nuggets here.
2. Charlotte Bobcats, No. 31: Jeffrey Taylor, SF, Vanderbilt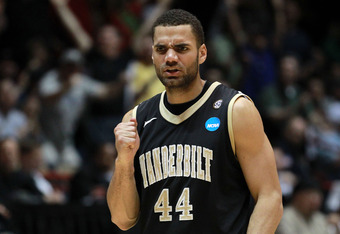 Ronald Martinez/Getty Images
Jeffrey Taylor is another one of those guys who I'm really high on. You look at the complete package he is on the floor and it's no wonder why he was being projected as a first-round pick by many draft experts.
Taylor has always been known for his explosiveness and athleticism, but he developed a more consistent perimeter game in his senior year at Vanderbilt. He also has the ability to be a lockdown defender. What else could you ask for?
1. Golden State Warriors, No. 35: Draymond Green, SF, Michigan State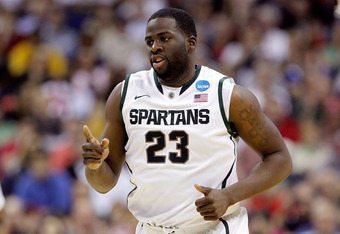 Rob Carr/Getty Images
Here's a guy I thought could have gone as early as No. 26 to the Indiana Pacers. A lot of draft experts had him in the first round at least. But getting him at No. 35 overall? What a steal.
There are questions about Green's overall athleticism and "tweener" size, but you watch him play and you can see him on a championship contender coming off the bench. His ability to play point-forward and demeanor on the floor are no doubt valuable.
Chad Ford of ESPN compared his potential to that of Shane Battier—he won't be a star, but he can be an impact player off the bench.
Follow me on Twitter. We can talk about the NBA together.