NBA Draft Winners and Losers: Teams That Will Prove Their Initial Grade Wrong
June 29, 2012
Kevin C. Cox/Getty Images
The NBA draft is in the books. Many teams addressed their most prescient needs, while others completely missed the mark.
Initial grades have been given out for the most part, but the potential for change is always there. Certain players will develop into stars, and expected stars will fizzle out unexpectedly.
Let's take a look at which teams will prove their initial grade wrong in a good, or bad, way.
Denver Nuggets
The Nuggets may not see a ton of initial production from this year's draft class, but the potential is definitely there.
Quincy Miller is a silky-smooth scorer who plays a bit like a poor man's Kevin Durant. He isn't going to be Durant, but his skill set is similar. He's a dangerous shooter from mid-range and beyond, and he struggles against stronger players. He's probably, at least, another year away from contributing.
Izzet Turkyilmaz and Evan Fournier are even further away, but both have potential. Fournier is a lanky attacker who has the versatility to play multiple positions, and Turkyilmaz is a 7'1'' long-term project in the middle. Both have a bright future, but they're probably two years away.
Denver won't see any dividends from this class for awhile, but I like the upside. Miller could be one of this year's biggest second-round steals, and their "draft and stash" players are both intriguing projects.
Memphis Grizzlies
This may surprise you, but I like what Memphis did. They only had one draft pick, but Tony Wroten Jr. has tremendous raw ability and a ton of room to grow.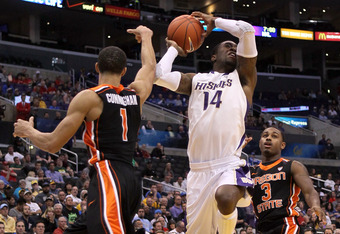 Stephen Dunn/Getty Images
Wroten Jr.'s creativity and ball-handling are unrivaled in this class. He's a silky-smooth distributor who thrives in attack mode. He uses his 6'6'' frame to overpower smaller guards, and he gets to the free-throw line a ton.
There's just one problem. He can't shoot. He shot 58 percent from the foul line, 16 percent from three-point land and 44 percent from the floor last season. This former Huskie's shot is far from NBA-ready.
If Wroten Jr. can improve his shot, he has massive upside as a floor general. He thrives in a fast-paced offense, can lock down on defense and fits Memphis' current personnel. Eventually, he could supplant Mike Conley Jr. as the starter.
When I watch Wroten Jr., I almost see Rajon Rondo (with five extra inches).
Portland Trail Blazers
I had to throw one disappointment on here. Portland's draft haul, right now, looks like one of this year's best. Damian Lillard and Meyers Leonard fill their biggest needs, and Will Barton adds depth to their backcourt.
In the long run, the level of this class won't hold up. Leonard's slight frame won't allow him to play down low, and he isn't skilled enough to step out. Lillard is an excellent volume scorer, but he won't be the floor general Portland needs. Barton is a fine scorer, but he's cut from the same cloth as most average NBA shooting guards.
This class isn't ever going to be bad, but it also isn't going to be one of this year's best.
Everyone praises Portland for addressing their biggest needs, and they should. Lillard will start immediately at the point, and Leonard has a fair chance of starting as well, but neither will develop the talent the Trail Blazer brass is hoping for.
Question marks about Leonard's toughness, and Lillard's ability to play tougher competition, will be verified as time passes. Barton isn't expected to be more than a role player, and no one will be disappointed there.
Portland made the right choices at the time, but their first two picks will eventually be seen as reaches.