NBA Draft 2012: Highlighting First Round's Most Surprising Picks
June 29, 2012

Elsa/Getty Images
b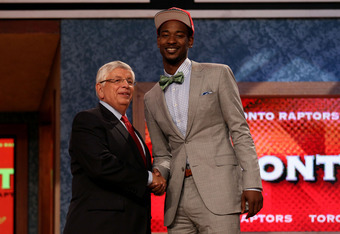 Elsa/Getty Images
No matter how much analysis is done before the NBA draft, there are also a couple picks in the first round that surprise almost everybody. That's what makes the night so unpredictable and fun to watch for fans around the league.
Here's a look at three picks that surely made a lot of people do a double take. That's not to say the prospects won't eventually have success in the NBA, but they definitely have more pressure after getting picked where they did in the opening round.
No. 8 Terrence Ross
If you ever wonder why the Toronto Raptors haven't made the playoffs since 2008, this pick helped answer a lot of questions. Ross was widely considered a mid-to-late Round 1 selection, but the Raptors took him inside the top 10.
Although Toronto did need a shooting guard and Ross was one of the most athletic players in the class, his game needs a lot of polishing before he becomes a go-to guy. He still has trouble finishing in traffic and must become a better distributor.
Making matters worse is the fact Austin Rivers and Jeremy Lamb were both still on the board when the Raptors picked. Both those players have flaws as well, but they are better pure scoring options right now and that's what Toronto needed.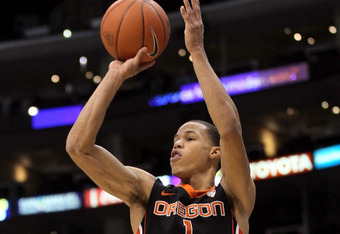 Stephen Dunn/Getty Images
No. 20 Evan Fournier
In a draft class that lacked the usual European influence, the Denver Nuggets decided to take a chance on Fournier. The Frenchman has ideal size for the shooting guard spot and has had some success overseas, but still wasn't a well-known name before the draft.
He still has a long way to go before being ready to make an NBA impact. His offensive game is basically restricted to mid-range jumpers right now. He has to become a better finisher when going toward the basket and also needs to start hitting outside shots.
The Nuggets already have Arron Afflalo on the roster, so they don't have to rush Fournier's development. But that also begs the question why they would take him in the first place instead of targeting a potential position of need for next season.
No. 24 Jared Cunningham
After Cunningham was considered to sit on the first-round fringe heading into the night, he made it safely into the top 30. He was a part of a package the Dallas Mavericks received from the Cleveland Cavaliers in a draft-night swap.
The reason his selection in the first was a surprise is the fact he was considered a specialist. He's a terrific defender, using his speed and instincts to rack up steals. On the flip side, his offensive game is still a work in progress.
That lack of versatility probably means he would have been better served in Round 2, but the Mavericks entered the draft with hopes of adding depth and they did just that. Now they just have to wait and see if it works out like they planned with Cunningham.