NBA Draft 2012 Grades: This Year's Biggest Draft-Night Mistakes
June 29, 2012

Streeter Lecka/Getty Images
The 2012 draft presented us with our fair share of surprises.
First and foremost, none of the blockbuster trades we all were hoping to see happened—no Pau Gasol-for-a-top-10-pick, no Celtics-trading-up-for-a-center. Some of the projected sure-fire second-rounders landed in the middle of the first round, while some of this year's once-revered prospects fell all the way to the dregs of the draft-night pool.
But did Thursday's surprising moves pay off, or will some teams be haunted by this their decisions for years to come? Is Jared Sullinger ever going to play? Is Austin Rivers going to destroy the Hornets' chances of returning to the playoffs?
Here's a look at some of the big losers from this year's draft.

Houston Rockets
All those draft picks and no Dwight Howard or Pau Gasol to show for them.
It was widely believed prior to the draft that the Rockets were stockpiling draft picks in order to entice the Magic into a trade, but alas, no dice. Instead, Kevin McHale and the Rockets emerged from the draft with Jeremy Lamb, Royce White and Terrence Jones—none of whom will give the Rockets the true center they needed in this draft.
Houston missed some big opportunities. It never had a shot at Andre Drummond, but it could have come away with Tyler Zeller or Meyers Leonard. Instead, it selected a shooting guard, a risky player with a lot of upside but mechanics and motor issues, and a player with all the potential in the world who also suffers from a debilitating anxiety disorder.
The Lamb selection was a necessity for a team that's drafted six forwards in the last two years, but with two top-rated centers on the board, the Rockets whiffed and instead went with two high risks. For the Rockets management's sake, hopefully at least one of them works out.
Grade: C-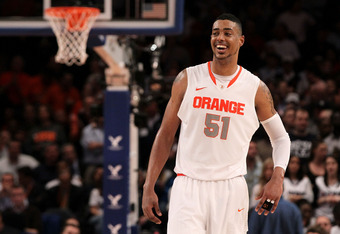 Jim McIsaac/Getty Images
The Celtics are a tough call—they may have won big, but there's a larger probability that they lost big.
It's true that it's not every day you get a top-10-caliber prospect when you're picking 21st in the order. But there's a reason teams 1-20 didn't bite on Jared Sullinger. Even before the back problems, there was the fact that he's seriously undersized for an NBA 4. And the fact that to be successful in the NBA, he's going to need a lethal perimeter shot, which he doesn't have yet. Or the fact that he's not all that athletic.
Still, though, Sullinger wasn't the source the Celtics' failure. Where they lose is with Fab Melo.
The Celtics had two first-round draft picks, and they came away with two colossal risks. Melo is going to be faced with the unenviable task of anchoring the frontcourt if and when Kevin Garnett steps away from the game, and he's not anywhere close to ready yet. He could need 2-3 years before he's ready, and if KG decides not to return to the Celtics at all, he has nobody to mentor him as he develops.
Even if Melo provides a huge boost to the Celtics defensively (if he ever does play), he's so raw right now that it's impossible to see him making an impact in the immediate future. The Celtics needed someone to make an impact in the immediate future.
Boston needed three things coming into this draft: Youth, size and athleticism. Unfortunately, they didn't get the one thing that matters the most.
Grade: C
In a sense, the Cavs aren't fully to blame for their futility on draft night. After all, Bradley Beal wasn't available when they picked at No. 4. At the same time, they failed to make a trade that would get them the pick they needed—and the player who could've revitalized this franchise.
Instead, they got Dion Waiters—someone who fills the need for a shooting guard to complement Kyrie Irving, but someone who is incredibly risky for a top-five prospect.
Waiters has been dogged for the fact that he doesn't have a true position, and despite the fact that he's a good shooter and a good distributor, he's not the dominant, lights-out shooter the Cavs really needed with this pick. He can get to the hoop, but his jump shot—which could make or break him in the NBA—isn't there yet. And he's a top-five pick. How did that happen? Even Austin Rivers would've been a better selection here.
There's a chance Waiters could pan out. There's a chance he could live up to his potential. But with a top-five pick, the Cavs needed more than a chance—they needed a certainty.
Grade: D