The NFL season packs all the drama of any Hollywood movie, and then some.
In fact, it's not a stretch to compare the recent history of many NFL teams to some of Hollywood's biggest hit productions.
Which movies are most closely comparable to AFC East teams?
New England Patriots: Talladega Nights: The Ballad of Ricky Bobby
But after an epic postseason crash-and-burn in a big game against the Colts, they've remained contenders but have had a hard time reaching the mountaintop again.
They've come close time and time again, and are always in it until the last minute.
The number of times they've come close gives hope that they'll reach the mountaintop again, but as of now, the conclusion to this feature remains unfinished.
New York Jets: Star Wars Episodes I-III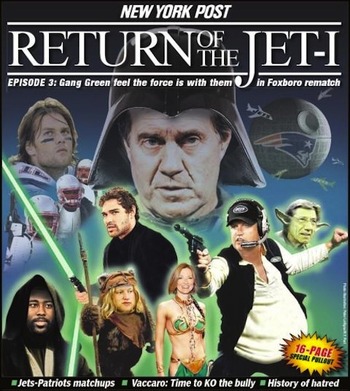 The Jets have spent three years trying to replicate the success they knew over 40 years ago, when they were last Super Bowl Champions. That they came so close their first year in trying was a surprise to many, and they came close again the very next time around.
But they still lived in the shadow of their past success.
They've spent years trying to overcome the death grip of the Imperial Army (the Patriots), but as of yet, they remain under their ruling thumb.
One question: Who is unfortunate enough to be cast as Jar Jar Binks?
Miami Dolphins: The Day After Tomorrow
But a crack in the foundation gives way to a shocking discovery: Life as Dolphins fans know it is about to change for good.
Marino's retirement came and went, and in the years that have followed, the Dolphins have struggled to clean up the rubble.
The Dolphins spent much of this offseason trying to rebuild after yet another disappointing season, looking to the skies for any help they can find.
And with a new coaching regime and new franchise quarterback, much like the last line of The Day After Tomorrow, it looks like, "the clearest atmosphere I've ever seen."
Buffalo Bills: Predator
It looked like the mission might be a success, until one by one the Bills were picked off by injuries (or, in the case of Schwarzanegger, a man-hunting...thing).
What started off as a mission that seemed simple enough turned into a fight for survival. While Schwarzanegger was successful in his battle against the beast, the Bills ultimately failed in that fight.
But the Bills have a benefit that Schwarzanegger didn't: They can try again, and this time, they're back with reinforcements.
Erik Frenz is the AFC East lead blogger for Bleacher Report. Be sure to follow Erik on Twitter and "like" the AFC East blog on Facebook to keep up with all the updates.