2012 NBA Draft Picks: Lottery Teams Who Dug Themselves into Deeper Holes
June 29, 2012

Elsa/Getty Images
The NBA Draft is a time for the league's worst teams to bring in franchise players to turn their fate around, but it doesn't always work out as planned.
While some teams hit home runs with their selections and picked the best players available, many other teams picked out of left field for high-risk players who merely fit needs on their roster.
It's no secret that adding the likes of Anthony Davis and Austin Rivers will pay dividends for the New Orleans Hornets, and the Charlotte Bobcats made significant steps out of the cellar by picking Michael Kidd-Gilchrist second overall. 
But some other teams were not as fortunate.
Let's take a look at the lottery teams that found themselves in a deeper hole than they were in before the draft began.
Portland Trailblazers
With the sixth and 11th pick in this year's draft, the Trailblazers looked to be in as good of a position as any team heading into the draft.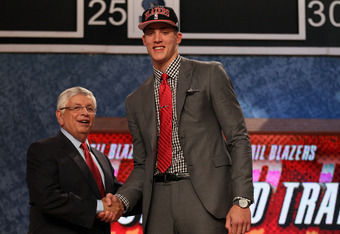 Elsa/Getty Images
By reaching to grab Weber State point guard Damian Lillard with the No. 6 pick, they avoided picking the top talent remaining in the hopes of addressing a team need. Lillard got little to no experience against top talent while playing in the Big Sky conference.
While Lillard's an explosive scorer and could find a home in the NBA, he has far less potential for greatness than players like Harrison Barnes and Austin Rivers, who were still on the board. 
Then they went with Illinois center Meyers Leonard with the No. 11 pick. While Leonard has a high ceiling and has a chance to become a solid big man, he's not as polished as UNC stars John Henson and Tyler Zeller.
There were also many candidates that they could've traded down to grab, such as Jared Sullinger or Fab Melo, both of which were picked up by the Boston Celtics. 
The Blazers didn't have an absolutely disgraceful draft, but they didn't do themselves any favors in their rebuilding phase. 
The Cleveland Cavaliers put a failure stamp on this draft by selecting Dion Waiters with the fourth overall pick.
Waiters can score the rock very well, but he's leaps and bounds behind Florida shooting guard Bradley Beal. The Cavs made it known that they were fighting to move up and take Beal, but a deal never worked out and their hopes were shattered when the Wizards picked him up just one pick before Cleveland.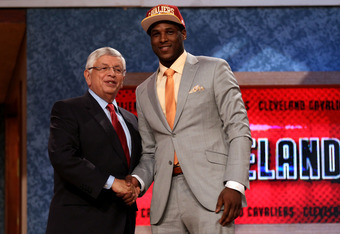 Elsa/Getty Images
The durability of Waiters is in question after not starting a single game for Syracuse this past season. He deserved to go in the first round and has big potential, but not fourth overall potential.
If Waiters was truly Cleveland's choice after Beal, they would've been better off trading down a few spots to grab Waiters since he wasn't presumed to come off the board until at least the 10th pick.
Then, Cleveland threw a slew of picks (24th, 33rd, 34th) at the Dallas Mavericks for 17th overall pick Tyler Zeller. While Zeller answers a gaping hole in the Cleveland lineup, there were nearly as impressive players available at Cleveland's No. 24, which they gave up.
By losing so many picks in the acquisition of Zeller, Cleveland squandered a great opportunity to improve their depth and add some more scoring.