NBA Draft 2012 Results: Perry Jones III and Biggest Steals on Thursday Night
June 29, 2012

Elsa/Getty Images
One of the deepest draft classes in years was on display Thursday night during the NBA Draft, and because of its depth, there were plenty of steals.
Talents ripe for the picking seeped down throughout the draft. Players who could have been lottery picks in other years fell to the second round, giving some teams huge advantages.
These were the biggest steals on draft night.
Quincy Miller, Baylor (Denver Nuggets, No. 38)
This is exactly what I mean when I say lottery-caliber players fell to the second round.
Quincy Miller was only a freshman, but he impressed both scouts and fans with his skill. He was able to play inside or step out with his long mid-range game. He is very athletic and versatile, and will make a great NBA forward.
While he was slightly overshadowed at Baylor because he played alongside Quincy Acy and Perry Jones III, he made a huge impact during his time on the court.
Miller has the potential to be a stud at the next level, but he fell to the second round. He was the type of player that Denver had to jump on, and the Nuggets scored big with this pick.
Thomas Robinson, Kansas (Sacramento Kings, No. 5)
The Kansas big man seemed like a lock for the second pick behind Anthony Davis, but after Charlotte selected Michael Kidd-Gilchrist, and Washington and Cleveland both went after shooting guards, Thomas Robinson fell to the Sacramento Kings at No. 5.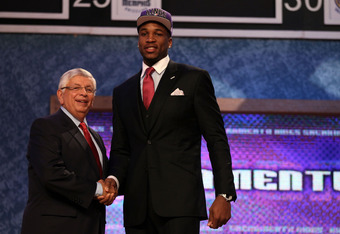 Elsa/Getty Images
Robinson has an NBA-ready body and can affect the game on both ends of the court. He has the ability to be a star in the league, and there are no off-the-court issues with this kid. He has a great head on his shoulders and is guaranteed to be a hard worker.
Robinson is the type of player that every team needs, and yet he fell to the Kings, which was shocking. He has to be considered a steal, despite being a Top Five pick.
Kendall Marshall, North Carolina (Phoenix Suns, No. 13)
Let's face it: The Suns are losing Steve Nash. One of the best point guards the league has ever seen has grown old and cannot make the same impact that he did in previous seasons.
However, Phoenix found the perfect replacement in Kendall Marshall. Marshall is the best pure-point guard in the class, averaging 10.1 assists per game with North Carolina last season.
Marshall is a clutch player who can score on his own like Nash, but he excels as a distributor and floor general. The closest NBA comparison I can make to Marshall is Nash, and Marshall will be able to step in and play close to the level Nash did in a few seasons.
This was a great pick for the Suns.
Perry Jones III, Baylor (Oklahoma City Thunder, No. 28)
Once a sure-fire lottery pick, Perry Jones III took a minor slip down draft boards, and found himself out of the lottery on Thursday night. In fact, he almost slipped out of the first round.
Jones still has a ton of potential in the NBA because of his size and athleticism, and he was the biggest steal of the draft at No. 28.
The Thunder couldn't have imagined getting a better player than PJ3 with their only pick in the draft last night. Landing another potential star bodes well for the young Thunder, and he will help OKC continue to compete for an NBA title for years to come.