Undrafted NBA Free Agents 2012: Confident Players Who Will Get Their Shot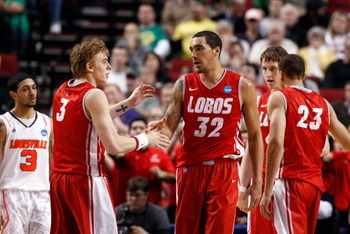 Jonathan Ferrey/Getty Images
Getting drafted into the NBA isn't all it's cracked up to be. Especially if it's the second round, where there are no guaranteed contracts.
Still, it has to be a major disappointment for those top tier players who missed out on being one of the 60 chosen few in this year's draft.
If you are one of a handful of top prospects who went undrafted Thursday, today you may have an opportunity to sign with a team of your choice, or at least have a crack at a few who express interest.
The second round of this year's draft saw a plethora of talent from Europe heading to the NBA and may partly explain why some US blue chippers never saw the light of day.
Let's examine a few sleepers with big games, big shots and no lack of confidence in their ability to make it in the pro ranks.
Drew Gordon: New Mexico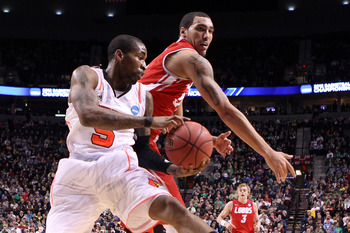 Drew Gordon - an exceptional athlete, will make someone's roster
Jed Jacobsohn/Getty Images
How anyone could pass on drafting Drew Gordon is a mystery, but then, the NBA Draft is only two rounds, making free agency that much more important.
The 6'9" Gordon was a beast for the Lobos the past two years. A former UCLA Bruin who transferred to New Mexico for personal reasons, Gordon really came into his own his senior year.
Gordon averaged 13.7 points on 54 percent shooting and grabbed 11 rebounds per game. At close to 250 pounds, Gordon is the type of rugged forward who will play with energy and grab a lot of loose balls.
Some say he plays with a slight chip on his shoulders which can be a plus in the pros if it's channeled properly.
Ricardo Ratliffe: Missouri Power Forward: NCAA FG Leader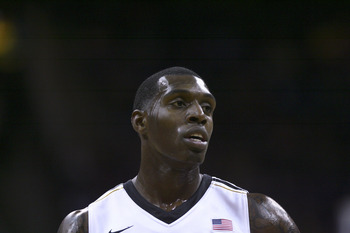 Ratliffe went undrafted but not unnoticed - extremely efficient player
Ed Zurga/Getty Images
Ricardo Ratliffe should have been the third Missouri Tiger to get drafted on Thursday (Kim English went to Detroit and Marcus Denmon to San Antonio, both in the second round).
At 6'8", 240 pounds, Ratliffe is on the smaller side for the power forward position but is considered one of the most efficient players to come out of college this year.
Ratliffe led the nation in shooting percentage this past season. He shot over 70 percent for most of the year before finishing at just over 69 percent for the season. In slightly more than 26 minutes per game, Ratliffe averaged 14 points, making 70 percent of his free throws.
His teammate at Missouri, Lawrence Bowers, compares Ratliffe to two other current NBA players who are "undersized" but very effective for their teams.
From the Columbia Missourian:
Bowers likened Ratliffe to current NBA players DeJuan Blair (San Antonio Spurs) and Kenneth Faried (Denver Nuggets), who have both found success despite being shorter than typical NBA power forwards.
John Shurna: Northwestern Forward with Long Distance Accuracy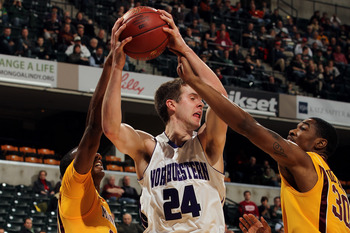 Jonathan Daniel/Getty Images
If you're an NBA GM in the market for a top-notch perimeter shooter (and who isn't?), then the 6'9" John Shurna is bound to get some invitations this summer.
Shurna was remarkable from three point range, connecting on 43.4 percent of his shots as a junior and 44 percent as a senior. He averaged 20 points as a senior.
The critics say he doesn't rebound well for his size and lacks the necessary strength, athleticism and quickness needed for the next level.
Still, one can look to a number of big shooters who helped their teams without having to do much more than come off the bench and knock down a few long shots.
As Shurna told Scott Powers of ESPN.com about his ability to drain three pointers:
I think shooting is an attribute I can bring to an organization. Every team can use shooting, and I'm a guy who has done that and proven it against the Big Ten and in these workouts. I've always thought one of my best attributes is I'm a competitor and I love to win. I'll go out and make the hustle plays and run up and down the floor and do the little things that help a team to win.
Prior to the draft, Shurna tried out for 13 different teams, reportedly making 36 of 40 shots from three point range at a workout for Milwaukee.
John Shurna is sure to get his shot.



Kevin Jones: West Virginia Power Forward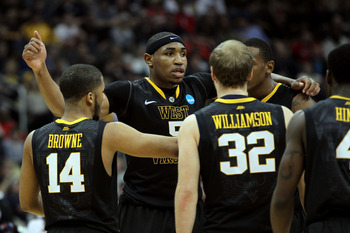 Kevin Jones was a force at West Virginia
Gregory Shamus/Getty Images
Kevin Jones will be on an NBA roster this fall. No doubt about it.
How do you not draft a 6'8", 260 pound power forward who averages 19.9 points on 51 percent shooting, grabs 10.9 rebounds and is named a second team All-American his senior year?
A bona fide star on an otherwise lackluster West Virginia team, Jones was their leader not only in scoring but also in stamina as he averaged close to 38 minutes per game.
The Mountaineers qualified for the NCAA Tournament largely due to the play of their senior forward.
Scott Machado, Iona, Senior Guard with Great Court Awareness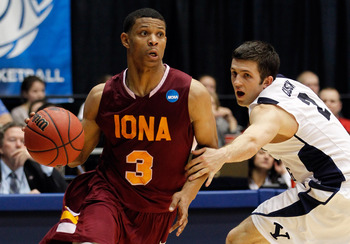 Gregory Shamus/Getty Images
Yet another highly skilled player who just might stick with an NBA team and actually help them as a rookie.
At 6'1", 180 pounds, Iona point guard Scott Machado is thought by many to be too small to make it in the NBA, despite the eye popping numbers as a senior playmaker for the Gaels.
Who wouldn't give a look to a player who seems to be everywhere: 13.6 points, 9.9 assists, 40 percent from three point, 50 percent from the field, 81 percent from the charity stripe and 4.9 rebounds a game.
NBA scouts must have thought Machado was not big enough, fast enough or athletic enough to take a chance on drafting.
He deserves a shot this summer or fall, and I think he'll get it.
Best of the Rest: Leave No Stone Unturned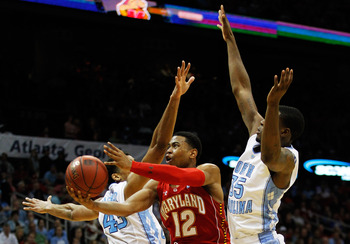 Terrell Stoglin averaged over 21 points per game for Maryland
Streeter Lecka/Getty Images
A few more who should get invitations to NBA camps:
Terrell Stoglin—The diminutive Maryland point guard has been impressive in workouts and averaged more than 21 points per game his senior year.
Renardo Sidney—The 6'10", 280 pound center left college early to declare for the draft, but no one came calling. Sidney had an off-year as a junior, averaging 9.7 points after putting up over 14 ppg his sophomore season. He's a raw talent and could help a team in the future.
Tu Holloway—The Xavier guard has put together outstanding back to back seasons, averaging 19.7 and 17.5 points his junior and senior years. At 6'0", 190 pounds, he may be too small to get a good look in the pros, but he's a hustler and will work as hard as anyone.
Keep Reading