Knicks Rumors: Amar'e Stoudemire Working with Hakeem Olajuwon Is Smart Idea
June 29, 2012

Jeff Zelevansky/Getty Images
When you struggle in the post why not seek help from one of the greatest players to ever work in the post? 
Amar'e Stoudemire needs help in the post. It's been an issue he's been dealing with throughout his NBA career.
But now he intends to seek help from one of the greatest post players of all time—Hakeem Olajuwon—according to Jared Zwerling of ESPNNewYork.
Smart move, Amar'e. 
Olajuwon's game in the post was pure; it was silky smooth. Nobody in the history of the game had footwork like Olajuwon. He could spin five times and never pull his pivot foot.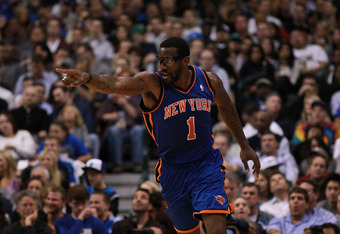 Ronald Martinez/Getty Images
It was one of the most amazing things you would ever see on the basketball court. Pivoting like that in the post, or anywhere for that fact, is almost a lost art in the game basketball.
If you were to teach 100 kids how to play in the post, Olajuwon would be the example on TV. He would be the guy.
Stoudemire reaching out to the greatest of all time shouldn't bring shame. It should bring fans to their feet to applaud. Any person who can admit they aren't great in an area but want to go to the best to figure it out should be applauded.
After Stoudemire's lack-luster 2011-12 campaign, which saw him score 17.5 points per game, eight points behind his total from the season prior, a slight change is imminent.
Stoudemire's offensive game is meshed with a good pick-and-roll point guard. Steve Nash made Stoudemire an All-Star, and he kept it rolling in New York being the main man. However, when Carmelo Anthony came to New York, his touches dropped significantly.
Not only did Anthony take back some of Stoudemire's production, but defenses figured out how to slow Stoudemire down on the defensive end. They forced more jumpers, boxed-out effectively to limit offensive rebounds and it frustrated Stoudemire at times.
Also, the use of Jeremy Lin, with the ball in his hands a good percentage of the time, took away from some touches for Stoudemire. If he wants to be successful in this offense with Lin and Anthony taking the majority of the shots, he had to turn to the post in order to get touches this upcoming season.
It was a great and smart move for Stoudemire that will both benefit him and the New York Knicks organization for his tenure with the franchise. It was a move that was tough to make, given his pride, but it's a move he will look back on and say was the right decision 10 years from now.