NBA Draft 2012: Where Do Los Angeles Lakers Draft Picks Fit in Next Season?
June 29, 2012

Andy Lyons/Getty Images
The Los Angeles Lakers acquired the No. 55 pick Darius Johnson-Odom and No. 60 pick Robert Sacre in Thursday's 2012 NBA Draft. Should Laker fans get excited about the two latest additions? Or are the two hoopsters destined for the D-League abyss?
Lakers GM Mitch Kupchak shared his thoughts on his purchase of Johnson-Odom from the Dallas Mavericks (via ESPN's Dave McMenamin):
"You'll like this kid, You'll like him a lot. He plays really, really hard. Ridiculously athletic. Powerful. Physical. Very, very aggressive. Competitive. He's fun to watch and I think he'll be a really, really good player leading into training camp."
Kupchak notes he had Darius Johnson-Odom in the mid-to-late 30's on his own draft board. After falling to the 55th pick, Kupchak pounced and bought the rights to Johnson-Odom for an estimated $500,000.
The Lakers other pick—Robert Sacre—is a 7'0'' 260 lb center from Gonzaga who averaged 11.6 points and 6.3 rebounds his senior season for the Bulldogs.
Both of these youngsters will have to perform well in Summer League play and get an invitation to training camp before being considered part of the Lakers full-time roster. At that point, the Lakers will negotiate a contract if they see a future for their two draft picks next season.
Roster in Flux
It's conceivable that Mitch Kupchak integrates both Johnson-Odom and Sacre into the team's rotation next year given the fluid roster situation this offseason.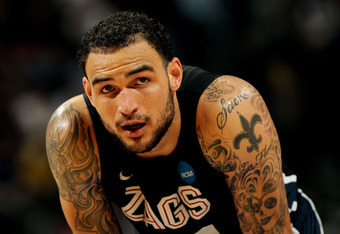 Doug Pensinger/Getty Images
With six Lakers players being free agents (Ramon Sessions, Matt Barnes, Troy Murphy, Jordan Hill, Darius Morris and Devin Ebanks) this summer, Lakers management has serious personnel decisions to make.
Kupchak could attempt to bring back all, none, or just some of these players for the 2012-13 season.
This uncertainty definitely opens the door for these two draft picks who, starting today, will have to prove their worth to the Lakers organization.
Needs on the Team
If the Lakers don't bring back Jordan Hill, Sacre could serve as the team's back-up center. The Canadian national was one of the biggest players in the draft at 7'0'' and could help load the paint defensively for the Lakers.
The Lakers did something similar when they made their 2010 NBA Draft second round pick Derrick Caracter a back-up big man for one season. Caracter was chosen 58th overall—two spots above Sacre.
Pick-and-roll defense is also an area of concern for the Lakers heading into next season, and the 6'2'' Johnson-Odom could significantly help the Lakers in this area.
DJO will need to improve his speed to keep up with faster NBA guards, but he certainly has the strength to fight through screens and square up ballhandlers on the perimeter.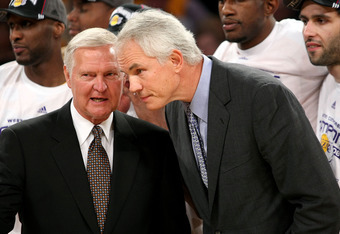 Stephen Dunn/Getty Images
In this regard, Johnson-Odom is well-equipped to make the leap from college to the pros after playing in the nation's strongest basketball conference—the Big East—and against some of the top guards in the country during his three years at Marquette.
This isn't a freshman superstar coming from a mid-major conference. It's a three-year player coming from 'the Beast.'
Kupchak's Decision
Given the limited financial flexibility the Lakers have going into the summer, where they must retain key free agents and also explore big time trades, Mitch Kupchak may very well add these two players to the full-time roster when all is said and done, especially given their cheap price tags.
The two second-rounders will likely command salaries in the $400K-$500K range.
As late round picks, Kupchak was probably not drafting these players with some larger trade deal in mind. Perceived value gets lost after the mid-to-late 40's where teams draft players with huge boom-bust potential.
Instead, Kupchak appears to have drafted back-up plans in the event the Lakers' key free agents—Ramon Sessions and Jordan Hill—walk this summer.
And considering Kupchak's high praise for DJO, the Marquette guard could find himself in the Lakers' rotation sooner than later.
Johnson-Odom will have to compete for playing time against the Lakers other young guards Darius Morris and Andrew Goudelock. If DJO can separate himself on the defensive end from his two counterparts, he may emerge as a favorite in Mike Brown's defensive scheme.