Big Air Competition X Games 2012: Favorites to Dethrone Bob Burnquist
June 29, 2012

Mark Kolbe/Getty Images
Bob Burnquist will have to dig deep with four young, superb talents pushing for the title Saturday.
According to ESPN.com's Colin Bane, the 2012 Big Air Competition will still feature last year's winner Bob Burnquist in spite of falling and injuring his back on the MegaRamp during practice on Tuesday. Burnquist was released from the hospital after X-rays were negative.
There is no question the 35-year-old Brazilian sensation will bring his best to the competition. He has been to the X-games every year since 1995, and boasts a total of 20 medals. He has won this event in particular three times since its induction into the games, and is the 2011 champion.
In spite of his accomplishments, there is no denying that Burquist's injury has opened the door for the young talents. Coming out of a hospital three days before hitting the ramp again is anything but a promising sign.
These are the three contenders that have the best shot at taking down the experienced Burnquist.
Rony Gomes (Brazil)
To the surprise of many, 19-year-old Rony Gomes burst onto the scene with some spectacular runs in the elimination round.
His run of 90 to open things up was just short of sensational. It was easily the best run of the competition so far, featuring a Backside 360 Ollie and Mute 540.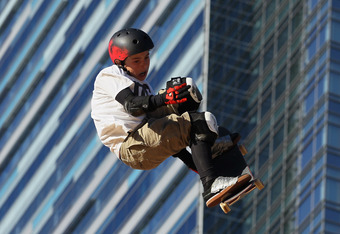 Jeff Gross/Getty Images
With the best run of any competitor in any heat at the eliminations, there is every reason to believe Gomes will do just the same in tonight's competition.
Jake Brown (Australia)
Brown, 37, is the one skater that can surely steal the title from Burnquist. Make no mistake about it.
The 2009 and 2010 champion of this event knows a thing or two about taking gold, and has every intention of taking back the competition he once owned.
During the elimination round Brown had the second-best heat behind Gomes, scoring an 89.33 Thursday.
Tom Schaar (Malibu, CA)
Schaar is an artist of epic proportions with the board and is sure to shock the scene on Friday night when the second round begins.
This 12-year-old is a beast on the board, and has skated the last eight years of his life. One of the major highlights of his career was his victory over Burnquist at the X-games in Asia. His 1080 turn was the difference maker in what was undoubtedly a close call.
Schaar has beat him before and will try to do just the same again here in L.A..