NBA Draft 2012: Second-Round Picks with First-Round Value
June 30, 2012

Jamie Sabau/Getty Images
If a prospect gets selected in the first round of the NBA draft, there are high expectations. If they don't produce within a few seasons, they get the dreaded bust label. That's not the case for players taken in Round 2, which lessens the amount of pressure on their shoulders.
With that in mind, let's take a look at a trio of second-round picks that will end up giving their new franchises plenty of value over the long haul. They may never become elite NBA players, but they should have successful careers in the league.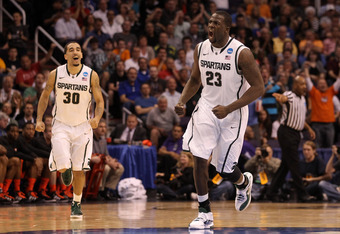 Christian Petersen/Getty Images
Draymond Green
Prospects like Green always get overlooked on draft night. He's not going to blow anybody away with his athletic ability, he doesn't have great length, and his upside has limits. That said, he's going to work harder than most of the other players drafted on Thursday, and he produces.
During his final season at Michigan State, he averaged 16 points, 11 rebounds and four assists. He shot 45 percent from the floor, which was impressive because he was just starting to improve his mid-range game, yet was still able to maintain efficiency.
The Golden State Warriors lack depth in the post, so Green should be able to earn some playing time pretty quickly and he will have no trouble carving out a niche for himself. He'll be a valued role player within a few seasons.
Will Barton
Even though Barton made a late rise up the board as draft day approached, it wasn't enough for him to sneak in to Round 1. He instead got selected by the Portland Trail Blazers in the second and should fit in perfectly with his new franchise.
The team also drafted point guard Damian Lillard with the sixth pick, giving them a potential backcourt of the future. Both players are capable of handling the ball and creating offense, making them a defensive nightmare if they both pan out as expected.
Barton averaged 18 points and eight rebounds for Memphis last season. He likes to attack the rim, but can also knock down jumpers with good consistency. His defense is certainly a major concern, but if it he improves even marginally, he'll turn out to be a steal.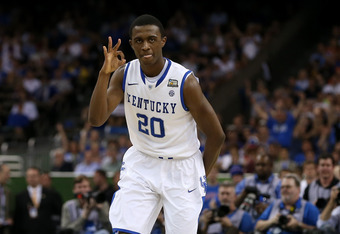 Jeff Gross/Getty Images
Doron Lamb
The Milwaukee Bucks already have an explosive backcourt combination featuring Brandon Jennings and Monta Ellis. Drafting a sharpshooter like Lamb ensures they won't have any trouble scoring on the perimeter next season.
One of the six Kentucky players drafted on Thursday night, Lamb averaged 14 points en route to the national championship. He drained nearly two three-pointers per game while shooting an eye-popping 47 percent from beyond the arc.
Like Barton, he has some defensive deficiencies, which likely caused teams to shy away form him in the first round. He should become a perfect sixth man with the ability to create instant offense, and the rest of his game should improve along the way.