San Diego Padres: 7 Biggest Issues for the Rest of the Season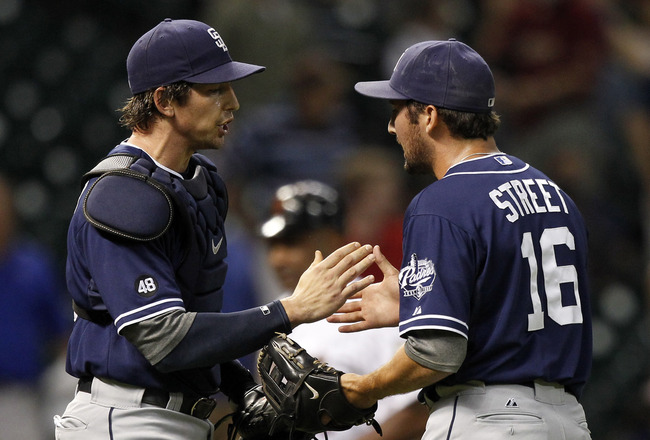 Bob Levey/Getty Images
It's been a long season for the San Diego Padres.
When you're saying that before the All-Star break, you know the long season may continue for the next few months.
There are some issues the Padres are facing this year. If the issues emerge, the rest of the season isn't going to be pretty.
Here's a look at seven of those issues.
7. What to Do with Andrew Cashner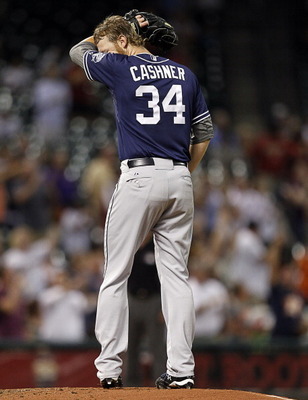 Bob Levey/Getty Images
So, Andrew Cashner is officially a starter...for now.
But what will the Padres do if he struggles?
Do you move him back to the bullpen and possibly lose the prospect of him being a starter forever? Or, do you sit there and let him work out his problems, thinking that the season is a wash anyways?
I'm hoping they do the latter, because I believe Cashner does have the ability to be a good starter in the league for many years to come.
If Thursday's performance is any indication, I could see him staying in the rotation for the rest of the season.
6. 44 Road Games Left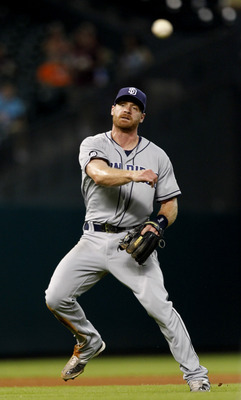 Bob Levey/Getty Images
The Padres are currently 12-25 on the road, and they still have 44 games to go.
The way things are going, it's not looking good.
In addition to trips to all National League West parks, the Padres have to visit Miami, Cincinnati, Pittsburgh, Atlanta and Milwaukee.
That's not exactly a great thing.
Then again, every team travels to every ballpark in a particular league at some point during the season.
It just so happens the Padres are getting some of the better teams towards the end of the season.
5. Huston Street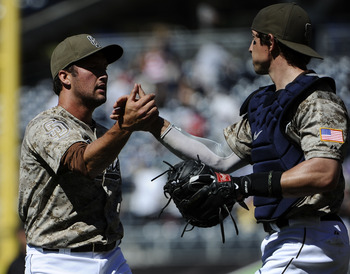 Denis Poroy/Getty Images
Huston Street is a good closer, but he's not getting nearly enough appearances with the Padres.
Currently, Street has 10 saves in 20 appearances.
He is a free agent at the end of this year, which means some teams in the playoff race may be looking for bullpen help.
That's where the Padres come in.
Although the move doesn't help their team now, it could possibly help them in the future.
As of right now, Street isn't getting enough work in, which is understandable considering the Padres' current record.
4. When Will Yasmani Grandal Be Called Up?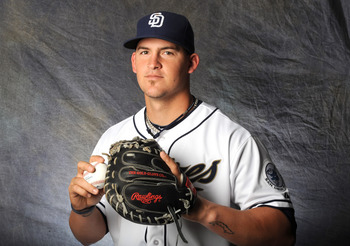 Rich Pilling/Getty Images
I, like many other Padres fans, thought that when Yasmani Grandal was called up at the beginning of the month, he was in San Diego to stay.
His call-up didn't last long, and he was quickly sent back down to Triple-A Tucson.
The longer Padres' brass waits to call up the prize of the Mat Latos trade, the more on edge fans will be.
Nick Hundley is hitting a pedestrian .166.
It's time to make changes, since the Padres aren't going anywhere.
Give the kid a chance and let's see what he can do.
3. Offense, Offense, Offense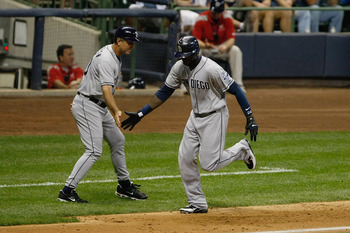 Scott Boehm/Getty Images
Hundley is not the only one on offense who is struggling.
Cameron Maybin is hitting .198 with three home runs and 22 RBI, while Alex Amarista is hitting .233, although I'll admit, Amarista is an upgrade over Orlando Hudson at second base.
Then there's Jesus Guzman, hitting .234 with two home runs and 26 RBI.
Overall, it's not good.
As a team, the Padres are last in MLB in average (.231), runs scored (261), home runs (40), RBI (244) and slugging percentage (.350).
Now, I understand they play in PetCo, but these numbers are embarrassing.
2. Yonder Alonso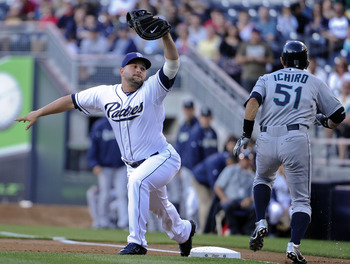 Denis Poroy/Getty Images
To say that Yonder Alonso has been a disappointment thus far would be an understatement.
When the Padres traded Mat Latos to the Reds for a package that included Alonso, I'm sure they thought they were getting a nice power guy who would be able to hit at least 30 home runs a year, even in PetCo Park.
Adrian Gonzalez did it, so why couldn't he?
Thus far, Alonso is hitting .260 with two home runs and 18 RBI.
Not exactly the numbers the Padres wanted to see out of him.
I'm sure there are many fans wishing the team had kept Anthony Rizzo and tried to get another young pitcher out of the Reds.
1. Health of Pitching Staff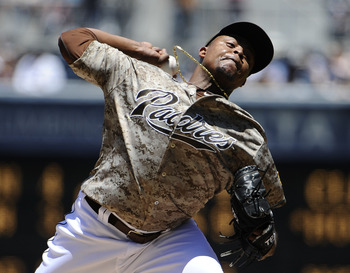 Denis Poroy/Getty Images
The health of the pitching staff is currently a major concern for the Padres.
As it stands now, of the original rotation out of spring training, only Edinson Volquez and Clayton Richard are active.
Anthony Bass and Eric Stults are on the 15-day disabled list, while Cory Luebke, Dustin Moesley, Tim Stauffer, Micah Owings and Joe Weiland are on the 60-day DL.
It's almost like anyone who has stepped into the rotation has gotten injured at some point this year.
The Padres have Kip Wells and Jason Marquis filling in the rotation.
If that wasn't enough, top prospect Casey Kelly is also injured, preventing him from being called up to the majors.
Injuries have been a real problem, but there's nothing the Padres can do.
If another injury or two happens to the Padres' staff this year, they're going to be calling up some really young pitchers from Triple-A and Double-A to make starts, possibly messing up those players' development.
Regardless, I think everyone can agree on the fact that the Padres have had enough injury concerns for two full seasons, much less a half a season.
Keep Reading

San Diego Padres: Like this team?