Spain vs. Italy: Mario Balotelli and Most Important Players in Euro 2012 Final
June 29, 2012
Claudio Villa/Getty Images
Spain will attempt to repeat as European champions when they take on Italy in the final of Euro 2012 on Sunday.
Italy is no stranger to success in major tournaments. Some of their current players were also on the team that won the 2006 World Cup.
Even though both squads have many great players, a select few will play a vital role in determining the outcome of the match. Let's look at the three most important players in the final.
Mario Balotelli, ST, Italy
Balotelli was the man of the match in Italy's semifinal victory over Germany. He scored two first half goals and was a nightmare to defend in the attacking third.
If he continues to make good runs and is aggressive on the attack, Spain will need to defend extremely well to keep him off the score sheet.
The 21-year-old is a match winner, and if you don't defend him properly, he can score goals with his brilliant pace and shot accuracy.  
Balotelli will be determined to prove himself on one of the grandest stages in world football, and is one of the x-factors for Italy in the final.
Andres Iniesta, CM, Spain
Iniesta is a player who performs well when the stakes are as high as they go. He scored the winning goal in the 2010 World Cup final for Spain, and has scored or assisted on goals in many important Champions League matches for Barcelona over the last few years.
His ability to pass with pinpoint precision and go forward and score goals is absolutely fantastic. His ball control is phenomenal, which makes him hard to defend and take the ball from.
His chemistry with other Spanish midfielders such as Xavi, Xabi Alonso and Cesc Fabregas allows Spain to keep the ball away from their opponent and dominate the possession battle.
If Italy allow Iniesta the time and space he needs to control the pace of the game, then Spain will win this match easily and win another major international tournament.
Gianluigi Buffon, GK, Italy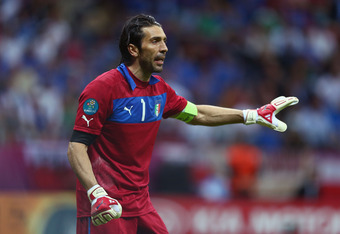 Michael Steele/Getty Images
Buffon was spectacular in the semifinal win over Germany, making several world class saves to maintain Italy's lead throughout the second half.
He will once again be a crucial part of the Italian defense, and cannot afford to make mistakes because he will be opposed by world class goalkeeper Iker Casillas at the Spanish end of the pitch.
If Buffon can keep the Spanish attack from scoring, then Italy will have a chance to win in extra time or in a penalty shootout. Not allowing Spain to strike first will be very important for Italy because chasing the ball when facing a deficit is very difficult against the Spanish.