Euro 2012: Timely Saves Will Determine Victor in Cup Final
June 30, 2012

Michael Steele/Getty Images
Sunday's Euro final pits two extremely capable offenses against on another, but in the end, something has to give. Goalkeepers Gianluigi Buffon and Iker Casillas will play vital roles in the success of their respective sides.
Spain's offense was stifled by Portugal's defense in the semifinals, until penalty kicks. Don't expect them to take that lightly. The Spanish side will come out with a vengeance in the final game.
Italy is entering with a lot more offensive momentum. Star striker Mario Balotelli scored two goals in a heroic effort over the favored German squad. They will be flying high as they try to pull their second consecutive upset.
Each keeper is the last line of defense for their team. The defenses playing in front of them are both riddled with talented players, but these offenses are too good to completely pin down.
Balotelli and Cesc Fabregas are both high-quality strikers. Spain's entire midfield is elite, and Italy's Andrea Pirlo is among the world's most creative distributors. The defenses will be tested by the sheer skill of each attacking unit.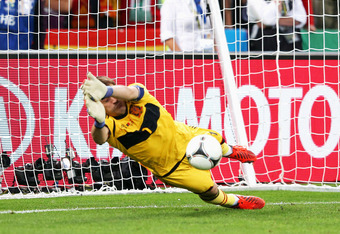 Alex Livesey/Getty Images
I still think this game will be low-scoring, but the keepers must step up to make that happen. They aren't going to have to make 10 saves apiece, but a few major stops will be necessary. Victory for their side depends on it.
Buffon and Casillas have 250 combined career appearances for their national squads. These are two of the world's best and most experienced keepers. They have proven reputations, and each player has backed that up in major games.
There will be more skilled, and hopefully more visible, performers in Sunday's Euro tilt, but none will be more important than these two.
Whichever player steps up when it's his time to shine will lead their squad to Euro glory.