NBA Draft 2012 Results: Analyzing Teams That Improved the Most
June 30, 2012
Chris Graythen/Getty Images
In the aftermath of the 2012 NBA Draft, the following eight teams improved their respective rosters the most. 
New Orleans Hornets
There was no team that got better Thursday night than the Hornets, who lucked into a franchise-level big man and the consensus top pick Anthony Davis at No. 1 overall. They then found a capable scoring guard with big upside in Austin Rivers nine slots later. 
If Davis and Rivers pan out early in their NBA careers, New Orleans could go from bad to very good in a short time span. 
Houston Rockets
There may be future trades coming from Houston this summer, and Dwight Howard's name isn't likely going away. But if we are to focus just on what the Rockets accomplished in the draft, it would be hard to say Houston didn't get better with its three picks Thursday. 
Jeremy Lamb (No. 12) is a terrific shooter and could be a lockdown perimeter defender in the pros, Royce White (No. 16) is one of the draft's most unique players as a point-forward and Terrence Jones is an NBA-ready athlete who can play both inside and out. 
Time will tell if any of the three will be part of a package to get Howard out of Orlando. If they stay in Houston, however, Lamb, White and Jones could each play a significant role.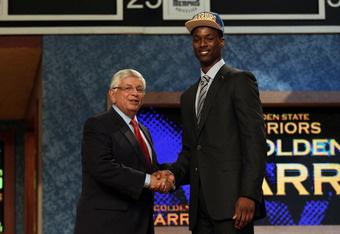 Elsa/Getty Images
The Warriors made out like bandits in this draft.
Harrison Barnes at No. 7 was the perfect fit, and those who questioned his ability in college could be in for a rude awakening when he hits the pro game. He's better suited to play in the NBA, and there's no reason why he can't score 16-18 points a game for the Warriors sooner rather than later.
Festus Ezeli (No. 30) gives coach Marc Jackson a rim-protector for the second unit, and Draymond Green seven picks later is about as good as it gets for a second-round talent.  
Detroit Pistons
There's risk in the young Andre Drummond, but if he develops into the player many think he can be, the Pistons got themselves an absolute steal at No. 9. Keep in mind that he's just 19, and you simply can't teach his size and athletic combination. 
Kris Middleton and Kim English have the upside to be contributors, too. In fact, English might have one of the best strokes in this class.
Portland Trail Blazers
This draft was a big success for Portland, especially when you consider GM Neil Olshey was hired just a couple weeks ago to run the team. When push came to shove, Olshey didn't need the time to find three quality players during the draft's first 40 picks. 
Damian Lillard (No. 6) should replace Raymond Felton at the point, Meyers Leonard (No. 11) is an intriguing big man with tremendous upside and many considered Will Barton (No. 40) a first-rounder.
Give Olshey a high grade for his first draft in Portland. 
Charlotte Bobcats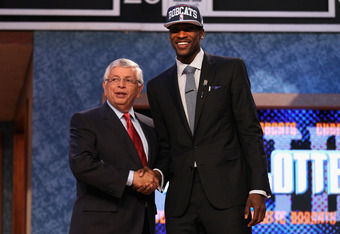 Elsa/Getty Images
Not many will love the combination of Michael Kidd-Gilchrist and Jeff Taylor as the Bobcats' two picks, but even fewer will say Charlotte didn't get better by adding the two. In the end, the Bobcats had little place to go but up after one of the worst seasons in basketball history a year ago. 
However, Charlotte likely would have been better off dealing the No. 2 pick for a couple of later choices. This roster needs a lot more help than a player like Kidd-Gilchrist. 
There's a lot to love about both Moe Harkless (No. 15) and Arnett Moultrie (No. 27) for Philadelphia. 
Harkless is one of those rare athletes who just needs to put it together more consistently on the offensive end. If he pans out, Andre Iguodala could become expendable.
Moultrie fell down boards but has everything you're looking for in a starting NBA center. Down the road, we could be looking at the 76ers as the one team from this draft that found two really good players at value spots. 
Washington Wizards 
Washington lucked out when Bradley Beal fell right into their laps at No. 3 overall. There was no wheeling or dealing necessary to get a piece that fits perfectly into their current rebuilding plan. 
If everything goes according to plan, Beal could start in the backcourt with John Wall—giving Washington a potential starting lineup of Wall, Beal, Trevor Ariza, Nene and Emeka Okafor. That five won't win the East, but Washington should be much more competitive next season.