NBA Draft Grades: Grading Every Team in the Atlantic Division
June 29, 2012
Elsa/Getty Images
Now that the NBA Draft is over, it's time to see how the teams in the Atlantic Division fared.
A tough division, three of the eight playoff teams from the Eastern Conference came out of the Atlantic Division this past season.
Let's see how these five squads drafted on Thursday night: 
Picks:
#21: Jared Sullinger
#22: Fab Melo
#51: Kris Joseph
With rumors of Kevin Garnett going to the San Antonio Spurs (via AOL Sporting News), the Boston Celtics needed to fill the void possibly left by KG, and they did that when they drafted both Jared Sullinger and Fab Melo.
According to Chad Ford of ESPN, Sullinger comes with some back issues and is undersized, but hey, that worked out for Big Baby Davis, didn't it?
Boston, of course, has Jeff Green as well, but if Melo and Sullinger turn out to be legit NBA players, the aging Celts will soon find that they'll be just fine without Garnett.
It was a bit surprising to see Sullinger fall to the Celtics at No. 21, but Danny Ainge & Co. made the most of their pick by taking the 6-9 big man.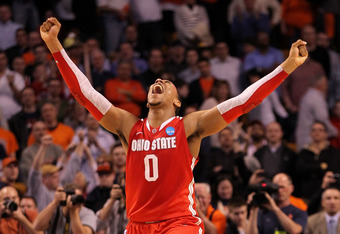 Jim Rogash/Getty Images
Grade: B+
Picks:
No. 41, Tyshawn Taylor, from Blazers for cash.
No. 54, Tornike Shengelia, from 76ers for cash.
#57: Ilkan Karaman
Aside from drafting Tyshawn Taylor, I thought the Brooklyn Nets had a horrendous draft. They gave up a lot to acquire and possibly rent Gerald Wallace last season, leaving themselves without solid position in the draft (via ESPN).
Taylor was a solid PG for Kansas last season, averaging 16.6 PPG and 4.8 APG, but he needs to elevate his shooting percentages.
Not to mention the fact that Deron Williams and Jason Kidd—two point guards—could be playing in Brooklyn next season (via The New York Post).
Shengelia and Karaman are both unproven international players, and I felt the Nets could have gone in a different direction with their draft.
If Williams and Wallace both leave the Nets, it's going to be a gloomy beginning in Brooklyn.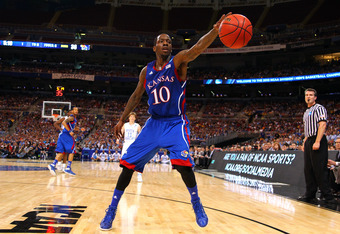 Dilip Vishwanat/Getty Images
Grade: D
Picks:
No. 48, Kostas Papanikolaou
Geez, and I thought the Nets had a bad draft.
The New York Knicks lost their first-round pick due to the Tracy McGrady deal of 2010 (via ESPN), leaving them with just one pick in the second round.
That's where they selected Kostas Papanikolaou, who averaged a mere 6.1 PPG and 3.4 RPG in the Euroleague.
According to Luka Bassin, an International Scout and Coach (via NBA.com),

He raised his stock a lot during Euroleague Final Four where he showed not only his technical and tactical attributes but the most important thing in sports – to have a heart and that he is not afraid of big games. Could be the steal of the draft.
Sorry, Luka, but I'm not buying it. 
Grade: C-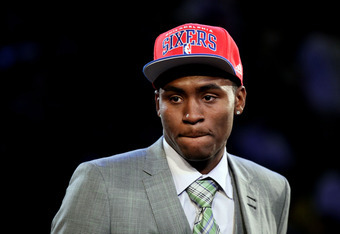 Elsa/Getty Images
Picks:
No. 15, Maurice Harkless
No. 27, Arnett Moultrie, from Heat for No. 45 pick and future first-rounder
Could the decision to draft Maurice Harkless be the end for Andre Iguodala in Philly?
According to Bob Ford of Philly.com, Iggy's house is on the market, meaning he could be on his way out of Philadelphia.
Harkless is a great athlete and the addition of Moultrie that late in the draft is somewhat of a steal to me.
The 76ers' back court could definitely use some work, but for now, I think they did a great job with the front court. 
Grade: B 
Toronto Raptors
Picks:
 No. 8, Terrence Ross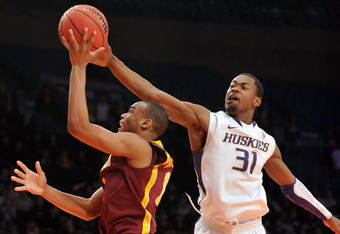 Jason Szenes/Getty Images
No. 37, Quincy Acy
No. 56, Tomislav Zubcic
I thought the Toronto Raptors had arguably the best draft of anyone in the Atlantic Division.
Not only did they acquire a solid guard in Terrence Ross, but they also went and got Quincy Acy, a high-energy player who plays bigger than his size.
Here's what Xavier coach Chris Mack had to say of Acy (via NBA.com)

He's a cage rattler. We knew that. He's just ... I want to see his birth certificate. He's that kid, when you're coaching AAU and you look over, and he just looks so much bigger and stronger than everybody. We knew about him a couple of years ago. He was terrific in Orlando when we lost to Baylor. More of the same today. I can take some of the offensive rebound put-backs, but when he starts facing up and hitting jump shots, it's not what the doctor ordered. It's not fair.
Though their No. 56 pick, Zubcic probably won't see the NBA next season, the Raptors are quickly improving heading into the 2012-2013 season.
Grade: B+
Follow me on Twitter @Pete_Schauer