Cody Rhodes: Breaking Down WWE Star's Upside, Direction and Long-Term Potential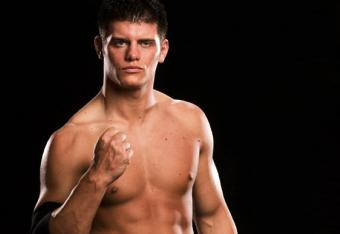 Photo courtesy of WWE.com

For more than a year, Cody Rhodes has been hailed by WWE fans as a future world champion. There are a lot of guys in the company who carry a similar label, but Rhodes appears to be the real deal.
He hasn't really gotten his big break yet, although he did have a lengthy Intercontinental Championship reign, but Rhodes still seems like a star in the making.
Rhodes has a great pedigree. His father, Dusty, is a legend in the business and his brother, Dustin, was highly successful as Goldust in the WWE for many years.
As good as Dusty and Dustin were, though, Cody has the potential to be better than both of them. Whether that potential turns into something tangible remains to be seen, but fans eagerly anticipate Rhodes taking that next step.
Here is the latest edition of the 25-superstar countdown, in which I break down the upside, direction and long-term potential of every top WWE wrestler. Today's article will feature Rhodes and examine if and how Rhodes will ascend to the main-event scene.
Origins
Rhodes began working as an official in his father's company, Turnbuckle Championship Wrestling, at a young age before being offered a developmental contract by WWE.
Rhodes was assigned to Ohio Valley Wrestling in 2006 and his rise through the ranks was both quick and seamless. Just a few months into his tenure with the promotion, Rhodes and partner Shawn Spears won the OVW Southern Tag Team Championships.
After that, Rhodes briefly held both the OVW Heavyweight Championship and OVW Television Championship. Rhodes then made his WWE debut on July 2007 at the age of 22, and just one year after joining OVW.
Rhodes immediately engaged in a feud with Randy Orton before forming a tag team with Hardcore Holly. Rhodes and Holly had a ton of success as they won the World Tag Team Championships and held them for six months.
Rhodes eventually formed a group known as Legacy with Ted DiBiase and Orton. Rhodes and DiBiase would hold the World Tag Team Championships on two more occasions.
Rhodes had the benefit of being involved in feuds with several top guys in the company. When the stable officially disbanded in early 2010, Rhodes went off on his own as "Dashing" Cody Rhodes and eventually developed a dark character as he wore a mask after Rey Mysterio "injured" his face.
Current Storyline
You would think that a superstar coming off a 236-day reign with the Intercontinental Championship would be involved in something worthwhile, but that isn't really the case with Rhodes.
He lost the IC title to Christian at Over the Limit and has been chasing after it ever since. He lost his rematch at No Way Out, but Rhodes is apparently still in pursuit of the belt.
The main issue is that Rhodes and Christian haven't been afforded proper build or television time. The Intercontinental Championship used to be a big deal as guys like Bret Hart and Shawn Michaels won it as a means of climbing toward the main-event scene.
The belt is more or less a prop with no meaning now, though, and it hasn't elevated Rhodes at all. If a guy had held the strap for eight months 15 years ago, then he would certainly be in contention for a world title by this point.
Instead, Rhodes is stuck in mid-card purgatory with no signs of rising out of it. Now would be the perfect time to elevate Rhodes to main-event status since there is such a lack of established heels at that level, but it doesn't seem like an immediate plan.
Perhaps he will win the Money in the Bank ladder match and make the leap that way, but he will have to contend with Dolph Ziggler and maybe even Wade Barrett for that honor.
Strengths
Rhodes has so many good qualities that make him a candidate to be a world champion in the near future, and the most impressive is his in-ring ability.
Rhodes' name isn't often mentioned alongside CM Punk or Daniel Bryan when fans name the best pure wrestlers in the WWE, but he is firmly in that next tier and may even be good enough to be on par with those guys.
He is very athletic and can adapt to essentially any style, so he can have a great match with anyone. That isn't something that many guys can do, but Rhodes certainly can.
Rhodes also has solid mic skills that have gotten better the longer he has been in the business. He's an elite talker per se, but he can more than hold his own in that area.
Things got a little shaky during his grotesque gimmick as he created a very strange voice and began to speak entirely too slow, but he rectified that and is back to normal after ditching the mask.
With all of that said, one of the main things working in Rhodes' favor is his youth. Wrestling is an industry in which guys often work well into their 40s, and Rhodes is only 26. He is a young pup when compared to most of his competitors, but he has already been in the WWE for five years as well.
It is rare to find that combination of youth and experience, but Rhodes has it and he has plenty of time to reach the next level.
Weaknesses
What is Cody Rhodes' biggest weakness?
At this point, Rhodes' biggest drawback may be his failure to find a suitable gimmick and stick with it. When Legacy broke up, the vast majority of wrestling fans figured DiBiase would go on to become a star, but Rhodes changed that with his "Dashing" gimmick.
It got him a lot of heat and was really the thing that brought him from career mid-carder to possible main-eventer. He then ditched that for the grotesque gimmick, and while that was interesting for a little while, it eventually got old and stale.
Rhodes, or the creative team, finally decided to get rid of that and now he doesn't really have a discernible character. Rhodes is enjoyable, but he has sort of become generic heel No. 1,276 and isn't setting himself apart any longer.
Rhodes is a very solid competitor as he currently stands, but he needs to do something big or make some sort of change in order to get out of the funk he's in.
On top of that, Rhodes hasn't been booked well. That isn't his fault, but it's a big reason why he is stuck at the moment. Rhodes had a long title reign, but he never had any serious challengers and wasn't forced to defend the title nearly enough.
By the time he dropped the belt, he hadn't built up as much credibility as he should have, and now he is in neutral rather than drive.
Greatest Match
Prior to the past two years, many of Rhodes' great matches were tag-team encounters. Rhodes has had some fantastic bouts since going solo, however, and the best happened late last year.
Rhodes had a brief feud with Orton that didn't live up to its full potential due to improper booking, but they engaged in a highly-entertaining street fight on an episode of SmackDown in Nov. 2011.
Rhodes is an excellent in-ring worker and Orton is very good in his own right, so it wasn't much of a surprise to see them work so well together. Many thought that the match was the best on free television last year and some considered it to be the best match of any kind.
It's hard to argue with either of those assessments as there was plenty of back-and-forth action, and a great story was told inside (and outside) the ring. It would have been better for Rhodes had he been allowed to go over in the match, but he came out looking great, even in a losing effort.
As good as this match was, Rhodes and Orton failed to deliver in their feud as a whole and that may be why it was never truly resolved. The match itself proved that Rhodes is a guy who can hold his own in the main-event scene based on the quality of his matches alone, though.
It hasn't resulted in a big push yet, but it should come eventually.
Career Potential
Rhodes is going to be a world champion at some point, and regardless of how lukewarm things are going for him currently, he is simply too talented to remain relatively anonymous.
Rhodes has shown flashes of brilliance in essentially every area, and if he can refine his character and get to a point where he receives a title shot, then he will be well on his way.
The Intercontinental Championship run wasn't as good as it could have been, but at least it allowed Rhodes to get some experience as a titleholder as well.
There isn't a true main-event heel in the company right now, but it appears as though Alberto Del Rio, Bryan, Ziggler and Barrett, when he returns, are all in line for a title shot before Rhodes.
It's unclear how fair that is, but he has some waiting to do before he can break the glass ceiling. What he needs is a meaningful feud more than anything, because interacting with Christian for five minutes every week isn't cutting it.
If Rhodes wasn't so young and promising, then perhaps I wouldn't believe that he could get the job done. He still has about 10 years of prime wrestling left, however, so he will have plenty of opportunities.
Perhaps it is a good thing that Rhodes hasn't been rushed to the main event because a lot of guys have been ruined that way. He is paying his dues and hopefully that helps him in the long run.
How He Gets There
Will Cody Rhodes become a world champion?
If the WWE wants to properly build Rhodes, then he needs to be given another shot with the Intercontinental Championship. Christian is a good placeholder for the title, but he is a veteran who doesn't need it.
Give Rhodes the win over Christian at Money in the Bank and allow him to reign for several more months. Rather than having him defend the title once a month, though, let Rhodes wrestle twice a week with the belt on the line and have him go over clean.
You can probably count on two hands how many televised title defenses Rhodes had during his eight-month run and that is unacceptable.
Having him be a dominant champion who accepts and conquers all challenges could make things right, though. Once he is properly established, have him challenge Sheamus for the World Heavyweight Championship and eventually win it.
He could vacate the Intercontinental Championship, which would have some meaning by that point, and he would be well on his way to being a great world champion.
The WWE likes to protect its faces, but Rhodes needs some clean wins over top guys, or else he is never going to be looked at as a serious threat by the fans.
Check back daily for new entries in this WWE 25-superstar countdown. Here are the five most recent editions for your viewing pleasure:
12. Sin Cara
11. Zack Ryder
10. Wade Barrett
8. The Miz
Follow @MikeChiari on Twitter and listen to me on Ring Rust Radio.
This article is
What is the duplicate article?
Why is this article offensive?
Where is this article plagiarized from?
Why is this article poorly edited?