NBA Rumors: 5 Best Destinations for O.J. Mayo
June 29, 2012

Kevin C. Cox/Getty Images
The Memphis Grizzlies were busy on Friday issuing qualifying offers to both Darrell Arthur and Marreese Speights, but one name not on that list is guard O.J. Mayo.
Ronald Tillery of the Memphis Commercial Appeal reports via Twitter that the Grizzlies will not extend a qualifying offer to Mayo, making the fourth-year guard an unrestricted free agent.
Griz issue qualifying offers to Arthur, Speights, making them RFA. Won't issue QO to Mayo or Hudson. CA story coming...

— Commercial Appeal (@CAGrizBlog) June 29, 2012
That also means Memphis won't be able to match an offer for Mayo, whom they drafted with the No. 3 overall pick in the 2008 draft.
With Mayo likely on his way out of Memphis, here's a look at the five best fits for the former USC Trojan.
With Derrick Rose out, the Bulls need some backcourt scoring.
They didn't address that need during the draft, but you would have to think acquiring some scoring at the point position will be a main priority in the offseason.
Chicago will need to shed some salary first, but adding a competent shooting guard is a must.
The Nets could possibly lose both Deron Williams and Gerald Wallace and get nothing in return.
Starting over and adding younger talent then be the logical way to go for the Nets, and while he hasn't been great so far in the NBA, Mayo is only 24 and has averaged 15.2 points per game in his career.
He's someone the Nets could have their eye on, and the team have the money to spend as they have only $10.17 million on the books in guaranteed contracts right now for next season..
Speaking of money to spend, the Pacers have only $36 million on their books, and Mayo is a player that they've tried to acquire multiple times in the past.
Indiana could use some scoring punch off the bench, and Mayo is a guy that could provide that.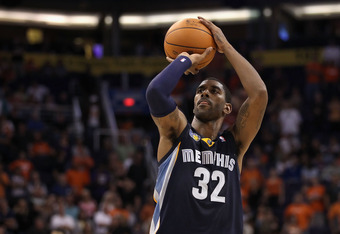 Christian Petersen/Getty Images
Minnesota would have to let Michael Beasley walk before they can address production at the guard position.
Minnesota needs shooting, and Mayo is a guy that has shot 43.3 percent from the floor and 37.5 percent from behind the arc.
The Celtics will have cap room and need to add some depth. 
One of the problems in 2012 was the lack of depth, and eventually it caused their veterans to run out of steam. 
There are worse options out there than Mayo, and for a team that wants to remain competitive in the Eastern Conference, adding some bench scoring is a must.