Derek Jeter Owes Immortal Shortstop Career to Cal Ripken Jr.'s Trailblazing
June 29, 2012

Ezra Shaw/Getty Images
Current New York Yankees great Derek Jeter and former Baltimore Orioles great Cal Ripken Jr. were tied for 14th place on baseball's all-time hit list with 3,184 hits apiece entering today, which was fitting for a variety of reasons.
With a first inning double down the left field line tonight against the White Sox, Jeter has now passed the former Orioles legend to stand alone at 3,185 hits.
The always classy Ripken Jr. had this to say about Jeter passing him by, in a blog post over at CBS Sports:
"Congratulations to Derek on passing me on the all-time hits list," Ripken said in a statement released by the Yankees. "Derek has been such a special player for such a long time and I am happy to see him continue to play at a high level. He represents the game and the Yankees wonderfully and I hope that he continues to play and continues to give all of us baseball fans great memories."
There was never any kind of official ceremony or anything, but one gets the sense that there was a sort of passing of the torch from Ripken to Jeter in the mid-1990s. Ripken was going into the tail end of his career, and Jeter was just then starting to establish himself as baseball's next superstar shortstop. He was next in line after Ripken.
The transition, if we can call it that, was appropriate because Jeter grew up idolizing Ripken. Indeed, this was one of the first things he admitted after tying Ripken on the all-time hit list during the Yankees' 4-3 loss to the Chicago White Sox on Thursday night.
"Obviously what he represents, what he has represented to the game, being a shortstop, he was someone I have always admired," said the Yankee captain, via the New York Daily News.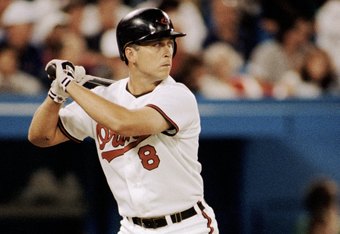 Rick Stewart/Getty Images
Jeter should admire what Ripken represents. It's been oft-noted, including by resident ESPN baseball geek Tim Kurkjian, that Ripken changed the shortstop position. Before he came along, the thought of a 6'4," 225-pound power-hitting behemoth playing shortstop would have been laughable.
Such creatures belonged on the corners, not at shortstop. It was a position for skinny, slick-fielding, light-hitting specimens such as Luis Aparicio and Ozzie Smith.
Ripken blazed a trail for bigger, more powerful shortstops when he broke into the big leagues in the early 1980s. Once he established that big guys with big bats can play short too, everyone wanted their own Cal Ripken Jr.
This is not news. Or at least, it shouldn't be. But when we think of the bigger, more powerful shortstops who came along after Ripken, we tend to think of guys like Alex Rodriguez and Nomar Garciaparra more than we think of Jeter.
But Jeter very much fit the Ripken mold when he broke into The Show in the mid-'90s, and he obviously still does today. He's never hit for the same kind of power that Ripken did, but his 6'3," roughly 200-pound frame certainly houses more strength than the frames of virtually all the shortstops who came before Ripken.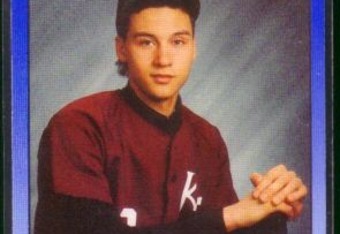 Without Ripken, we probably aren't discussing where Jeter ranks today among baseball's greatest shortstops. Scouts would have seen Jeter's tall frame and projected him as a third baseman or a corner outfielder. It would have mattered little that Jeter spent his high school career making a name for himself as a shortstop.
Shoot, seemingly all the best players played short during their high school careers. Stars such as Chipper Jones, Troy Glaus, David Wright and Buster Posey all played some shortstop in high school.
Though Jeter entered pro ball as a high first-round draft pick, the story (part of which was told by the Daily News last year) goes that it was clear early on that he was a project player. He didn't show much promise as a hitter early in his minor league career, and he also had to work hard to improve his fielding.
That Jeter managed to make it as a shortstop is a testament to his work ethic, which has always been one of his best qualities. 
Ripken, of course, is also known for his legendary work ethic, and Jeter has admitted that he was a big-time admirer of Ripken's work ethic. 
Doug Pensinger/Getty Images
Jack O'Connell of MLB.com recalled last year a day back in Jeter's rookie season in 1996 when he was standing around in street clothes. He was watching Ripken take extra batting and fielding practice several hours before a game.
He turned around and said to O'Connell, "So that's how you get to be Cal Ripken, huh?"
Evidently, watching Ripken do his thing rubbed off on Jeter. His skills are declining due to old age now, but let it never be said that Jeter was never a hard worker. People call Jeter a natural, but he's no different from all the other baseball "naturals" who have come along over the years. He had to work very hard to get to a point where he looked like a natural.
He wasn't a great shortstop when he was born. He made himself into a great shortstop, just like Ripken did.
Conversations such as these tend to devolve into arguments about which player is better. In this case, that's a particularly nasty can of worms because no two baseball fans can ever agree on who the greatest shortstop ever is (I'll take Honus Wagner, for what it's worth). Asking people to pick between Jeter and Ripken is asking for a heated argument.
Any such conversation would be missing the point. It doesn't matter whether Jeter is a better or worse player than Ripken. What matters is that we wouldn't be able to have that discussion at all if Ripken hadn't come along in the first place.
Without Ripken the shortstop, there is no Jeter the shortstop. He'll hand it off to somebody else someday, but he's still carrying the torch that Ripken passed him almost 20 years ago.
If you ever want to talk baseball, hit me up on Twitter.