NBA Draft 2012 Grades: Winners and Losers from Draft Day
June 30, 2012

Elsa/Getty Images
Dissecting winners and losers at the NBA draft is always fun to ponder. You won't know if you made the right decision for five years, but it's still fun to take a look at. 
That's what we're going to do right now. 
Now that the 2012 NBA draft is all said and done, let's take a look at some winners and losers. 
Winners
New Orleans Hornets (A+)
Winners of the 2012 NBA draft, New Orleans stole the show. Drafting Anthony Davis, the marquee player in the draft, and Austin Rivers with the No. 10 pick? That's an insane, franchise-changing draft class.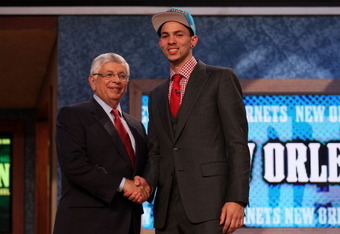 Elsa/Getty Images
Davis will have a wonderful career in the NBA. He can block and alter shots, rebound, score in a plethora of ways and his athleticism is rare for his size.
He will be a stud in the NBA.
Rivers is a guy who has star potential. His work ethic is superb, his first-step quickness is out of this world and he has a want-to attitude to succeed.
I love it.
New Orleans won this draft hands down. 
Charlotte Bobcats (A-)
Michael Kidd-Gilchrist is going to be an All-Star in the NBA. He has the tools, athleticism and work ethic to reach his potential.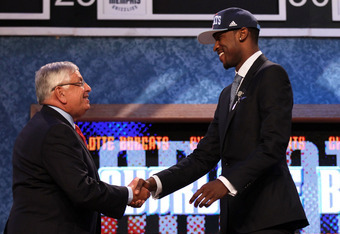 Elsa/Getty Images
Kidd-Gilchrist's work ethic rubs off on his teammates. When you see him working hard on the floor, it's impossible not to attempt to match it.
His scoring ability isn't impressive, but he played with three other first-round picks and two second-round picks. Kidd-Gilchrist didn't need to score for Kentucky last year. All he needed to do was defend, chip in offensively and show his motor.
Kidd-Gilchrist can score the ball when he wants to. He chose not to in order to put Kentucky on top of the mountain. 
Charlotte drafted Jeffery Taylor with its second-round choice. He's a guy who has good size and shooting ability from the perimeter.
Great draft for Charlotte. 
Golden State saw Harrison Barnes on the board and they were ecstatic. Barnes will be an All-Star in the NBA if he can improve on driving to the rim.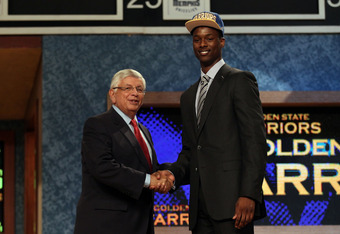 Elsa/Getty Images
Barnes provides the best mid-range game in the draft class. He can post up, work from the perimeter and the potential for him to get to the rim constantly is there. His athleticism is highly underrated.
Golden State had two picks in the first round, and they decided to use the No. 30 selection on big man Festus Ezeli from Vanderbilt.
Ezili's upside is tremendous; his value at the No. 30 pick is huge. He is a 7'0" who has a 7'6" wingspan. In today's NBA, Ezili and his 264-pound frame will translate.
It was a great day for Golden State. 
Losers
Boston Celtics (C-)
Boston drafted Jared Sullinger and Fab Melo with its first-round selections. 
I don't like it.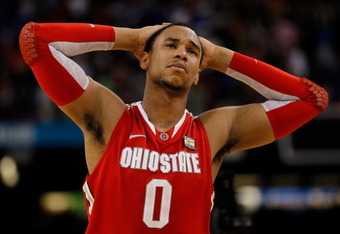 Chris Graythen/Getty Images
Sullinger struggles against size, has injury history and his maximum as a player is Glen Davis-like. Is that worth the No. 21 pick in the draft?
To some, sure, but to me, no.
Melo makes more sense from a fit perspective, which is why I gave Boston a C-minus. 
Boston should have selected John Jenkins and Arnett Moultrie with those picks. Those selections would have made sense, and they also bring high upside. 
Toronto Raptors (C-)
Toronto chose Terrence Ross with the No. 8 pick in the draft when Rivers was on the board. I think it's a mistake that they will regret for the next 15 years.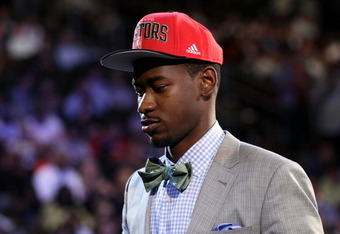 Elsa/Getty Images
Ross is a solid player with potential All-Star talent, but Rivers has superstar potential. His first-step quickness is the best in the draft. In today's NBA, getting to the rim is how you score when you're a guard coming into the league.
Few can get to the rim like Rivers. 
Cleveland Cavaliers (C+)
From the position of two top 24 picks, Cleveland had a slightly above average draft. They reached for Dion Waiters with the No. 4 pick when they could have had Barnes.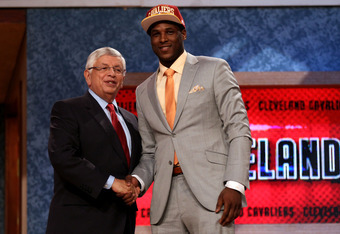 Elsa/Getty Images
I love Barnes' potential compared to Waiters, but Waiters' offensive game is suitable for today's NBA. It was a reach of a pick, but he should still turn out to be a good pick in the end result.
Jared Cunningham was the No. 24 pick. I'm not a huge fan of it. He has potential, but I don't see him ever being able to live up to first-round hype.
Cleveland did grab Jae Crowder in the second round. I love this pick. He's the Big East Player of the Year. He's a guy with a great motor and scoring ability who can defend multiple positions and he's a winner. 
Given everything Cleveland did Friday night, their grade of a C-plus is sufficient.