NBA Draft 2012 Results: Dion Waiters and Players Drafted Way Too Early
June 29, 2012

Elsa/Getty Images
Thursday night's NBA draft seemed more like a soap opera than a draft. The drama from the lottery carried over to draft night, and there were some truly head-scratching picks.
Several players were drafted way too early, and the teams who picked them easily could have traded down and still taken them. However, the teams took the safe route and drafted these guys much earlier than they should have.
Of the 60 selections on draft day, these were the ones that were way too early.
Royce White, Iowa State
Where He Was Taken: 16 (Houston)
Where He Should Have Gone: 20-25
Royce White's draft stock took a huge hit once it was discovered that he has a fear of flying. However, the Houston Rockets took a leap of faith and selected him with the 16th pick.
White was taken before seven-footer Tyler Zeller, who would have addressed Houston's true need for a center. He was gone before Perry Jones III or even Fab Melo were selected. Heck, even Jared Sullinger might have been a better pick.
However, White was taken just after the lottery ended.
The Rockets could have easily waited to take him with their No. 18 pick, or traded down to get him, but they took him very early.
Jonathan Daniel/Getty Images
Miles Plumlee, Duke
Where He Was Taken: 26 (Indiana)
Where He Should Have Gone: Second Round
Duke big man Miles Plumlee never showed much in college. He was good on defense but not great and was only average on the offensive end. However, he found his way into the first round and was taken before the likes of Perry Jones III.
Plumlee impressed at the combine, but that should not have completely erased his four years of mediocre basketball with the Blue Devils.
It was nothing short of shocking to hear Plumlee's name called before so many other great players, and Indiana has taken a huge chance by drafting him in the first round.
Moe Harkless, St. John's
Where He Was Taken: 15 (Philadelphia)
Where He Should Have Gone: 25-30
Moe Harkless was a first round pick, but he should not have been taken with the first pick after the lottery.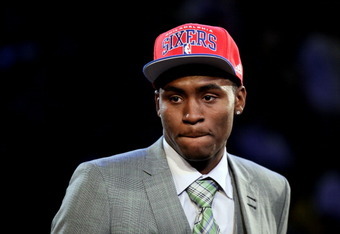 Elsa/Getty Images
The Sixers could have easily traded down if they wanted Harkless, or they could have taken North Carolina center Tyler Zeller with the No. 15 pick.
Harkless doesn't address the true need of a big man for Philly, and he certainly didn't warrant such an early pick.
This was probably the most questionable pick in the draft.
Dion Waiters, Syracuse
Where He Was Taken: 4 (Cleveland)
Where He Should Have Gone: 7-10
No. 4? Are you kidding me? No. 4?
Dion Waiters is a great player and will be a good shooting guard alongside Kyrie Irving for years to come. However, there was no need for Cleveland to keep the fourth pick if they knew that they wanted the Syracuse prospect.
Waiters probably wasn't going to go until the ninth or 10th pick in the draft, and yet the Cavaliers decided the pass up on big man Thomas Robinson and wing Harrison Barnes to take Waiters.
While the Cavs did miss out on SG Brad Beal out of Florida, there were better players on the board than the second-best shooting guard in the class, and this pick was definitely a reach.